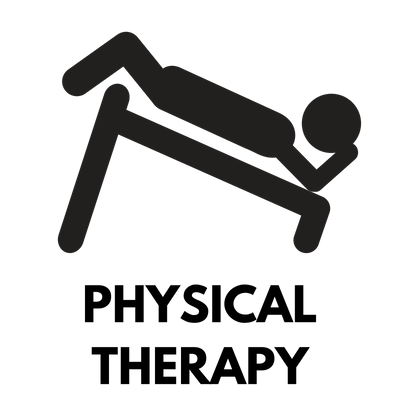 High salaries. Flexible work settings. High job demand. Helping others. Many jobs fulfill one or more of these values, yet few jobs offer all of them. But the field of physiotherapy is lucrative, flexible, in-demand, and measurably improves people's lives. This health profession has plenty of well-compensated openings, all aimed at helping people live healthier and more independent lives.
Today, more people than ever before are living with pain, disability, and chronic health conditions. At the same time, we're becoming increasingly aware of the high costs and risks associated with invasive procedures like surgery and overprescription of medications, especially opiates. Physiotherapy is a highly effective, yet non-invasive and medication-free way to treat some of the most common and debilitating health conditions.. Physiotherapists use specially-designed stretches, movements, and physical manipulation to help patients reduce their pain, increase their mobility, and improve their recovery or functioning.
Featured Programs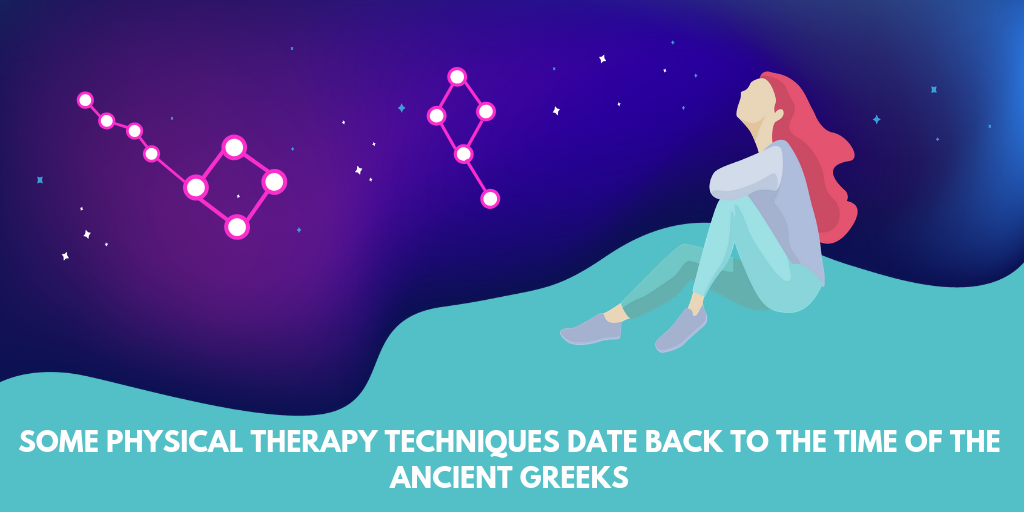 This form of treatment may sound newfangled, but it's anything but. Some of the techniques that make up physical therapy today can actually be traced back for thousands of years. Some were established by the Greek philosopher, Hippocrates, and the ancient Greeks were known to have used massage and hydrotherapy as far back as 460 BC. Today's physiotherapists still use these interventions, along with modern equipment and software for monitoring and evaluating progress.
If you're looking for a good job that you can also feel good about, physiotherapy deserves your consideration. Read on to learn the fundamentals of physiotherapy degrees, licenses, and careers.
Jump To:
What is Physiotherapy?
According to the Chartered Society of Physiotherapy, physiotherapy is a system of physical and movement-based interventions which help to restore movement and functionality to a person is affected by an injury, illness or disability. Physiotherapy is frequently used to improve mobility and manage pain, and is often part of the rehabilitation process when recovering from a surgery or injury, or in managing a chronic condition.
Physiotherapy is a medical treatment, but does not require the administration of medications or surgery. Physiotherapy is considered an allied health profession, meaning it is a form of health care professions separate from nursing, medicine, and pharmacology. Other allied health professions include occupational therapy, orthopedics, dental hygiene, osteopath, music therapy, and audiology. (Learn more about what degree you need to be an audiologist.)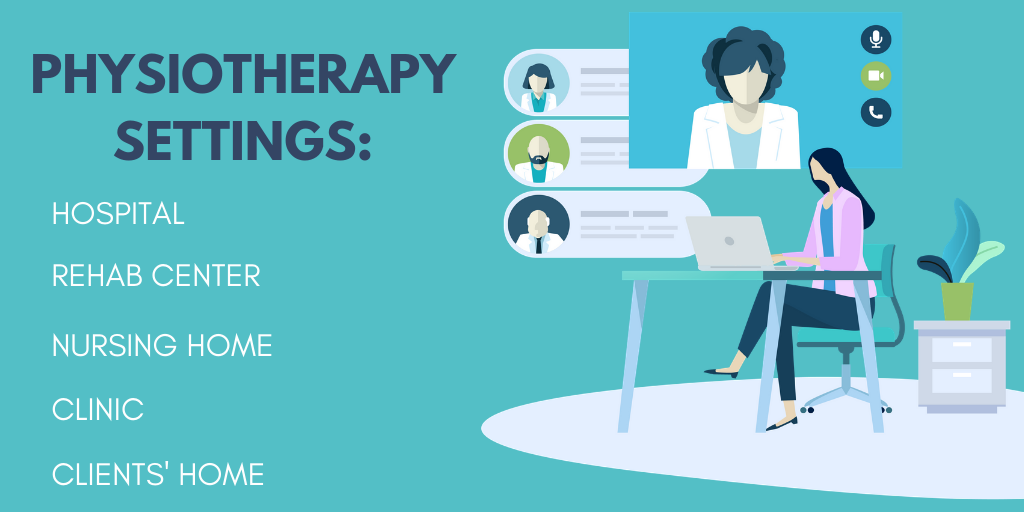 Physiotherapists work in hospitals and clinics, as well as residential settings like nursing homes and rehabilitation centers. For patients unable to travel, physiotherapists often deliver home-based services.
Physical therapy assistants work in these same settings alongside physical therapists. Physiotherapy assistants support physical therapists by providing hands-on patient care. While physiotherapists evaluate, diagnose, and design interventions, physiotherapy assistants help patients perform the movements and stretches that make up their care routines and track their progress.
Is Physiotherapy Different from Physical Therapy?
There's a lot of confusion around these two similar terms. Even within the same language, words differ by region, and this is true for medical and healthcare terminology as well; generally speaking, the term "physical therapy" is used in the United States, while the rest of the English-speaking world usually uses the term "physiotherapy."Nonetheless, the words physiotherapy and physical therapy are synonymous.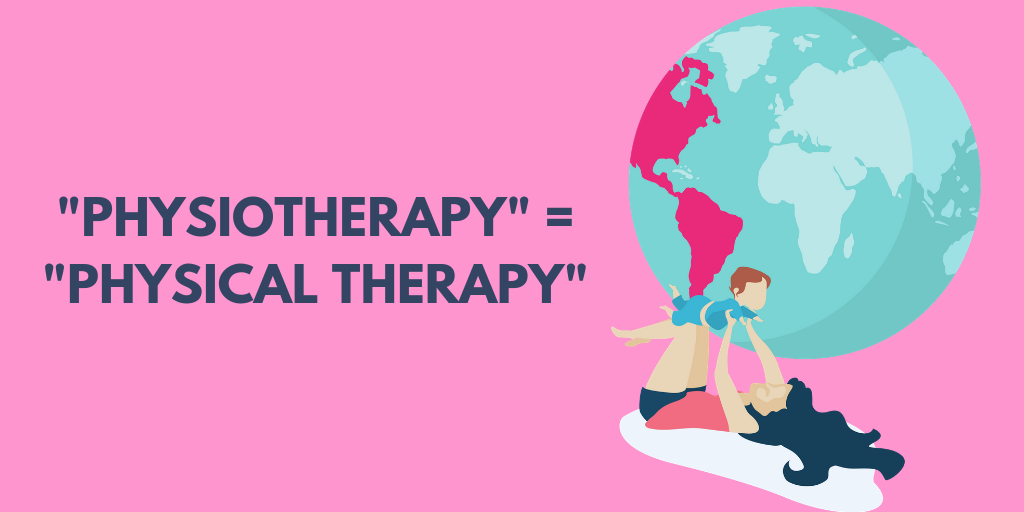 There is a secondary difference between Physiotherapy and Physical Therapy which is related to the regions associated with each term. Physiotherapy tends to involve more manual therapy than physical therapy. That is, the physiotherapist is more likely to use their hands to stretch or massage the client's affected body part(s), while the physical therapist is more likely to focus exclusively on directing the client to perform exercises and stretches. This simply reflects the way the different approaches to treatment favored in the US versus other parts of the world.
What Degree Do I Need to Become a Physiotherapist?
No one wants to trust something as important as their body to an amateur. In order to help people overcome challenges to their health, mobility, and well-being, physical therapists need to meet stringent standards of expertise. To get there, physiotherapists need to have extensive education and hands-on training.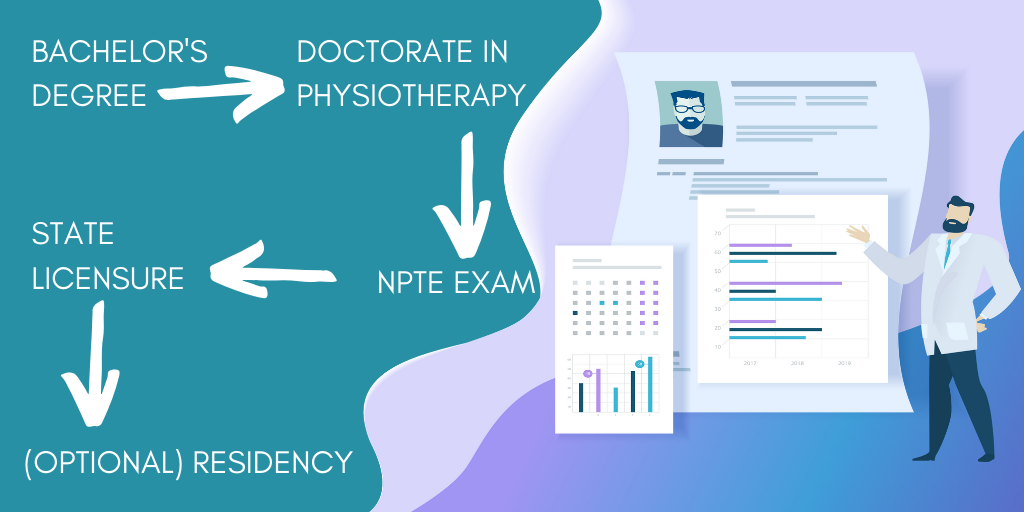 The educational requirements for physiotherapists differ widely from one country to another. In the United States, you'll need to earn a doctorate in physical therapy (DPT), as well as become licensed in the state in which you intend to practice. In order to earn a DPT, you'll first need to complete a bachelor's degree in any area and be sure that you meet the DPT program prerequisites. It's essential that you attend a physiotherapy school that has been accredited by the Commission on Accreditation in Physical Therapy Education (CAPTE), the agency approved by the US Department of Education (USDE) and Council for Higher Education Accreditation (CHEA) to accredit Physiotherapy Schools in the US. Next, you'll need to pass the National Physical Therapy Exam administered by The Federation of State Boards of Physical Therapy to become board-certified and apply for state licensure. Licenses are mandated in all 50 states, but requirements vary, so it's essential to check what is required for the state in which you wish to practice physiotherapy.
What Can I Do with a Doctorate in Physical Therapy (DPT)?
With a doctorate and state licensure in physiotherapy, you'll be qualified to practice as a physical therapist, either through an organization like a hospital or rehabilitation center, or in a private practice. The work of a physical therapist involves evaluating, diagnosing, and creating treatment plans for patients who are recovering from surgery, adapting to a new medical condition, or learning to manage pain or mobility issues. You'll assist patients through exercises, stretches, functional movements, and manipulation of joints, muscles, and other soft tissue, often using medical equipment like therapy bands or crutches.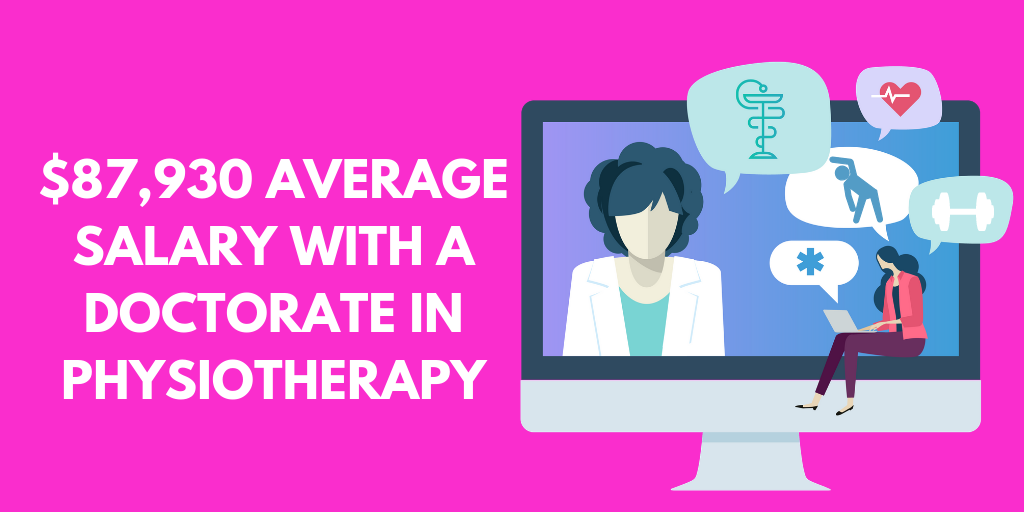 Physiotherapists are in demand throughout the US, and earn excellent salaries. The Bureau of Labor Statistics reports that physical therapists earned a median salary of $87,930 in 2018, with the top 25% earning over $100,000. In addition to high salaries, physical therapists also report that their job allows them to have a good work/life balance and provides high job satisfaction. In fact, U.S. News ranks physical therapist 16th in Best Health Care Jobs and 20th in Best Jobs overall.
What Can I Do with a Physiotherapy Residency?
Many physiotherapists have just the general physiotherapy training and experience that comes with a DPT, which covers a broad range of conditions. Others opt to get in-depth training in one area of specialty through a residency. Specialties can involve certain populations (like children or the elderly) or physical conditions (like cardiovascular issues or wounds). With a residency under your belt, you'll be able to practice physical therapy as a specialist, with the training to meet the particular needs associated with a group or condition.
Common specialties in physical therapy include:
acute care
cardiovascular
orthopedics
pediatrics
electrophysiology
geriatrics
neurology
sports
women's health
wound care
A residency program takes place after earning a physical therapy degree and passing the licensure exam. A residency for a Doctor of Physical Therapy can last between 9 and 36 months, and covers at least 1,500 supervised contact hours. In a residency, you can expect to do research, patient education, community service, and supervise other health care providers.
What Can I Do with a Physiotherapy Fellowship?
The American Board of Physical Therapy Residency and Fellowship Education (ABPTRFE) explains that a physical therapy fellowship is a postprofessional program designed to advance an established physical therapist's knowledge and skills in both clinical and non-clinical settings. Fellowship programs consist of 1,000 clinical hours and can take from 6 to 36 months to complete.
A fellowship in physiotherapy will allow you to be even more focused in your skills than a residency, allowing you to practice with a sub-specialty. Clinical evidence shows that outcomes for patients treated by physiotherapists who have completed fellowships are measurably better than those treated by physical therapists without this additional specialized training. Sub-specialties in physiotherapy include:
Division I Sports Medicine
Orthopedic Manual Therapy
Neonatology
Upper Extremity Athletics
Movement System
What Degree Do I Need to Become a Physiotherapist Assistant?
What if you don't want to earn a bachelor's and a doctorate in physical therapy before beginning to practice? While work as a physiotherapist is interesting, lucrative and rewarding, you can also find well-paying and satisfying work in the field as a physical therapy assistant. This position requires fewer years' investment in training, allowing you to launch your career sooner and enter the field of physical therapy.
To become a physiotherapy assistant, you'll need to earn an Associate of Applied Science degree in Physical Therapy. These degrees typically take two years to earn, and cover topics like anatomy, biomechanics, and ethics. Just like a physiotherapist, an assistant physiotherapist must complete hands-on clinical experience as part of their training. They must also complete the National Physical Therapy Examination (NPTE) administered by the Federation of State Boards of Physical Therapy (FSBPT). And just like physiotherapists, assistant physiotherapists need to be licensed by the state in which they practice.
What Can I do with an Associate's in Physiotherapy (APT)?
Meeting the requirements for licensure as an assistant physiotherapist is not easy. But the payoff is more than worthwhile. Once you've earned an Associate's in Physiotherapy, passed your exam and become licensed, you can practice as a physical therapy assistant. You'll work under the supervision of a physical therapist to carry out treatment plans. Assistant physical therapists perform direct care tasks, such as showing patients how to perform stretches and movements and tracking their progress.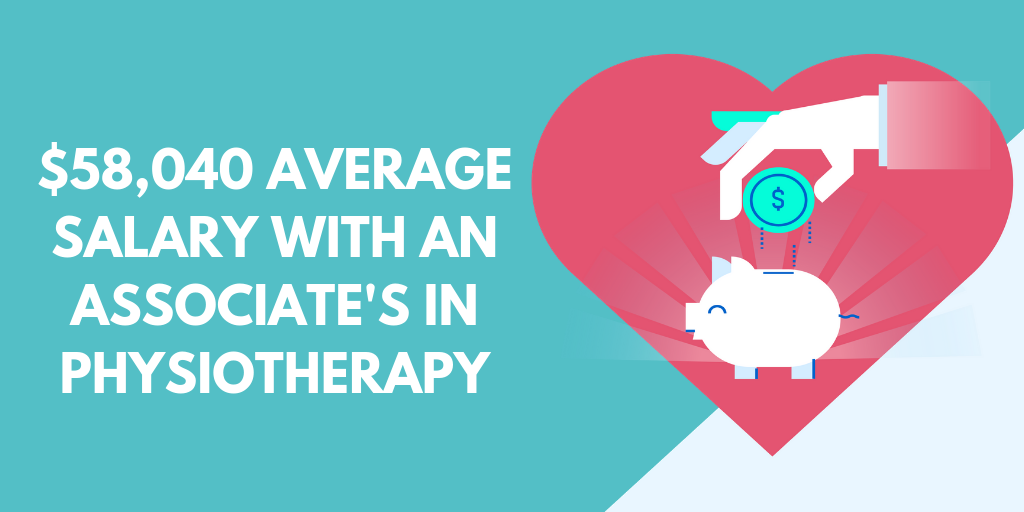 According to the Bureau of Labor Statistics (BLS), the average salary with an associate's in physical therapy is quite high; assistant physical therapists earn a median salary of $58,040.. That's one of the highest salaries to be found with a two-year degree. You'll also have flexible options as to where to practice, since demand for physical therapist assistants is very high throughout the country, and jobs are available in hospitals, clinics, residencies, and in-home services.
What Classes Will I take for a Degree in Physiotherapy?
Both a doctorate in physiotherapy and an associate's in physiotherapy cover academic classes in topics like anatomy and kinesthesiology, as well as hands-on clinical practice. A doctorate provides longer and more in-depth training, however, while an associates in physical therapy program is shorter and the curriculum focuses on the fundamentals.
Students working towards a doctorate in physical therapy can expect to complete a supervised clinical internship as part of their degree, and to complete classes such as:
Functional Anatomy
Foundations of Examination
Foundations of Interventions
Professional Issues in Physical Therapy
Health Care Management
Movement Science
Neuroscience in Rehabilitation
Clinical Medicine and Pharmacology
Management of Musculoskeletal Dysfunction
Medical Imaging
Management of Neuromotor Dysfunction
Prosthetics & Orthotics
Women's Health
Health Promotion and Wellness
Like physiotherapists, physiotherapy assistants must have knowledge of the body's anatomy, function, and conditions. Because these professionals won't perform evaluations and diagnoses, their training focuses on the fundamentals and hands-on skills of physical therapy. An associate's in physiotherapy covers topics like:
Exercise physiology
Physiology and anatomy
Biomechanics
Neuroscience
Kinesiology
Clinical pathology
Behavioral science
Communication Skills
Ethics
Can I Earn a Degree in Physiotherapy Online?
There are fewer options for earning an online degree in the field of physiotherapy than there are for most academic disciplines. That's largely because physical therapy, as discussed above, is a hands-on practice. To practice as a physical therapy aide or physical therapist, it's essential to thoroughly observe and understand symptoms, movements, and changes in the physical body. That's why programs for educating physiotherapists and physiotherapy assistants emphasize experiential learning, through a large number of required hours spent observing and assisting in a clinical practice.
For those interested in an online option for learning physical therapy, there are a number of hybrid programs, which blend on-campus classes with online classes. For hybrid physiotherapy degree programs, you can expect to study academic topics like anatomy remotely, and hands-on topics like functional assessment in person. Prospective students exploring options for learning physiotherapy through a hybrid program should be certain that their school is accredited by the Commission on Accreditation in Physical Therapy Education (CAPTE). Credits earned last a school which is not accredited by the CAPTE may not be counted towards physiotherapy licensure. Prospective students looking for an online option for an associate's in physiotherapy should also be certain that their degree is aimed at preparing them for a career as a physiotherapy assistant, as opposed to a physiotherapy aide, which requires a lower level of training.
Is Physiotherapy In Demand?
The healthcare sector has recently moved up to become the number one largest employment sector in the United States, and the allied health professions like physiotherapy have expanded right along with it. Along with high salaries, physical therapists, and physical therapy assistants enjoy an incredibly strong job market. Demand for physical therapy assistants is high and growing higher, thanks in part to longer life spans and aging baby boomers, who need services to cope with age-related conditions like stroke and arthritis. Rising rates of chronic conditions like obesity and diabetes have also led to a grated need for physiotherapy treatments. Another factor is the growing awareness in the medical community of the dangers posed by overuse of opiate painkillers, which has led doctors to look to physiotherapy as an alternative for conditions like chronic back pain.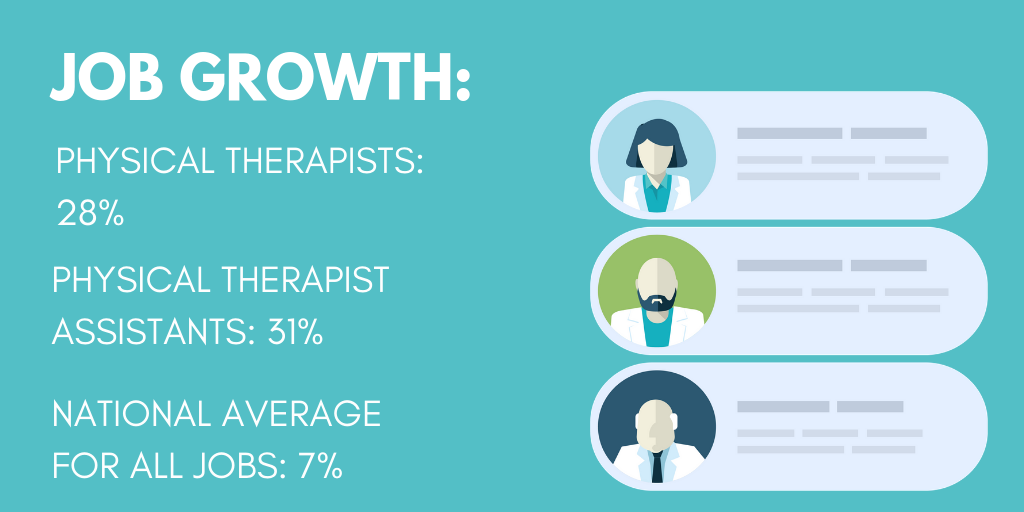 All these factors have led to an incredibly strong job market for both physiotherapists and physiotherapy assistants. The BLS reports that jobs for physical therapy assistants are projected to grow by 31% from 2016-2026, a pace that's more than four times faster than the national average.It's no surprise that physiotherapy assistant was ranked by The Balance as one of the 10 fastest-growing jobs in the US. The job market for physical therapists is also robust, with 67,100 current jobs in the field in the US. The BLS reports that demand for physiotherapists is projected to increase by 28% from 2016 to 2026, a rate that is much faster than the national average for all occupations, which stands at 7%.
Is a Degree in Physiotherapy Right for Me?
Physiotherapy jobs have a lot of positive factors going for them. U.S. News and World Report ranks jobs in physical therapy highly for work-life balance and low for on-the-job stress. Both physical therapists and physical therapy assistants have excellent job prospects, flexible job settings, and lucrative salaries.
But not everyone is right for work in the physiotherapy field. To succeed in physical therapy, you'll need to have the right personality and skills. A few important qualities for those interested in a physiotherapy career, either as a physical therapist or physical therapy assistant, include:
Stamina: in order to carry out movements and stretches with clients, you'll need to be able to pull, lift, adjust, and manipulate patients and equipment throughout the day. Excellent self-care and body mechanics (such as proper lifting positioning) are essential to avoid becoming overtired or sustaining repetitive stress injuries.
Focus: you'll need to be good at listening to and observing people's symptoms in order to pinpoint their needs and assess the effects of treatment. Poor attention to detail can lead to serious physiological problems, so physiotherapists must have patience and attention to detail.
People skills: since you'll be working very closely with patients and conferring with treatment teams, you'll need to have great interpersonal skills, including listening, spoken and written communication, and persuasion. Many patients will be suffering from pain or loss of independence due to a new medical condition, and sensitivity and empathy are also important in the physical therapy field. Extroverts tend to do well in the physiotherapy industry.
Hands-on working style: physical therapy is the definition of a hands-on job. As a physiotherapist or physiotherapy assistant, you can expect to quite literally hold patent's hands, as well as stretch, push, lift, and massage other body parts. You'll need to be comfortable with this close level of contact, and to develop a "bedside manner" that will put your patients at ease as well.
If you have these qualities, and want to pursue a helping career with great professional prospects, a job in physiotherapy may be right for you.
Further Reading: