Before you start working toward your master's in occupational therapy, one of the highest paying master's degrees, you should be thinking about what you want out of your career. Occupational therapists work in a surprisingly broad array of work settings. The types of employers that hire the most occupational therapists are hospitals and outpatient therapists' offices, but you could also end up working in an elementary school or high school, a home health services company or another healthcare role.
Occupational Therapist Jobs in Hospitals
One of the work environments in which you are most likely to wind up as an occupational therapist is a hospital. Around 26 percent of occupational therapists work in hospitals, including local, state, and private hospitals, according to the United States Bureau of Labor Statistics (BLS). Hospitals have consistently been a major employer of occupational therapists, with the American Occupational Therapy Association ranking hospitals as the top employers of all job titles – therapists and assistants – in the occupational therapy workforce in 2010.
Occupational therapists who work in hospitals, where patients are receiving acute care as part of inpatient hospital stays, are working with patients who may be critically ill or less stable. As a result, a lot of their work is done at the patient's bedside, and patients may be limited in the therapeutic interventions they can tolerate. However, that doesn't mean their work is any less important. Occupational therapists employed by hospitals may determine what splints and positioning devices can help prevent further damage and loss of function and assist patient with learning new ways to manage self-care activities with their disabilities, according to the American Occupational Therapy Association. They may even help nonverbal patients communicate with the help of devices.
In addition to the patient themselves – and their doctor and care team – an occupational therapist working in a hospital setting will often work with the patient's caretakers and family members to enlist them in helping the patient make progress.
Outpatient Healthcare and Rehabilitation Therapy Offices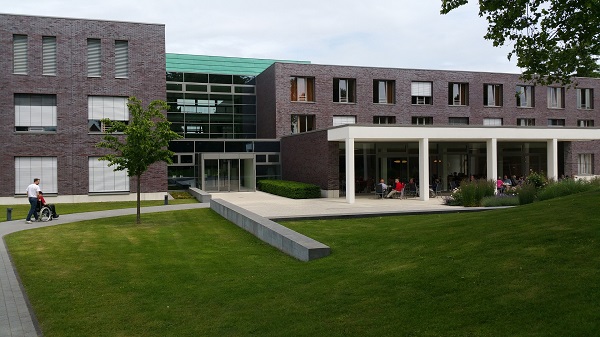 IMAGE SOURCE: Pixabay, public domain
The other main employer of occupational therapists is the offices of healthcare practitioners like physical therapists, occupational therapists, speech-language therapists and audiologists. These outpatient healthcare offices also account for 26 percent of the field, according to the BLS. In other words, more than half of all occupational therapists will work for either a hospital or a therapists' office.
This type of employment is most likely the one you envision when you imagine work as an occupational therapist. Patients who are stabilized enough to live at home come to the office to receive therapy a few times per week. Often, your goal in working with these patients is to help them improve their functional mobility and train them to perform more tasks of living independently, or at least with less assistance than they previously needed. This can mean having the patient perform exercises to improve muscle strength, movement and control, but it can also mean training them to use new devices or methods of accomplishing a task.
Although mobility is part of occupational therapy, there's a difference between occupational therapy, which focuses primarily on achieving the acts of daily living, and physical therapy, which focuses on regaining motor skills, especially gross motor function. 
Elementary and Secondary Schools
Universities aren't among the top five employment industries for occupational therapists, although some hospitals that employ these professionals are associated with universities. However, elementary schools and secondary schools are among the employers that hire the most occupational therapists. Local, state and private schools at the elementary, middle and high school levels make up 12 percent of occupational therapist job opportunities, the BLS reported.
When occupational therapists work in schools, they work with children who are struggling in general education as well as children with documented special needs, according to the American Occupational Therapist Association. They work with students individually and in small groups, as well as training teachers and staff and recommending modifications of curriculum materials and physical classroom spaces.
Only around 5 percent of the occupational therapy workforce worked in academia in 2010, the American Occupational Therapy Association reported. Most occupational therapists work in healthcare settings, not academic settings like universities.
Home Healthcare Services
Traveling isn't always practical, especially for someone with a medical condition that necessitates occupational therapy. Patients who may not be physical or cognitively able to take themselves to an outpatient rehabilitation facility may instead hire occupational therapists who travel to their homes to perform therapy there. Nearly one in 10 occupational therapists works in home healthcare services, according to the BLS, as of 2019.
Working with a patient in their home environment can be particularly valuable for occupational therapists, because they get to see the obstacles the patient faces in the home firsthand and determine ways to overcome them.
Other Healthcare Roles for Occupational Therapists
Smaller chunks of the occupational therapist workforce find employment in other settings. Skilled nursing care facilities rounded out the BLS's list of the top five employing industries for this profession, accounting for 8 percent of occupational therapist jobs in 2019. Just under 5 percent of the occupational therapy workforce worked in early intervention in 2010, according to the American Occupational Therapy Association, while 4.3 percent worked in community-focused "other" roles.
Almost 3 percent of the occupational workforce reported working in an area related to mental health, according to the American Occupational Therapy Association data.
Additional Resources
Why Is There So Much Future Demand for Occupational Therapists?
Is There Something I Can Do to Help Me Decide If I Want to Invest the Time to Get a Master's in Occupational Therapy?
What Is the Difference Between an Occupational Therapy Assistant and an Occupational Therapy Aide?