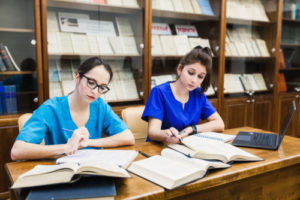 If you're in the process of earning your nursing degree, you've probably heard a lot about the NCLEX exam from your instructors. The NCLEX meaning is "National Council Licensure Examination," and the exam is the final test for nursing students in the United States.
There are separate NCLEX exams for LPNs and RNs, but in this article we'll be focusing exclusively on the NCLEX-RN. The exam tests your ability to apply the knowledge you used in nursing school and determines if your critical thinking skills are advanced enough to practice as a registered nurse.
How do I register for the NCLEX?
The NCLEX requirements state that you must graduate from an accredited nursing program before taking the exam. In your final semester of nursing school, you should be provided with an application for the NCLEX exam along with your nursing license application. Once you submit the exam application, you'll receive an ATT (authorization to test). After this, you'll be able to decide on a testing center and choose a time to take the NCLEX exam.
A $200 fee is required to take the NCLEX exam. After paying the fee, you'll be able to take the NCLEX exam at any Pearson Professional Testing location in the United States. The exams are available year-round in 6-hour time slots. The testing center will accommodate your work and school schedule, so it shouldn't be difficult to find a time that works for you.
What are the NCLEX exam questions like?
The NCLEX will test you on your understanding of patient care, as well as your ability to manage lower-level nurses such as LPNs. A short tutorial at the beginning will familiarize you with the test format. Then, you'll be expected to answer a minimum of 75 questions and a maximum of 265 questions. You'll also have the opportunity to take a break at both the 2 hour and 3.5 hour points.
Additionally, you'll have the opportunity to answer 15 "experimental questions" that don't count towards your final score. These questions are meant to assist test administrators in choosing questions for future NCLEX exams.
Most of the questions on the NCLEX exam are multiple-choice, but there are some fill-in-the-blank and drag-and-drop questions as well. There's no time limit for each question, but you must complete the entire exam in no more than six hours.
The test focuses mainly on these eight specific areas:
Management of Coordinated Care
Safety and Infection Control
Basic Care and Comfort
Reduction of Risk Potential
Health Promotion and Maintenance
Pharmacological and Parenteral Therapies
Psychosocial Integrity
Physiological Adaptation
What is the NCLEX pass rate?
 The NCLEX website keeps a current PDF of pass and fail rates on their website. According to their data, between January and September of 2019, 89.11% of U.S.-educated students passed the test on their first attempt. The pass rate for international students was quite a bit lower, at 47.45% for the first attempt. Repeat students (U.S. educated) had a much lower pass rate of 45.32% as well. Overall, 76.11% of students pass the NCLEX on their first try.
But even if you don't pass the NCLEX on your first try, the good news is that there's no limit on the number of times you can retake the test. Many students still manage to pass the test and earn their certification even if they didn't do well on their first attempt.
It's also important to keep in mind that on the NCLEX, you won't receive a percentage score like on traditional tests. Students simply receive a grade of pass or fail. You'll probably be eager to receive your score from the moment you finish the exam, but unfortunately, you'll have to wait. The State Board of Nursing will send you a letter in the mail with your NCLEX results two to four weeks after the exam is complete.
Are there NCLEX practice tests?
Now that you know all the basics of the NCLEX exam, all that's left to do is prepare! Luckily, there are plenty of practice tests available online. The NCSBN offers several practice tests on their website that are intended to prepare students for the actual exam. At $150 each, the price is a bit steep: But if you have the extra money, these tests are a great way to prepare for your upcoming NCLEX exam.
Each practice packet comes with two tests comprised of 125 questions each. You'll be required to complete each test within a certain timeframe. They present questions the same way as the real test so you'll have plenty of time to get used to the format. You'll also be provided with a score report at the end of the tests.
How else can I prepare for the NCLEX exam?
If you decide not to purchase the expensive practice tests, there are still plenty of ways you can ace the NCLEX exam. The NCLEX website also offers detailed test plans for free, which will familiarize you with the format and guide you through the various types of questions you may encounter. These are a great way to know what to expect on test day without breaking the bank.
Your local bookstore should have NCLEX practice guides available, and they'll run a lot cheaper than the official practice tests. Many nursing programs even offer NCLEX review courses. Your instructors should have a good idea of how to pass the NCLEX exam, since they were required to take it themselves at one point—so you can always ask them for testing tips as well!
Although passing the NCLEX test is an important part of every nurse's career, it's important to practice good stress management techniques and not get overwhelmed. You should follow the same study advice for the NCLEX that you have with all other big exams: Give yourself plenty of time to prepare, and be sure not to cram information on the night of the test. Eat well and get enough sleep in the week leading up to the test as well.
Erica Ciko Campbell
Bachelor of Science (B.S.), Biology| Utica College
Associate of Science (A.S.)| Herkimer County Community College
November 2019
More Articles of Interest: