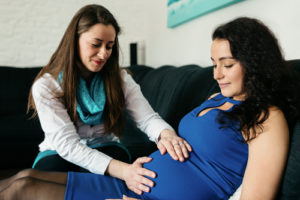 If you've looked into a midwifery career at all, then you have likely discovered that like most career choices, there are a variety of ways you can complete your education. You may have also discovered that there are a few different types of midwives and that each of those types has different credentials, certifications and skills.
In 2010, the American College of Nurse Midwives (ACNM) changed the educational requirements for a certified nurse midwife (CNM). Today, to enter into clinical practice, a CNM or certified midwife (CM) must possess an MSN from an accredited university and be certified by the American Midwifery Certification Board (AMCB). This article will be discussing the educational choices, certifications, and requirements of the ACNM approved track to CNM practice.
I Want to Be a Midwife: Where Do I Start?
There are some common steps to becoming a CNM. If you are currently a high school graduate, then you are in a great place to start climbing the midwifery ladder. If you happen to be coming from a different field, there is probably a step that you can slide into as well.
Complete Nursing School
There are three ways to begin your midwifery journey. You can earn a nursing diploma, associate of science in nursing (ADN), or a bachelor's of science in nursing (BSN). ADN programs typically take two years to complete (but you will have two years of prerequisites) while a BSN program will usually take four years. Diploma programs, which are typically attached to hospitals, are not very common. They take about three years to complete.
Pass the NCLEX & Begin Working as an RN
The NCLEX is the National Council Licensure Examination (NCLEX-RN). It is the test all RNs in the United States must pass before beginning clinical practice. Most graduate midwifery programs want 1-2 years of RN experience for their candidates. If you are certain midwifery is next for you, working as an RN in women's health, a NICU, pediatric care or labor and delivery would be an excellent starting point.
Enter and Complete a Graduate (MSN) Program
Make sure you are applying to certified midwife programs. These programs are accredited by the Accreditation Commission for Midwifery Education (ACME). Typically, you will need your years of RN working experience to qualify as a candidate.
Get Certified by the AMCB
The AMCB certifies CNMs and CMs. This certification ensures a certain level of consistency and quality across midwife cares (regardless of geography). Like the NCLEX-RN, the AMCB examination is a computer test. Results are available day-of testing.
Expectations of an MSN Midwifery Program
One of the neat things about a CNM practitioner is their duality of training. Because CNM programs require a certain number of years of nursing experience, CNMs are trained and skilled as an RN and as a more advanced practitioner. Because CNMs are foundationally trained as nurses, an MSN program builds on RN knowledge that is already in place (and is already being used).
Program Details
Certified CNM programs are available both online and on campus. If you are wondering how long midwifery school is, plan for two years. Some programs allow students to slow down. Online programs often have hospital affiliations, as there are clinical experiences that are a required part of CNM education.
Program Goals
CNM programs strive to teach providers how to work within their scope of practice, building on the practices and skills taught in RN schooling. CNMs are taught to be great champions of patient autonomy and voice, while also working collaboratively with doctors, RNs and other healthcare professionals.
Skills and Education
A CNM may also be referred to as an advanced practice RN (APRN). These men and women are taught to integrate theory, evidence- based research and policy into their APRN practice. They are also taught to be leaders, to work autonomously, and to be able to design and follow through with their own plans of care for their patients. Not unlike an RN, CNMs must learn the skills of adaptability and best use of existing resources.
Clinical Experiences
CNMs will be given clinical experience in all areas of women's and newborn health. This may include pharmacology, assessment, research, gynecological primary care nursing, surgical care, antepartum care, intrapartum care, newborn care, postpartum care, leadership and teamwork. Though required clinical hours vary among programs, except 500+ hours to be required of you.
Additional Midwifery Certifications
Outside of earning your MSN, there are additional certifications a CNM or CM can pursue. Note that these are not required for practice, but will increase your skills, your marketability and (potentially) your pay.
Sonography Certificate: There are two steps to earning this certification. Students will take a computer based sonography examination and a practical examination. After achieving this certification, maintenance is required every five years.
Certified Surgical First Assistant: This certification allows CNMs and CMs to perform as the surgical first assistant in cesarean and other operative procedures. It requires 75 continuing education (CE) credits and renewal every fourth year. In 2020, the renewal period will change to every two years (and 38 CE credits).
International Board Certified Lactation Consultant (IBCLC): Some midwives may pursue IBCLC certification. This requires 90 hours of breastfeeding education and 1000 supervised hours of clinical service. You will also sit for a board exam.
The midwifery field is one with great growth and outlook. If you are a compassionate communicator who is able to work both autonomously and collaboratively, you will likely find a lot of joy and privilege in this field of women's health. As more and more women choose to return to the midwifery model of care, you, as their midwife, could be a valuable piece of their healthcare journey.
Laura Mansfield
Master of Healthcare Administration (MHA) | Sacred Heart University
Associate's Degree of Nursing (ADN) | North Seattle Community College
Bachelor of Business Administration (B.B.A.), Marketing, Sales | University of Washington (Seattle)
November  2019
More Articles of Interest: