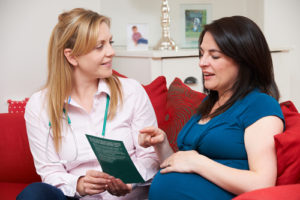 Many jobs within the nursing field require you to take care of people who have illnesses, diseases, and injuries. The field of obstetrics is a little different. Pregnancy is not a disease or illness, and the care of pregnant women can be a fantastic option for individuals interested in a career in nursing. But how can you decide between becoming a labor and delivery nurse or a midwife? The first step is learning the educational requirements for each profession, and the differences between the scope of practice.
Educational Requirements
For an individual to become a labor and delivery nurse, they must graduate from an accredited nursing program, which may require two or four years of education. Passing the NCLEX exam in your state is the next step in the process of becoming a registered nurse. After passing this exam, nurses are licensed and may apply for a position as a nurse. However, most hospitals require that a nurse have several years of general nursing experience before allowing them to work in a labor and delivery unit. Many facilities are willing to provide training for motivated nurses.
It takes additional education to become a nurse-midwife. Midwives also have to become registered nurses through a two or four-year program. In addition to becoming licensed, there are more educational requirements. The different midwifery programs throughout the country have distinct admission requirements. Some schools require that applicants have a BSN degree, others offer accelerated programs that combine the BSN and MSN requirements. Some universities have programs available for individuals that have a non-nursing BS that meets the requirements for taking the NCLEX and the additional education to become a nurse-midwife. The various midwifery programs take from two to three additional years to complete.
Scope of Practice
The scope of practice for labor & delivery nurses and midwives are different. Nurses in L&D work under the direction of a nurse-midwife or OB/GYN physician. They play a significant role during the labor and delivery process, but they do not work alone. An L&D nurse does not the responsibility of making decisions related to the use of forceps or whether to perform a C-section or not.
These nurses care for women when they are in active labor and giving birth and may perform internal and external exams to see how a woman is progressing. They also monitor vital signs for the mother and baby, administer medication as ordered, and assist with emergencies as needed. During the birth process, nurses help coach a woman through contractions, assist the doctor or nurse-midwife, and care for the newborn immediately following the birth. In some hospitals, the L&D nurse is also responsible care for both mom and baby until they are discharged home.
Midwives are generally used in the place of an OG/GYN physician during labor. This means that they have the same responsibility as a doctor. Similar to an obstetrician, a nurse-midwife is the individual who is responsible for making critical decisions during pregnancy and delivery. They are also the person that makes decisions about emergency interventions that may arise during delivery.
Midwives differ in the care that they offer to women. They provide care for women throughout the full course of their pregnancy and play a vital role during labor and delivery. They may educate women about the necessary healthy habits required during the prenatal phase, perform exams, and advise women on the options for pain management during labor. In addition, nurse-midwives give support and assistance as needed during all phases of delivery.  In many cases, midwives care for women during the post-partum as well, by providing education and support as required.
Midwives also care for women during the various stages of their life, not just during pregnancy. Many nurse-midwives perform routine gynecological exams, provide preconception information and counseling, and treat hormonal changes during menopause.
We can compare the similarities and differences between these two career options as follows:
| | | |
| --- | --- | --- |
| Responsibility | L&D Nurse | Nurse-Midwife |
| Attend Deliveries | X | X |
| Provide Support | X | X |
| Provide Newborn Education | X | X |
| Care For Women Throughout Pregnancy | | X |
| Provide Non-Pregnancy Care | | X |
| Provide Postpartum Care | X | X |
| Work Independently | | X |
Career Opportunities
The majority of labor and delivery nurses work in a hospital setting. Others may also work in a birthing center. These nurses typically work eight or 12-hour shifts and may care for several women throughout their shift. They work with all categories of patients from those requesting as natural a birth as possible, to those who desire pain medication or epidurals, and women scheduled to deliver via C-section. Labor and delivery nurses also help care for women with complications related to pregnancy and labor and delivery.
Midwives typically perform deliveries in birthing centers, or they are self-employed.  Some nurse-midwives may also work for hospitals. However, this option is less common. In many instances, nurse-midwives assist moms with home birthing but usually do not care for pregnant women who are considered high risk.
Unfortunately, babies are born all different hours of the day and night, so midwives may have unpredictable work hours. When a woman goes into labor, her nurse-midwife stays with her until delivery and does not have the option to go off duty when the "shift" is over. The majority of women who choose a midwife over an obstetrician, prefer to experience natural delivery and wish to use alternative techniques for the management of pain.
Career advancement opportunities differ significantly between these two types of nurses. L&D nurses can progress to supervisory and administrative positions, while many nurse-midwives are self-employed and do not have the same promotional opportunities.
Income Potential
Many different factors account for salary and income for both labor and delivery nurses and nurse-midwives. Their years of experience, credentials, and where they live and work all play a role in earning potential. In addition, nurse-midwives employed in private practice can set their own service rates, which can vary considerably.  However, on average, nurse-midwives tend to have a higher earning potential than labor and delivery nurses.
According to the United States Bureau of Labor Statistics, the average salary for registered nurses (including labor and delivery nurses) in 2018 averaged $71,730 per year. The average annual wage for nurse-midwives in 2018 was just under $107,000. However, nurse-midwives are required to carry malpractice insurance, and if working independently, this insurance can be costly. It is best to consider all of the differences before making a decision to become a labor and delivery nurse or a nurse-midwife.
Tracy Everhart
Master of Science (M.S.), Complementary Alternative Medicine| American College of Healthcare Sciences
Master of Science (M.S.), Nursing| Yale University
Bachelor of Science (B.S.), Microbiology| Hampshire College
November 2019
More Articles of Interest: