If you're thinking about going to graduate school for nurse-midwifery, one of the highest-paying master's degrees, you might wonder where you will end up working. Certified midwives with formal clinical training and professional credentials can, and often do, work in hospital settings. In hospitals, midwives deliver babies with a holistic perspective on patient care, pain management and natural childbirth.
Statistics on Midwife Care in Hospitals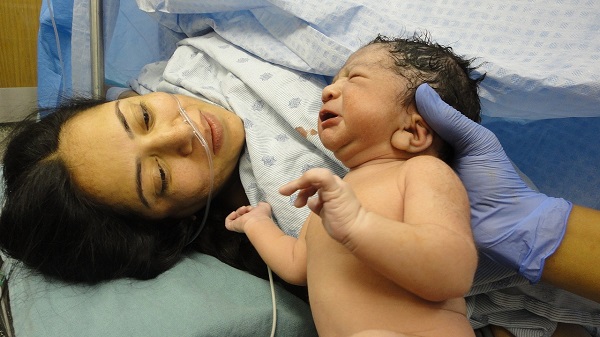 IMAGE SOURCE: Pixabay, public domain
Even though people tend to associate midwives with old-fashioned home births, that impression doesn't match reality. In fact, more than 94 percent of births attended by Certified Nurse-Midwives (CNMs) and Certified Midwives (CMs) in 2017 happened in hospitals, the American College of Nurse-Midwives reported. That adds up to over 330,000 births in the United States.
Although midwife care is nowhere near as common as maternity care provided by doctors, more than nine percent of all births in America were attended by a Certified Nurse-Midwife or a Certified Midwife. Although not all midwives are formally trained and professionally recognized through certification, the vast majority of births attended by midwives – 85 percent – involved either a CNM or a CM, according to the American College of Nurse-Midwives.
As of 2019, only 7,200 Americans worked as nurse midwives, according to the United States Bureau of Labor Statistics (BLS). Even with the much faster than average job growth rate predicted by the BLS, the small occupation is likely to add just 800 jobs over a decade.
What Midwife Care Is Like in the Hospital Setting
Nurse-midwives are registered nurses (RNs) who go to graduate school for a degree in the specialized area of clinical practice in nurse-midwifery. They are licensed as advanced practice registered nurses (APRNs) and certified through the American Midwifery Certification Board. When you consider that 60 percent of registered nurses work for hospitals, according to the BLS, it might not seem so unusual for a nurse-midwife to work in this environment.
During a birth, nurse-midwives in hospitals provide many of the same services as obstetricians. They monitor the vital signs and wellbeing of mother and baby and track the progression of labor. Nurse-midwives also help patients manage their pain, often through holistic methods like aromatherapy, massage and hypnosis. However, patients under a midwife's care may also opt to have pharmacological forms of pain management treatments, such as an epidural injection that provides regional anesthesia.
Nurse-midwives deliver babies, coaching laboring patients on when and how to push. They sometimes have to manage complications and even perform some interventions, such as episiotomies, although midwife care generally aims for as natural a birth as possible. A nurse-midwife must also deliver the placenta and provide after-birth care, such as stitching any tears that result from the birth.
Many nurse-midwives who work in hospitals and birthing centers connected to hospitals work alongside obstetricians, maternal-fetal medicine physicians and other doctors. In this way, complications and interventions that are outside the scope of a nurse-midwife's practice, such as C-section deliveries, can swiftly be handed off to the appropriate medical provider. This close collaboration also allows patients who may be high risk to enjoy the benefits of midwife care during labor while remaining safely under a doctor's care.
Midwives in hospitals may also help take care of newborns and provide assistance and education to mothers learning to breastfeed.
Other Work Environments for Midwives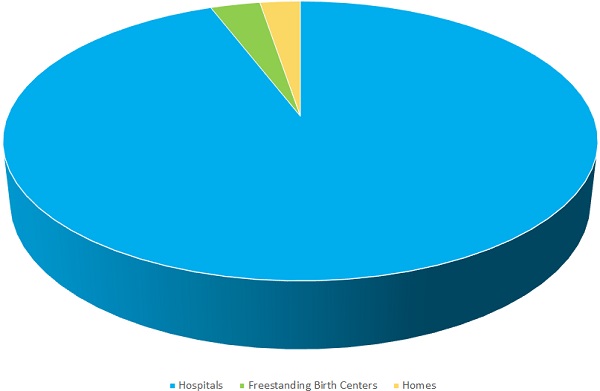 Midwives also oversee childbirth in other settings besides hospitals, although not at nearly as high rates. Only 3.2 percent of the births attended by a Certified Nurse Midwife or a Certified Midwife – around 11,200 births total in 2017 – took place at a freestanding birth center, according to the American College of Nurse-Midwives.
However, midwife care isn't limited to pregnancy and childbirth. Midwives provide healthcare services to women that extend beyond maternity care. In fact, more than 53 percent of midwives with the CNM and CM credentials reported that their primary job function was reproductive care and 33 percent reported primary care as their focus, the American College of Nurse-Midwives reported. Midwives who perform these services might work in doctors' offices, public clinics, military hospitals and other medical facilities that offer this kind of care.
Another 2.6 percent of births managed by a midwife with certification in 2017, or 9,100 total births, were home births.
Additional Resources
What Is the Typical Relationship With a Midwife After the Birth of the Child?
Can Midwives Order the Same Tests as Doctors?