A master's degree in music education may be one of the highest paying master's degrees, but prospective students shouldn't let the payoff of earning the degree distract them from what's really important. Even if going back to school is the means to earning a raise or changing your career, the point of your graduate studies is to learn something. What you will learn as you work through a master's degree program in music education is graduate-level subject area knowledge of music theory and history, the methods of effective music instruction and how to put those methods into practice.
Music Courses for Aspiring Music Teachers
Most master's degrees in music education include some coursework in music more generally and considerably more coursework in the teaching and learning of music. For example, you should expect to take at least one course in music history and music theory or analysis. You might get to choose music elective courses in types of music, such as jazz, or in music arrangement and orchestration. You can also continue improving your own musical skills through courses in applied music or music techniques.
When you think about the breadth of what music teachers do, developing graduate-level knowledge of multiple areas of music makes a lot of sense. Not all music education revolves around hands-on instruction of the use of musical instruments. At the elementary grade levels, especially, music teachers may introduce students to the foundations of music, like notes, chords, keys and tempo. At these grade levels, classes covering the history of music and famous composers are as common as those teaching students the practical skill of how to read music. Educators who have considerable familiarity with topics like music history and theory are well-prepared to cover this coursework with their students.
Studies in arrangement, orchestration and conducting can also help you prepare for the challenges of leading classes of students in school band and vocal concerts.
Classes in Music Instruction
A master's degree program in music education should focus heavily on the theories and practices of the teaching and learning of music. Often, students start off with a graduate-level introductory course in the foundations of music education. Coursework in music learning and development may encompass the various psychological, sociological, philosophical and historical perspectives on music education and instruction. Graduate students will learn how to create their curriculum and assess their students' learning and progress. In many programs, the curriculum also covers at least introductory coursework in the integration of music technology into the classroom. Later on in their curriculum, graduate music education students may focus on developing advanced techniques in teaching music.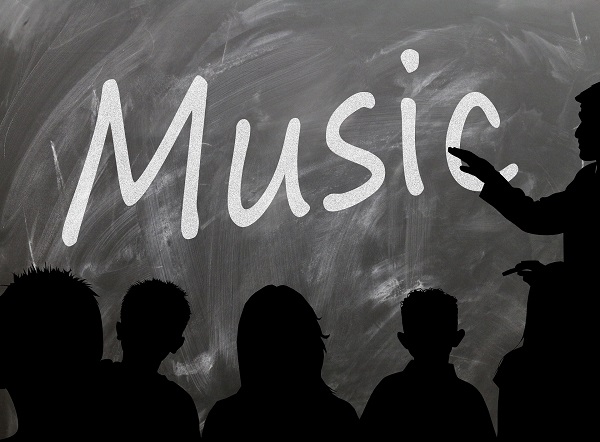 IMAGE SOURCE: Pixabay, public domain
Music education is already a fairly specific field of study, but certain degree programs allow you to specialize further. Some programs emphasize research in music instruction, a track which may emphasize coursework in statistics and research methods as well as a major research project. A specialized track in music technology can build on introductory coursework in the niche with more in-depth studies in music technology pedagogy and the use of technologies like notation software. There are even music education programs that specialize in learning the techniques developed especially for teaching music to students with an autism spectrum disorder.
Depending on the program you choose and the music education electives you select, you may study cultural issues in music education, including privilege and marginalization, as well as how music instruction facilitates holistic learning across disciplines.
How to Apply Methods of Music Instruction in the Field
If you don't already have teaching experience, field work will most likely be an important part of your master's in music education curriculum, too. Student teaching experience is required if your degree program is meant to prepare you for licensure, and programs sometimes include additional field experiences and opportunities, as well. What makes field work so valuable is that it allows aspiring educators to take the theories and strategies they learned in their graduate school classroom and put them into action in a real classroom within the kindergarten to twelfth-grade levels. This allows you to see what works, adjust what doesn't and really practice developing and carrying out lessons in a supervised classroom environment.
A non-certification program that doesn't include field experiences can be a lot shorter than a certification program, but schools often require applicants to this program to have a teaching license and professional teaching experience prior to enrolling.
Additional Resources
What Are the Things I Want to Look for in a Master's Program in Music Education?
I Am Hoping for Help in Creating My Music Education Curriculum. Do Most Programs Include This in the Areas of Study?
What Are Most Master's in Music Education Programs' Demands for Prerequisites?