Most of your coursework in a graduate program in applied mathematics, which happens to be one of the highest-paying master's degrees, consists of advanced math courses. However, one component of being a good mathematician – and, in some programs, a requirement to graduate – is knowing a foreign language. There are many benefits of studying a foreign language, especially for mathematicians, and a number of different languages are good choices for a career in math.
Why Do I Need to Know a Foreign Language to Be a Mathematician?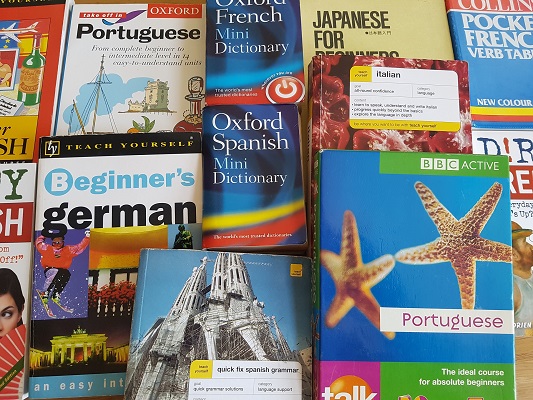 IMAGE SOURCE: Pixabay, public domain
The most immediate reason why you would need to know another language to be an applied mathematician is because your master's degree program might require you to do so. You might not have to take formal coursework in a foreign language, but some master's degree programs in applied mathematics include a mandatory exam that measures your basic mathematical reading ability in another language.
The rationale behind this requirement is, often, to make sure that mathematical research findings published in other languages are accessible to you. A great deal of ground-breaking research in applied mathematics is being done in other countries and cultures, and the findings are being published in manuscripts written in the researchers' native language. If the only research you are able to keep abreast of is research published in English, you might miss out on some exciting growth in the field. Over the course of your career in applied mathematics, you may also have the opportunity to collaborate with researchers near and far, and knowing more than one language will help you with these collaborations.
Further, researchers have made some surprising findings about the words used to express numbers and mathematical concepts in different languages. Some languages are objectively easier to learn math in than others, according to research findings cited by The Wall Street Journal. Languages that use simpler wording to express numbers – such as Japanese, Chinese, Turkish and Korean, The Wall Street Journal reported – allow children to learn math more easily and may play a part in the differences in age-level math achievements between countries.
Of course, by the time you get to the college and graduate school level of your math studies, you have already mastered basic arithmetic skills like counting, and you know English number names. Still, knowing how foreign languages express math concepts is valuable.
Foreign Language Options to Consider
How do you choose a foreign language to learn to help you succeed as an applied mathematician? First of all, you should find out if your school specifies any particular languages. Some of the foreign languages graduate math programs commonly encourage students to learn include Spanish, French, Portuguese, German, Japanese, Chinese and Russian.
If English is your second language and one of the approved or suggested languages happens to be your native language, you may not need any further foreign language study. Of course, acquiring basic math fluency in yet another language certainly won't hurt your career, either. If you already know two languages, an advisor may recommend that you expand your horizons even further to meet the language proficiency requirement in a language that is new to you.
You can also think about your own interests and skills. Learning a language that is more similar to English, such as German or one of the Romance languages that originated from Latin – like Spanish or French – may be easier than learning a language that uses a totally different alphabet system or letter characters. On the other hand, you may wish to learn another language for a reason unrelated to math, such as an interest in a culture or in visiting another country.
The benefits of learning a foreign language may include developing stronger analytical skills. In fact, research has shown that study of a foreign language is associated with an increase in test scores – in math as well as verbal content.
Learning a Foreign Language as a Math Student
If you're like many math students, you may doubt your language skills. A perceived dichotomy between being good with numbers and being good with words may make you think that your strengths aren't in an area that would help you learn a language. However, you don't have to be a brilliant creative writer or literary critic to learn the foundations of language. Math and language learning actually have a lot more in common than you may realize, including following logical rules.
Some experts in the field have gone so far as to refer to math as the "language" used to communicate science and engineering information.
Additional Resources
I Read That Applied Mathematics Is a Combination of Mathematical Science and Specialized Knowledge. What Does That Mean?
Is There a Science Topic I Should Try to Be Strong in If I Want to Work in Applied Mathematics?