Agricultural engineering is one of the highest-paying bachelor's degrees. If you're a student interested in this field, though, you might wonder if there really are jobs available in this field of engineering for candidates with only an undergraduate degree or if you will need to go to graduate school. Although nearly one in four agricultural engineers has some amount of study beyond the bachelor's degree, there's a lot you can do with only your undergraduate education.
Most Agricultural Engineers Have a Bachelor's Degree
If you worry that not having a master's degree will put you behind in the job market, this might ease your mind. A bachelor's degree is the level of education expected of agricultural engineers, according to the United States Bureau of Labor Statistics (BLS).
The majority of the agricultural engineering occupation – 69 percent – reports a bachelor's degree as their highest level of study, according to O*NET. Even among the 24 percent of agricultural engineers who report a level of formal education above a bachelor's degree, master's degrees and post-baccalaureate certificates are equally popular, both accounting for 12 percent of the profession.
In other words, even if it seems like many agricultural engineering careers prefer a master's degree, workers in this field are more likely not to have a master's degree. The educational breakdown is noticeably different from branches of engineering like environmental engineering, where 48 percent of the occupation has a master's degree (four times the percentage of agricultural engineers with a master's degree) and more than half of workers have an education above a bachelor's degree, O*NET reported.
With just 2,600 Americans employed as agricultural engineers, agricultural engineering is the smallest distinct engineering occupation recognized by the BLS. Maybe the profession's small size is why master's degrees seem more prevalent than they really are.
Job Opportunities With a Bachelor's in Agricultural Engineering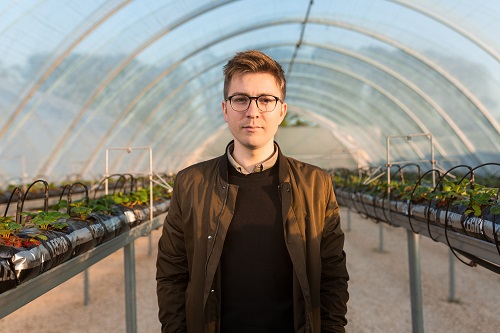 IMAGE SOURCE: Pixabay, public domain
A bachelor's degree, along with the appropriate amount of experience, will allow you to work in most areas of agricultural engineering in entry-level, midcareer and even senior engineering roles.
Despite being a small field of engineering in the numerical sense, agricultural engineering is a broad discipline that can encompass any engineering work that pertains to farming processes, equipment and systems. You might use your bachelor's degree in agricultural engineering to find a job in designing agricultural equipment, machinery and vehicles, such as tractors. Another option is to develop systems used for bioprocessing or for food production. Many areas of agricultural engineering have an environmental component to them. You might, for example, develop methods of preserving the quality of water and soil during farming, search for more eco-friendly ways to dispose of animal waste or create natural resource management systems.
Despite the name of the field, agricultural engineers don't all work in traditional farming. Some work in forestry, aquaculture or sustainable food production, and they draw on skills that range from computer programming to designing mechanical systems.
When You Need an Advanced Education in Agricultural Engineering
Just because you can have a fulfilling lifelong career in agricultural engineering doesn't mean there's never a need for a master's degree in this field. After all, almost one-quarter of the occupation has a master's degree, and these hundreds of agricultural engineers aren't just going back to school on a whim. Having a master's degree can open some doors that would otherwise be closed to less highly educated agricultural engineers.
Generally, agricultural engineers with a master's degree are the ones working in research and development roles or in academia as college professors (who usually also have a research component to their work), the BLS reported. For some of these opportunities, such as tenured professor of agricultural engineering, you may even need a doctoral degree like a Ph.D.
You might also decide to go back to school for your master's degree if you want to move up into a management role. These opportunities may include positions such as agricultural engineering project manager, senior project specialist in agricultural engineering or director of agricultural engineering. Even among engineering and architectural managers, a bachelor's degree is still the most common level of education, with 57 percent of the field reporting it as their highest level of study, according to O*NET. However, nearly one in three engineering managers has a master's degree and nearly one in 10 has a post-baccalaureate certificate.
If you're considering a master's degree to help you move into management, you need to choose a field of graduate study to pursue. You could gain more advanced and specialized knowledge in agricultural engineering or study business or engineering management.
Additional Resources
What Degree Do I Need to Become an Agricultural Engineer?
What Classes Will I Have to Take for a Degree in Agricultural Engineering?
What Is the Difference Between a Degree in Agricultural Engineering and a Degree in Environmental Engineering?