A fear of unfavorable job prospects is perhaps the biggest factor that deters students from pursuing a Master of Library Science, one of the easiest online master's degrees. If you've heard that public and school libraries are in dire straits due to funding troubles, it's no wonder you have this pessimistic impression. Schools and local governments make up a huge part of the occupation. Fortunately, the numbers show that libraries – and jobs for librarians – aren't disappearing at all. Instead, they're changing in ways that allow them to remain relevant and needed in modern communities. The result is a job outlook that's better than average, as of 2019.
An Above-Average Rate of Job Growth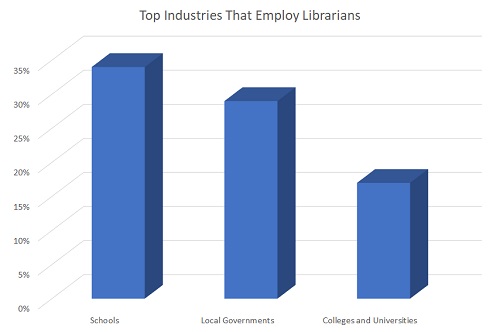 Overall, there were 146,500 librarians working in the United States in 2019, according to the U.S. Bureau of Labor Statistics (BLS). The industry that employs the most librarians is public and private elementary and secondary schools, where jobs make up 34 percent of the librarian occupation. Local government entities – most notably, public community libraries – account for 29 percent of the librarian profession. Another 17 percent of librarians work for colleges and universities.
The librarian profession is likely to grow over the next decade, the BLS reported – and this occupation is expected to grow at a faster than average rate. For all occupations in the U.S., the BLS predicts job opportunities to rise by just 4 percent from 2019 to 2029. The 5 percent rate of growth expected for librarian job opportunities may not seem like a huge improvement over the 4 percent average rate, but it's significant enough that the BLS classified the growth rate as "faster" than average.
Assuming the BLS projections are accurate, the result will be 7,300 new jobs for librarians added by 2029, bringing the total number of librarians in the country up to 153,800, the BLS reported. Each year, the BLS expects 13,800 librarian job openings to be posted.
Librarian Jobs Are Changing, Not Disappearing
IMAGE SOURCE: Pixabay, public domain
If this positive job outlook surprises you, it's because evolving technologies are changing libraries, not making them obsolete. In fact, the BLS reports an increase in the extent to which communities rely on libraries – not only for traditional purposes like borrowing books but also for an assortment of other services. Today's librarians are responsible for knowing how to use and find digital information and collections, including electronic databases of articles. Librarians also develop educational programming for community members and social events, like book clubs and readings, that get the community engaged.
Far from being a dying profession, librarian is a dynamic and surprisingly nimble occupation. Although people most commonly associate librarians with books, the reality is that librarians are authorities in information and in finding information of all types. As technology evolves, librarians keep up with it and learn how to use new tools and programs to perform their job of helping community members find information.
It's telling that many programs in this discipline are now considered Master of Library and Information Science, rather than Master of Library Science degrees. Regardless of which title your program bears, modern programs are increasingly emphasizing technology.
Who Has the Best Job Prospects in the Librarian Profession?
If you want to maximize your marketability as a librarian, your best bet is to select a master's degree program that has earned accreditation from the American Library Association. You should also go out of your way to become a tech-savvy information specialist, since skills in adapting to use new technologies are important in having the best job opportunities in this field, according to the BLS. Many Master of Library Science programs today include classes in digital libraries and collections, web archiving, computer-mediated discourse analysis, human-computer interaction, database design, web programming and other technology-focused coursework.
Work experience is another factor that can help you get a job as a librarian. Taking part in an internship experience while earning a master's in library science can help you start gaining experience even before you graduate.
Be prepared to keep learning new technologies through continuing education programs throughout your career, and know going into the profession that you may need to apply for some sort of professional certification if you want to work in a public or school library.
Additional Resources
What Will I Study in Library Science That Will Help Me Get a Job as a Data Analyst or Manager?
Do I Need a Certificate or Accreditation to Become a Librarian?
How Can I Get a Job With a Graduate Library Science Degree?
What Is the Job Outlook for Candidates With a Master's Degree in Library Science?