Library science is considered one of the easiest online master's degree programs. Although you learn how to find and manage information and research, you don't have to perform complex mathematical calculations, write highly technical algorithms, or conduct complicated hands-on experimental research. Once you complete your education in library science studies, however, you may need to jump through a few more hoops before you can become a librarian. In particular, you're likely to need some form of professional certification or license if you intend to work in a public library or school library setting.
Public Library Certifications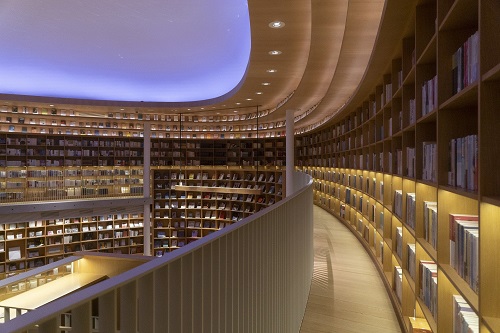 IMAGE SOURCE: Pixabay, public domain
For students aspiring to work in a public library, whether you need a certificate or certification depends on the state where you would like to work. Over half of the states in the U.S. require public librarians to have some form of certification or certificate, according to the ALA Allied Professional Association (ALA-APA).
How states handle certification for public librarians varies a great deal. Certification can be mandatory or optional and can apply to all library workers or only to high-level roles like library director. Even the requirements to accomplish certification are very different. Some states accept nothing short of an American Library Association (ALA)-accredited Master of Library Science degree, while other states put more emphasis on work experience in libraries and on meeting continuing education requirements, the ALA-APA reported.
If you hope to work as a librarian or in a management or administrative role in a library, it's in your best interest to prepare for the most rigorous certification requirements. This means choosing a Master of Library Science program that has attained ALA accreditation. Because the technology used in library research is constantly evolving, aspiring librarians should expect to keep learning for a lifetime and be aware that some form of continuing education is likely to be a requirement no matter where they work.
Public librarians are included in the 29 percent of the librarian workforce employed by local governments, the United States Bureau of Labor Statistics (BLS) reported.  
Teaching Certification for School Librarians
You're even more likely to need a license to work as a librarian if you intend to work in a school. Since elementary and secondary schools make up the largest employing industry for librarians – 34 percent of this workforce, according to the BLS – this means a lot of aspiring librarians require a license.
In many cases, school librarians must acquire a teaching license or certification, just as a classroom teacher would. This makes sense because school librarians may occupy more of a teaching role than librarians in other settings do. Some school librarians teach graded "specials" classes in elementary and middle schools that help students learn to find information for academic and personal research and to develop familiarity with books and with library classification systems. Often, school librarians become certified teachers in another subject area before they pursue certification as a librarian, according to the American Association of School Librarians.
Students interested in this career path might consider a master's in library science program with a   specialization in school library media. Their curriculum might include coursework in instructional design, teaching methodologies for librarians, literacy for K-12 students, children's literature, managing a school media center and library services for special needs students. Students pursuing a school library concentration in a master's degree program in library science may devote a semester to student teaching.
To earn a school librarian license, you may need to pass the PRAXIS II Library Media Specialist exam. This two-hour, 120-question test covers program administration, collection development, learning and teaching, information access and delivery and professional development, leadership and advocacy.
Professional Credentials of Other Types of Librarians
Public librarians and school librarians are among the most common library and information science professionals the average person comes into contact with. However, there are many other types of librarians, including academic librarians, corporate librarians, law librarians and medical librarians. You don't typically need a license or certification to work in these types of libraries, but you may need special knowledge of the field. Medical librarians might need to complete a combination of coursework at the undergraduate and graduate level that provides them with a background in health sciences librarianship, while law librarians may need a law degree, the BLS reported.
The job of helping users find information is the same across these different types of library roles, but the required expertise differs by subject matter. Medical librarians need to know how to search for health information, while law librarians must be familiar with legal documents and files.
Additional Resources
What Are the Job Prospects for the Librarian Profession? Aren't Libraries Disappearing?
What Will I Study in Library Science That Will Help Me Get a Job as a Data Analyst or Manager?