Training for a job takes many different forms. In a college certificate or degree program in hospitality management, at least some of your learning will take place in a traditional classroom. Much of your training is hands-on, taking place in lab settings like teaching kitchens or in full-service teaching restaurants or hotels that are usually open to the public. Internships are another form of gaining firsthand work experience. Once you get hired with your hospitality degree, you should expect to complete some amount of formal or informal on-the-job training, as well.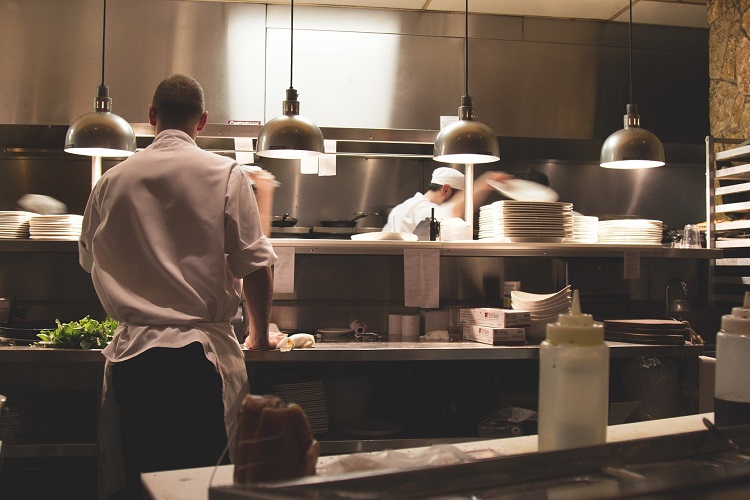 IMAGE SOURCE: Pixabay, public domain
Learning Hospitality Management in the Classroom
You may not think of hospitality management as a particularly academic field of study, but there's plenty to learn about the field in a traditional lecture course. Students of hospitality management take several courses introducing them to other areas of business administration, such as financial accounting, business finance, marketing, management and human resource management. These topics are usually covered in a lecture-style course.
It's not only the business background that you can learn in the classroom. A lot of the major coursework for this degree program, especially at the foundational and introductory levels, is presented in a traditional classroom. Students can learn the fundamentals of food safety practices, the principles of hotel operations, methods of cost control analysis and many other principles and concepts in the classroom.
Many courses in a hospitality management program combine both lecture and laboratory instruction – with the "lab" meaning everything from a small kitchen and cafeteria to a full-service restaurant or hotel.
Hands-On Work in College-Run Restaurants and Hotels
You've likely heard of teaching hospitals where medical students and interns learn from licensed doctors. What many people don't know is that there are also teaching hotels and teaching restaurants that allow aspiring hospitality managers to develop their hands-on skills in a variety of tasks in hotel and restaurant operations.
Different hospitality management programs incorporate teaching hotels and restaurants into the curriculum in different ways. In some degree programs, students may only work in the facility near the end of their curriculum but will spend an entire semester acquiring this experience. Other programs integrate teaching hotels and restaurants into the core curriculum throughout the course of study through observations and exposure to facility operations.
If you attend a hospitality management program with a teaching hotel or restaurant, you should expect to spend time working in all areas of the facility, including front-room or front-desk guest services, kitchen management and administrative management.
Internships in Hospitality Management
Many hospitality management bachelor's degree programs require hundreds of hours of practicum or internship experience before you can graduate. This means students have the opportunity to get quite comfortable with hands-on work in the hospitality industry through one or more internships that may take place at different sites and types of tourism companies and facilities.
If your school offers both opportunities, it's always valuable to complete both fieldwork at an on-site teaching hotel or restaurant and an internship at a separate location. Although each type of training provides practical experience, what you gain from these opportunities is slightly different. The training programs at teaching hotels and restaurants are usually more comprehensive and well-defined to make sure students develop a greater variety of skills than traditional internships, through which students often work in a more limited scope of departments and responsibilities. However, placement in independently operated hotels and restaurants not tied to the school offers you more chances to network with a new set of professionals in the field.
Internships can take place in any location with a thriving hospitality and tourism industry. Some students complete internships close to home or school, but others travel domestically or internationally to fulfill this requirement at well-known resorts, hotels or restaurants.
On-the-Job Training
A college education in hospitality management goes a long way toward getting you ready for leadership roles in the field. The degree, and the knowledge and skills you gain through the curriculum, can help you start in a position above entry-level hotel and restaurant staff and reach your career goals faster. However, even if you have a bachelor's degree and start as an assistant or mid-level manager of a restaurant or hotel, you may still need to undergo some on-the-job training in your new role. That's because different hospitality facilities and companies have different policies, approaches to business and technological requirements. On-the-job training for food service managers and other hospitality managers may include formal classroom training and informal shadowing or practical training.
Some topics covered in your job training as a new hospitality manager, like basic food preparation and sanitation, reiterate what you already learned in your studies. Others focus on your company's policies and how it maintains records and manages workers.
Additional Resources
What Personality Traits Are Most Important for a Career in Hospitality Management?
Is It More Worthwhile to Get a Job in the Hospitality Industry or Get a Degree?
How Important Is Hands-On Experience in a Hospitality Degree Program?