The last thing prospective students want is to spend years – and money – earning a degree in a field where the job prospects are limited. If you want to work in the field of hotel management, then, it makes sense to look for a deeper understanding of how the hotel industry as a whole is doing. The hotel and broader hospitality industries are thriving right now, but that doesn't mean there are no challenges or that you don't really need a degree for this job role. In fact, increased competition from outside the traditional hotel industry and a slow growth rate expected for hotel management roles specifically make it more important than ever that you develop the insights and skills found in a typical hotel or hospitality management degree program.
Growth in the Hotel Industry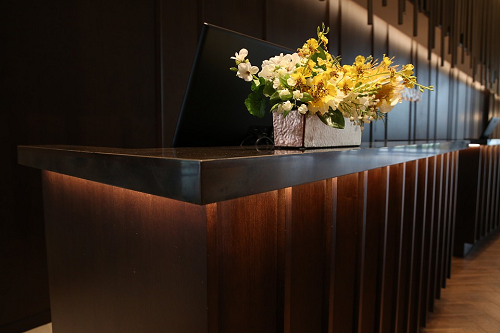 IMAGE SOURCE: Pixabay, public domain
Experts in the hotel industry, from hospitality investors to hotel owners and managers, are overwhelmingly optimistic about growth in the industry. Not only has the industry enjoyed years of success by measures of growth in market demand and investment capital, but it also isn't showing any signs of declines in the near future, experts say.
The booming hotel industry is in line with the thriving hospitality and tourism industry as a whole. As of 2019, travel and tourism jobs accounted for 10 percent of all jobs worldwide – 319 million jobs in all – and 10.4 percent of the global GDP, an important measure of economic value. Of all new jobs in all industries that have emerged worldwide over the past five years, the travel and tourism industry has accounted for 20 percent of these career opportunities, according to the World Travel & Tourism Council. In one single month – June 2019 – the leisure and hospitality industry in the United States hired more than 1.1 million workers, the Bureau of Labor Statistics (BLS) reported.
Travel growth is up across the globe, including in the Caribbean, South East Asia, Oceania, Europe, North East Asia, South Asia, the Middle East, Latin America, Africa and North America, measuring in the hundreds of billions to the trillions of dollars in each area.
New Forms of Competition for the Hotel Industry
In recent years, traditional hotels have seen increased competition – and not just in the full-service hotel space. Home-sharing platforms, the most famous of which is Airbnb, have evolved from a mere nuisance the hotel industry largely ignored to a source of direct competition that undercuts room prices and hotel profits.
Researchers have learned that there's a correlation between the room rates of traditional hotels and Airbnb lodging offerings in an area. In cities where Airbnb accommodations are plentiful and cost less, traditional hotels often have to lower their rates to compete. An increase in Airbnb's room supply of just one percent reduces hotel revenue by up to 0.04 percent, which may not sound like much but, in major cities like New York, can mean a loss of up to $365 million in revenue. Economy, mid-priced and luxury hotels are all susceptible to a significant loss of profits.
It isn't only room rates and availability from Airbnb that are adversely influencing hotels. Guest perception matters in determining whether travelers stay at traditional hotels or home-sharing properties. Researchers found that each time an Airbnb property in their study saw an increase in the average guest satisfaction score, competing hotels nearby saw the revenue per available room rate drop by more than $25.00.
What all of this research data shows is that the modern hotel industry differs in key ways from the traditional hotel industry established in the days before technology put home-sharing platforms constantly and conveniently at travelers' fingertips. The fact that rivals like Airbnb are growing rapidly, in many areas without the same regulations that often constrain the growth and finances of hotels, makes it crucial that traditional hotels look outside the traditional realm of amenities and services to offer guests so that they stay competitive.
To remain profitable in the modern hotel industry, managers must interpret what today's guests are looking for in their accommodations and offer amenities, experiences and authenticity on par with – or better than – what competing Airbnb properties have to offer.
Growth and Competition in Hotel Management Roles
Just because the hotel and hospitality industries as a whole are seeing impressive growth doesn't mean that the job growth for hotel management roles is quite as robust. In fact, the BLS expects little, if any, growth in this occupation over the course of a decade, predicting opportunities for lodging managers to increase by just one percentage point, or 600 jobs in all. After all, the number of managers needed at a hotel pales in comparison to the number of workers who provide direct service in roles like front desk clerk, bellhop or baggage porter, housekeeper and concierge.
If you're contemplating a career in hotel management, this may seem like unwelcome news. However, aspiring hotel managers who earn a bachelor's degree in a subject like hotel management or hospitality management will have somewhat better career prospects, the BLS reported. The government bureau also noted that lower-level management roles – like assistant hotel manager, first-line supervisor and mid-level managers – are expected to be less competitive than lucrative senior-level hotel manager jobs, especially in high-end hotels where wages are higher.
Since 72 percent of lodging managers do have a bachelor's degree, it would be a wise idea to invest in a formal education for this career path even if the job outlook was more positive.
Additional Resources
How Does the Hotel Industry Work in Concert With the Economy?
Can I Get a Job as a Hotel Manager Without a Degree in Hotel Management?