When you earn a master's degree in pathology, one of the highest paying master's degrees, you're taking the first step to a career as a pathologists' assistant. However, to become a pathologists' assistant, you need more than just the master's degree. You also need to earn professional certification from the American Society for Clinical Pathology (ASCP). Don't confuse certification, a type of professional credential awarded to applicants who meet eligibility requirements and pass an exam, with a certificate, which is an educational credential awarded as part of a program that requires fewer credits than a master's degree.
Certification for Pathologists' Assistants
Certification is what demonstrates that a pathologists' assistant has met the high standards of educational achievement and knowledge of the field of pathology established by a professional organization. To obtain certification from the American Society for Clinical Pathology, you need the appropriate education and a passing score on an exam, according to the American Association of Pathologists' Assistants.
The ASCP Pathologists' Assistant Exam is a computer-administered test that consists of 100 multiple-choice questions spread over five content areas. The bulk of the exam content, accounting for 40 to 50 percent of test questions, draws from the fundamentals of pathology. These questions cover topics in general pathology and systemic pathology.
Questions in the content areas of anatomy, anatomic pathology techniques and autopsy pathology each account for 10 to 15 percent of exam questions. The anatomy portion of the test measures test-takers knowledge of both gross anatomy and normal microscopic anatomy. In the anatomic pathology techniques section of the exam, questions cover topics of histological techniques, surgical pathology and autopsy pathology. The section of the test devoted to autopsy pathology explores subject matter related to adult, neonatal and pediatric autopsies as well as forensic autopsies. Finally, a section on laboratory operations, including safety, management and regulatory compliance, accounts for 5 to 10 percent of test questions.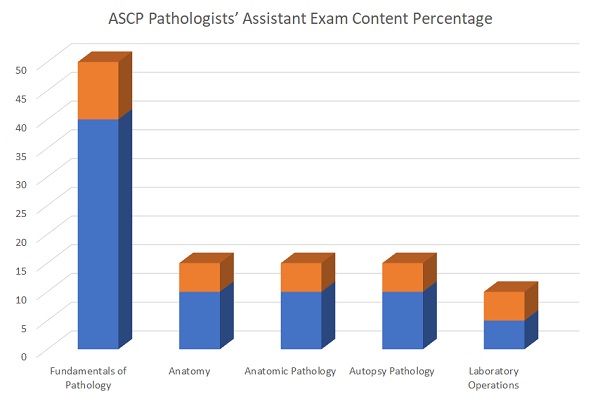 In 2018, the pass rate for first-time test-takers of the pathologists' assistant exam was 95 percent, according to the ASCP.
The Education Required to Work as a Pathology Assistant
A post-baccalaureate or graduate certificate isn't enough to become a pathology assistant. For this career, you must complete a 22- to 24-month master's degree program in pathology or pathologists' assistant studies accredited by the National Accreditation Agency for Clinical Laboratory Sciences (NAACLS), the American Association of Pathologists' Assistants reported.
To meet NAACLS standards for accreditation, the curriculum of a pathologists' assistant program must include coursework that equips students with competencies in surgical and autopsy pathology practices. Clinical rotations take up the bulk of the second year of study in a master's in pathology program, according to the American Association of Pathologists' Assistants. When students don't choose accredited master's degree programs in pathology, they aren't eligible to pursue professional certification from the ASCP.
The coursework of an accredited master's in pathology program will include classes in anatomy, general pathology, chemistry, biology, microbiology, embryology, medical terminology and laboratory safety and management.
Where Certificates Fit Into a Pathologists' Assistant Career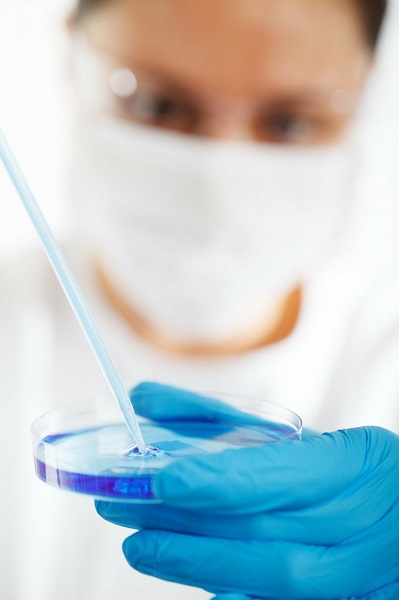 IMAGE SOURCE: Pixabay, public domain
Although a certificate isn't what you need to become a pathologists' assistant, there are certificates pathologists can earn if they choose. These optional, voluntary educational programs are informal, often taking the form of a self-paced program of coursework that you complete online, on your own schedule.
The ASCP's certificate programs, offered through collaboration with partner organizations, offer established pathologists' assistants a convenient way to pick up new skills that are relevant to their work. Certificate programs can be completed in a much shorter time than a master's degree, often taking as little as six months to a year of study. Pursuing a certificate from the ASCP also costs a lot less than pursuing a master's degree, with total costs in the range of $500 to $800, rather than several thousands – or tens of thousands – of dollars per year over the course of two years. The three ASCP programs currently offered as of 2020 focus on developing leadership skills, learning the competencies of laboratory management and developing a pathology informatics needs assessment for improved laboratory safety, efficiency and diagnostic accuracy.
An informal certificate program from the ASCP alone won't land you a job in the field of pathology, but, in conjunction with your education, professional certification and experience, it may help you advance to a role like supervisor or laboratory manager.
Additional Resources
What Does a Pathologists' Assistant Do?
Why Would I Want to Become a Pathologists' Assistant Instead of a Pathologist?
What Specifically Can I Study in a Master's Program in Pathology?