To get into graduate school for international relations, which is one of the highest-paying master's degrees, you need good grades and much more. You need a bachelor's degree, which can typically be in any subject, as well as letters of recommendation and a compelling personal statement about your aspirations for a career in international relations. You might also need some practical experience, although many prospective graduate students have questions about what kind of practical experience admission teams are looking for and how much experience you need.
How Work Experience Fits Into Graduate School Admissions
Different international relations master's degree programs have different requirements and expectations, so there's no one straightforward answer for graduate school applicants with questions about practical experience. That said, it's not unusual for schools to need or expect at least a small amount of relative experience.
Most applicants who get accepted into the most competitive international affairs graduate programs do have some full-time work experience, according to the Foreign Policy Association. Programs that are less competitive may not strictly require work experience and be more willing to accept candidates without professional experience.
Even among graduate schools where applicants' work experience is part of the equation, different programs have different expectations. A mid-career master's degree in international relations, naturally, requires applicants to have a considerable amount of work experience. Some master's degree programs in international affairs specify a range of preferred work experience – for example, three to five years. Other international affairs programs are more welcoming to recent graduates and applicants without prior relevant work experience.
If you know from the time you start working toward your bachelor's degree that you want to eventually get a master's in international relations, consider seeking out a "4+1" dual degree program that allows you to earn a bachelor's and master's degree in just five years.
The Kinds of Experience That Count for International Relations Degrees
The next question students often ask about practical experience is what counts as relevant work experience for a master's degree in international relations. Many graduate students in this field come from a background working in or for the federal government. Others work in intergovernmental organizations, examples of which include the United Nations, Interpol, the European Union, the African Union (AU) and the North Atlantic Treaty Organization (NATO).
Work experience with a non-governmental international organization may also be relevant to an education and a future career in international relations. Some examples of non-governmental organizations with international reach include the International Federation of Red Cross and Red Crescent Societies, the World Wildlife Fund, Greenpeace, Amnesty International and the Sierra Club.
Military experience is also a valuable form of experience in the field of international relations. In fact, international relations is a popular choice for aspiring U.S. Army Foreign Area Officers. One of the requirements of the Foreign Area Officer Program is to earn a master's degree with an emphasis on the geographical region in which they work.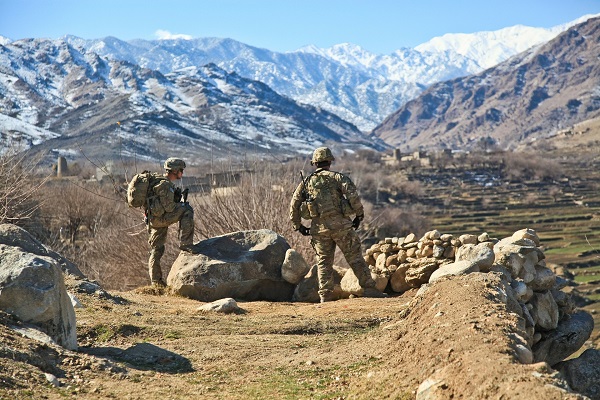 IMAGE SOURCE: Pixabay, public domain
Paid, full-time work experience is valuable, but it's not necessarily the only kind of practical experience that counts. Substantial internship experience, research experience and even volunteer experience can all serve as practical experience for the purpose of your graduate school application.
Admissions requirements for a master's in international relations typically include letters of recommendation. A recommendation from a supervisor, especially if your job relates to international relations in some capacity, can distinguish your application from the rest.
Experience Speaking Multiple Languages
In addition to direct work experience, having experience speaking multiple languages is a huge benefit to your graduate school admissions applications. Being able to communicate with numerous people is a requirement in the field of international relations.
Applicants who have already mastered a second language are off to a good start. You may even have the opportunity to test out of further foreign language courses by passing an exam that demonstrates your proficiency in that language. Before you sign up for a language mastery test, though, consider whether picking up another language could help you stand out even more.
If you haven't started working on learning a second language, you might want to start considering other languages to learn. You don't necessarily have to be bilingual to get into a master's degree program in international relations, but you will need to develop proficiency in a second language by the time you graduate. Getting an early start on grasping the foundations of another language can only help you.
Which language should you study? Given that there are thousands of languages being spoken today around the world, the options are almost limitless. Your best bet is to think about what you want to do with your education in international relations and choose the language that is most closely related to that career goal.
If you plan on staying in the United States, consider learning Spanish, which the Census reported is the second most spoken language in the nation. If your interests are more global, you might be better off learning Mandarin Chinese, the most spoken language in the world, as measured by the number of native speakers. Other solid options include Hindi and Arabic, which are the fourth and fifth most spoken languages after Spanish and English. Of course, if your dream job is in a country with a different primary language than one of the ones listed here, you could learn that instead – or in addition to – one of these widely spoken languages.
Non-native English speakers who went to college where English wasn't the primary language might have to take a standardized test called the Test of English as a Foreign Language (TOEFL) to get accepted into graduate school in the U.S.
Gaining Experience as You Go
 Although your past practical experience may be a factor in admissions at some schools, many graduate programs in international relations care more about your future than your work history. Experiential learning opportunities are crucial in this field. Through graduate internships, co-ops and research experiences with national and international agencies and organizations, you dive deep into the field of international relations. Besides acquiring work skills and familiarity with what it takes to work in international relations, you're also building a network of professional contacts in your region of interest – and potentially all over the world.
Students also have the opportunity for graduate-level field studies and study abroad opportunities that allow them to travel to some of the countries they learn about while studying international relations.
Additional Resources
What Skills Do You Need for International Relations?
What Kind of Questions Can I Expect in an Interview for a Degree in International Relations?
What Does Someone Who Studies International Relations Do After Graduation?