If you want to rise to the top in the world of finance, there's a good chance that a master's degree in finance – one of the highest paying master's degrees – may catch your eye. For aspiring chief financial officers (CFOs), this graduate-level program of study in finance is a natural choice. The coursework you complete while pursuing a master's in finance degree, especially your classes in financial management, will supply you with the skills you need for this high-level role. Besides earning your master's degree in finance, you should focus on gaining experience in leadership roles and earning professional certifications to get ready for a role as a CFO.
How Master's-Level Studies in Finance Prepare You for a CFO Role
Most graduate degree programs in finance include courses in financial management, which, as you might expect, can help you succeed as a CFO. Students pursuing a master's degree in finance take coursework in the theory and analytical practices of corporate financial management, including planning and corporate policymaking. Courses such as economics for managers and managing accounting information for decision-making also help aspiring CFOs boost their management capabilities and add new skills to their repertoire.
In a master's in finance degree program, you might also take graduate-level coursework specific to financial strategy. Studying international finance is a must if you wish to become CFO of a company with a worldwide reach, because you need to understand the factors that are specific to investment opportunities across the globe, including the risks they present.
A master's degree program in finance isn't only for aspiring CFOs. Not all of your coursework emphasizes the skills you need for this role specifically. However, that doesn't mean your other degree requirements aren't valuable. The advanced skills you gain taking classes in capital investments, finance valuation, asset pricing, financial and quantitative analysis and financial information technology can help you develop more breadth and depth of knowledge in the field of finance. Having this knowledge can only help you, both as a CFO and in the various roles you hold as you make your way up to the C-suite level.
In some master's in finance programs, students can customize their education through strategic selection of graduate-level electives. Aspiring CFOs may choose electives in mergers and acquisitions, corporate restructuring, business strategy and business law.  
What Else You Need to Become a CFO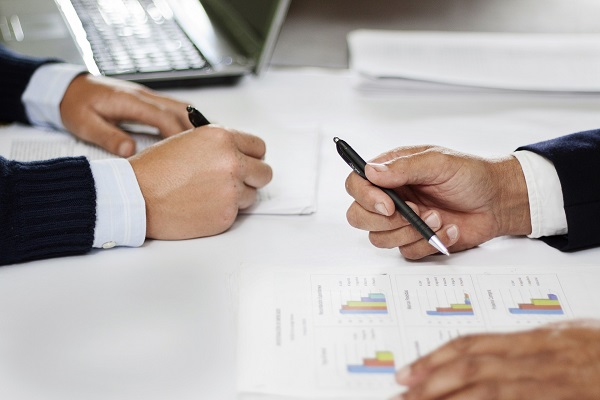 IMAGE SOURCE: Pixabay, public domain
Graduate school isn't strictly required for CFOs. Earning a master's degree is optional in preparation to become a CFO. O*NET reported that only 26 percent of chief executives, including job roles like chief executive officer (CEO) and chief operating officer (COO), hold a master's degree. Large companies are particularly likely to choose top executives who have a master's degree, according to the United States Bureau of Labor Statistics (BLS).
If an advanced education isn't the most important qualification for becoming a CFO, what is? Experience is, perhaps, the biggest factor. A chief financial officer has experience at many different levels of seniority. A CFO candidate is usually only promoted to this high-ranking role after acquiring considerable managerial experience, often starting at first-line supervisory roles and then progressing to mid-level manager roles and general manager positions.
Although large corporations sometimes court outside CFOs who have plenty of name recognition, a lot of CFOs are promoted from within their companies, the BLS reported. They may have even started with the company in an entry-level analyst role and gradually advanced to more prestigious positions through their hard work and the impression they made on their supervisors.
When it comes to preparing for a role as a CFO, quality of experience is at least as important as quantity of experience. That is, a company's directors don't just want to know how many years of experience a finance professional has in leadership and management. They want to see what the candidate has actually accomplished during their tenure in management to get an idea of what kind of an impact the candidate might make on the company's financial bottom line as CFO.
Besides focusing on their education and their experience, prospective CFOs can improve their opportunities by seeking out professional credentials. CFOs with a finance background may earn a Chartered Financial Analyst (CFA) certification, while those with accounting coursework and experience might be certified public accountants (CPAs).
Even if you opt to take a formal education route into the CFO career path, that may not mean a master's in finance degree. You might complete a certificate program in strategic financial leadership or pursue your master's in accounting or business administration.
Additional Resources
How Advanced Does My Degree in Finance Need to Be to Get a Good Job?
What Are the Highest-Paying Jobs in Finance?