Educational leadership may be one of the easiest online master's degrees you can earn, but this program could prepare you for some high-level roles in a college or university. The possible college-based career paths you could follow with an advanced degree in educational leadership include everything from the director of admissions to the president of the entire university. If you would like to take your education in a different direction, you could instead find work as an educational researcher and university instructor. Whatever path you choose, be aware that you could need more than a master's degree – such as a Ph.D. or Doctor of Education (Ed.D.).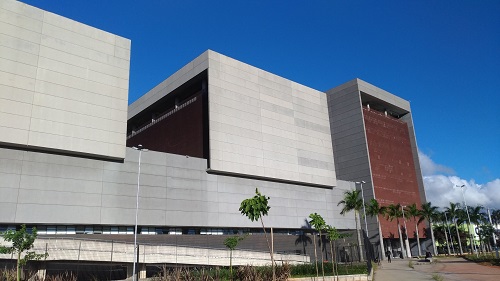 IMAGE SOURCE: Pixabay, public domain
Admissions Director
Colleges and universities thrive when they attract talented students whose strengths and goals fit those of the school. As the admissions director of a university, you could be the administrator in charge of bringing in the ideal students for the school. An admissions director is usually responsible for establishing admissions strategies and requirements, promoting the college and overseeing other admissions personnel, according to Monster.com. Besides being excellent managers, the best admissions directors maintain a positive and upbeat attitude, strong sales and persuasive skills, and a thorough knowledge of their own school's programs and what sets the institution apart, The Houston Chronicle reported.
The average salary for college and university admissions directors in 2020 is $67,904, according to PayScale.
Academic Dean
As an academic dean, your role could combine academic and educational planning with the administration of an entire school within a larger university – for example, a School of Engineering or a College of Communications. The dual role an academic dean plays means you need a varied set of skills. Your job duties may include everything from managing budgets and fiscal matters to working with professors for the purposes of curriculum development. Of course, as the top administrator of your school, academic deans are also responsible for overseeing every employee who works for the school, including instructors and administrative staff.
Academic deans enjoy an average salary of $91,736 as of 2020, according to PayScale.
Provost or Chief Academic Officer
Another role you could attain with your degree in educational leadership is provost or chief academic officer (CAO). These roles are among the highest positions in higher education, with only college president having greater seniority. As a provost or chief academic officer – also known by job titles like executive vice president and executive vice chancellor, according to Inside Higher Ed – you would serve the leadership of the university directly under the president.
A college provost is responsible, in particular, for managing academic goals and priorities and for using the university's budget to work toward meeting those goals. Besides having a background in graduate-level studies in educational leadership, chief academic officers should be good listeners, be open-minded enough to consider criticism and dissenting opinions and strive for fair and consistent decision-making and communications, Inside Higher Ed reported. Perhaps most importantly, the chief academic officer of an institution must value and uphold the unique culture of that specific university.
Although provost and CAO generally perform the same job duties, roles with provost as the job title tend to be somewhat more lucrative. The average salary for provosts in 2020 is $151,120, PayScale reported, while the site reported a $135,587 average salary for CAOs.
College President
At the very top of the higher education hierarchy is the president of the college or university. A college president essentially serves as the chief executive officer (CEO) of the institution, according to the United States Bureau of Labor Statistics (BLS). The university president is the public face of the school and the individual responsible for driving the overall direction of the institution.
College presidents earn lucrative salaries. For schools with doctoral programs, the median salary was $495,813 at public colleges and $787,000 at private schools, The Chronicle of Higher Education reported. Forbes reported that 19 public college presidents made over $1 million. 
Educational Researcher
Your in-depth knowledge of educational administration could also lead you toward a career in educational research. For many researchers, this means finding a teaching role at a research university. You will balance your work pursuing inquiries in the field of education and learning with time spent in the classroom teaching undergraduate or graduate students.
The median salary for postsecondary teachers in the field of education is $65,510, according to the BLS.
Additional Resources
What Is the PSEL and What Will I Need to Know About Them in Order to Get My Educational Leadership Degree?
Is a Degree in Education Leadership Something That Will Give Me Skills That I Can Use Outside of Academia?