If you have a desire to give back to disenfranchised children but no background in education, you might be interested in the opportunities available upon joining Teach For America. Teach For America is an organization, affiliated with the AmeriCorps national service network, that places enthusiastic new educators – some with no formal training in teaching – in low-income school districts. The program provides training and support to recent college graduates and career changers, setting them up as teachers in underserved public schools across the country. In addition to the opportunity to make a difference, Corps members receive the same salary and benefits from the school in which they are placed as any new starting teacher would and become eligible for educational awards and other benefits through AmeriCorps.
What to Expect as a Teach For America Educator
Because Teach For America doesn't require candidates to have past studies or experience in teaching, the training provided by the organization is an integral part of the experience. The bulk of this training takes the form of what the program calls Institute, an intensive program sometimes referred to as a "boot camp" that introduces new teachers to the foundations of teaching and learning. After this training session, which takes between five and eight weeks over a summer, you take exams to attain your temporary teaching license or certification and start the hiring process.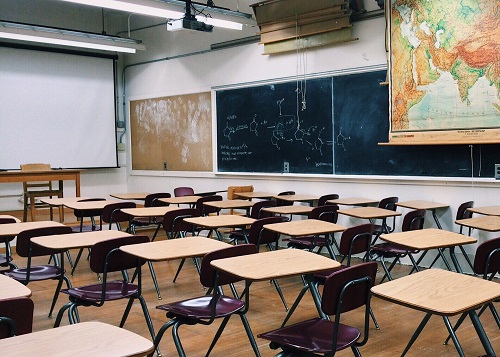 IMAGE SOURCE: Pixabay, public domain
Teach For America is active in 51 regions across the United States. Some Teach For America participants choose a narrow list of preferred regions, while others are willing to go wherever the opportunity takes them. Once placed in a school, you will draw on the Institute training you received as you work to manage classrooms and create and implement lesson plans of a different caliber than students in these marginalized school districts are used to following. Your goal over your two-year commitment to these students is to help them reach their full potential and produce measurable results in their learning.
The benefits of joining Teach For America include receipt of an educational award in the range of $5,300 to $6,100, plus Corps payment of all interest that accrues while the loan is in forbearance during your tenure.
Who Should Consider Joining Teach For America?
The eligibility requirements to apply for Teach For America are low, allowing almost anyone who is interested in the program to make a difference. Generally, you need a bachelor's degree in any academic discipline, a GPA of at least 2.50 – the equivalent of a B- letter grade – and proof of one of the following: citizenship, legal resident status or DACA status. Although many Teach For America educators are fresh out of college, you can apply at any age, no matter how long it has been since you earned your degree.
Although Teach For America can help recent graduates start building out professional work experience, the program offers particular value for candidates who want to change careers – regardless of their level of experience. Whether you have worked in a field unrelated to education for years or just realized that you have an interest in teaching late in your college education, Teach For America offers a path into teaching for those who currently don't have the experience and credentials for the career.
What really determines whether you are a good fit for Teach For America are the personal qualities and beliefs you possess. The children served by Teach For America educators are often disenfranchised by factors like poverty and institutional racism, and prior teachers may have given up on them as individuals or on the challenges of teaching at an under-funded school. Teach For America Corps members are able to see the potential of these children and are enthusiastic about working to help them reach that potential. They should be interested in working with students and colleagues from all different backgrounds and be able to relate and communicate well to these diverse audiences.
Teach For America highlights perseverance, commitment and skills in leadership and planning as some of the most sought-after attributes applicants can demonstrate.
What to Know Before Signing Up
Despite the benefits, Teach For America isn't the right path for everyone. Sources that range from nationwide publications like HuffPost and The Atlantic to non-profit think tanks like The Manhattan Institute for Policy Research have published editorials, by both staunch critics and former Teach For America participants, that paint the program in a less idealistic light.
The most frequent criticism is that the brief training provided through Teach For America is not sufficient for the challenges they face. Naturally, no program can accomplish in just five weeks all that a bachelor's degree program in education accomplishes in four years, but this notion of being underprepared is pervasive among critics.
Other criticisms take on the principle of staffing struggling schools with uncredentialed educators. Although filling the teacher shortage, particularly in these underserved areas, was part of the reason Teach For America was founded, critics say it further erodes the teacher's role in public education.
For candidates who are passionate about addressing the educational inequality in these underserved school systems on the front lines, Teach For America provides a unique career opportunity – but participants should know they may feel underprepared for the task.
Additional Resources
Which Areas of the Country Have the Greatest Need for Teachers?
Which Areas of the Country Pay Their Public School Teachers the Most?