One job in high school education that requires plenty of passion is coach. Although you may love sports and the organizational challenges of bringing together a team of players and bringing out the best in each of them, you might not have as much love for the subject of education. If you're wondering whether you really must major in education to work as a high school coach, there's no easy answer. Generally, having a teaching certification is a requirement for many, but not all, high school coaching jobs. Choosing to major in something other than education won't necessarily keep you from all coaching roles, but it will make you ineligible for the position in many school districts. Aspiring high school coaches must carefully weigh their interests against the requirements for coaching jobs in the state and school districts in which they plan to work.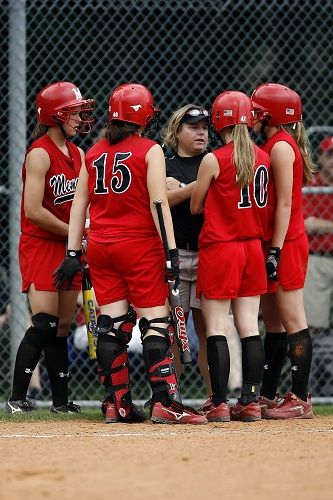 IMAGE SOURCE: Pixabay, public domain
Why a Degree in Education Helps
If there is one single college major that will best prepare you for a career coaching high school sports, education is probably it. Most high schools look within the school district first when seeking to fill coaching positions. It's only when these schools aren't able to find a qualified and interested teacher or school administrator that they are willing to consider outside candidates, according to the United States Bureau of Labor Statistics (BLS).
This means that having some form of college studies in the field of education will open up your employment opportunities considerably. Majoring in secondary education is the most direct route to becoming a high school teacher, which will, in turn, put you in the best position to acquire a coaching role.
There's another reason why having a stable job with hours that are compatible with coaching high school sports is valuable. The median salary for coaches is just $33,780, and at elementary and secondary schools, that drops to just $28,930, the BLS reported. These roles are often part-time positions and, as a result, pay less than you would expect for a job that often requires a bachelor's degree. The salary from a full-time job as a high school teacher – for which the BLS reports a median annual wage of $60,320 – can help raise that part-time income.
The classroom management and teaching and learning concepts you learn while pursuing an education degree can often help you in your coaching role, as well. There's value to understanding how adolescents learn and tailoring your coaching style to fit.
Why You May Not Need a Degree in Education
Although many school districts and states require high school sports teachers to be a full-time teacher in the district or at least have an active teaching certification, that isn't the case everywhere. Some states and school districts have no such requirement, while others have much more lenient requirements.
You may need only a substitute teaching certification, rather than a full teaching license and active full-time employment. Often, substitute teaching certifications don't require a bachelor's degree. In some states, an associate's degree or 60 college credits without a degree will suffice, while other states require no more formal education than a high school diploma, according to the National Education Association.
The BLS is predicting jobs for coaches to grow by 11 percent, or 30,500 total new jobs. About 18 percent of all coaches currently work for elementary and secondary schools, and the BLS expects opportunities at the high school level to increase in keeping with increases in high school enrollment.
Even in school districts where the typical practice is to hire from within the school, that may change if demand for high school coaches outpaces the supply of teachers interested in the position.
Coaching-Related College Degree Programs
Although choosing not to major in education is something of a gamble if you want to coach sports at the high school level, there are many programs of study related to coaching that may interest you. Some programs are available within education or physical education programs, others as master's degrees or graduate certificates, and still others as standalone undergraduate majors. Regardless of your major, experience playing a sport at the college level is also valuable for aspiring coaches.
In a Bachelor of Science in Coaching and Performance Science, for example, you might take classes such as Principles and Problems of Coaching, Sport Specific Strength and Conditioning, Training Theories for Coaches and Coaching Education Administration. A community college Athletic Coaching Certificate may require only a few total courses in subjects like Coaching and Officiating Theory, Prevention and Care of Athletic Injuries and First Aid and CPR. Some programs are developed specifically to meet the requirements states and school districts set for aspiring high school coaches who don't have a degree in education. If you choose a specialized program offered through a health and physical education department, you may find that majoring in education isn't as unappealing as you initially thought it would be.
Degrees in kinesiology, exercise and sports science, physicafal education, physiology, sports medicine and nutrition and fitness can qualify you for college coach positions, which make up 20 percent of the occupation and pay a higher median wage, $45,350, the BLS reported.
Additional Resources
What Degree Do I Need to Become a Coach?
What Can I Do With an Athletics or Recreation Degree?