One job in high school education that requires plenty of passion is coach. Although you may love sports and the organizational challenges of bringing together a team of players and bringing out the best in each of them, you might not have as much love for the subject of education. If you're wondering whether you really must major in education to work as a high school coach, there's no easy answer, because different states and even individual high schools may have different requirements for coach positions. Aspiring high school sports coaches should do their research and consider the pros and cons of majoring in education versus other subject areas.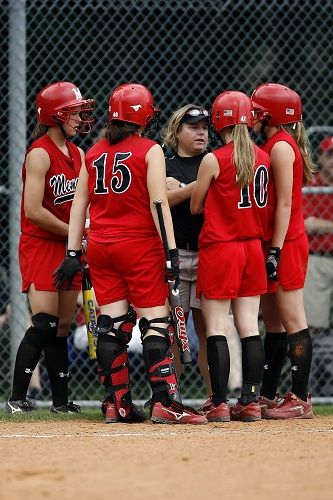 IMAGE SOURCE: Pixabay, public domain
Do You Have to Be a Teacher to Be a Coach?
So, do high school coaches have to be teachers, or is a career as an educator optional? Generally, having a teaching certification is a requirement for many, but not all, high school coaching jobs. Choosing to major in something other than education won't necessarily keep you from all coaching roles, but it will make you ineligible for the position in many school districts. Aspiring high school coaches must carefully weigh their academic, professional, and personal interests against the requirements for coaching jobs in the state and individual school districts in which they plan to work.
Why a Degree in Education Helps With Becoming a High School Coach
If there is one single college major that will best prepare you for a career coaching high school sports, education is probably it. The main reason that an education degree is so strongly recommended for aspiring high school coaches is that most high schools look within the school district first when seeking to fill coaching positions. Generally, it's only when these schools aren't able to find a qualified and interested teacher or school administrator that they are willing to consider outside candidates, according to the United States Bureau of Labor Statistics (BLS). This means that having some form of college studies in the field of education will open up your employment opportunities considerably. Majoring in secondary education is the most direct route to becoming a high school teacher, which will, in turn, put you in the best position to acquire a coaching role.
Additionally, studying education can help you build skills that you can apply outside the classroom – including on the track, field, court or weight training room. After all, coaching is a form of teaching, but instead of educating students on academic topics, you're training them to help them reach their potential as athletes. The classroom management and teaching and learning concepts you develop while pursuing an education degree can often help you in your coaching role, as well. There's value to understanding how adolescents learn and tailoring your coaching style to fit.
There's another reason why having a stable job with hours that are compatible with coaching high school sports is valuable. The median salary for coaches was just $36,330 as of 2020, and at elementary and secondary schools, that median salary drops to just $31,450, the BLS reported. These roles are often part-time positions and, as a result, pay less than you would expect for a job that often requires a bachelor's degree. The salary from a full-time job as a high school teacher – for which the BLS reported a median annual wage of $62,870 in 2020 – can help raise that part-time income. If you aren't a teacher, you may need to make sure that you have another full-time paid role or a second part-time job that can help you boost your earning potential.
Why You May Not Need a Degree in Education to Become a Coach
Having a degree in education will give you a boost toward reaching your goals of coaching high school sports, but it's not a strict requirement that way that, say, a nursing degree is required to become a registered nurse or a Juris Doctor degree is needed to become a licensed attorney. Many school districts and states require high school sports teachers to be full-time teachers in the district or at least to have an active teaching certification. However, that isn't the case everywhere. Some states and school districts have no such requirement, while others have much more lenient requirements.
In some school districts, you may need only a substitute teaching certification rather than a full teaching license and active full-time employment. Often, substitute teaching certifications don't require a bachelor's degree. In some states, an associate's degree or 60 college credits without a degree will suffice, while other states require no more formal education than a high school diploma, according to the National Education Association.
The BLS has predicted that jobs for coaches will grow by 26 percent, or 63,900 total new jobs, between 2020 and 2030. About 20 percent of all coaches currently work for elementary and secondary schools, and the BLS expects opportunities at the high school level to increase in keeping with projected increases in high school enrollment. The growth in demand for high school sports coaches may make schools more likely to consider candidates with alternative academic and professional backgrounds. Even in school districts where the typical practice is to hire from within the school, that may change if demand for high school coaches outpaces the supply of teachers interested in the position. If you don't have your heart set on serving as a high school sports team's head coach, you may find that the requirements for assistant coach positions may be less rigid.
An aspiring high school sports coach can learn the skills needed for good coaching through other avenues besides a bachelor's degree program in education, including involvement in community sports teams, mentorship opportunities, leadership experience in other professional or personal capacities and their own experiences with coaches when they played sports.
High School Coach Requirements
What are some of the requirements you might encounter in job postings for high school coach roles?
A teaching or substitute teaching certification: Again, many coaching roles at high schools require some form of teaching certification. Whether a full teaching certification or simply a substitute teaching certification is required will determine what this process encompasses. Attaining full teaching certification often includes completing a bachelor's degree in education that culminates in a semester of student-teaching experience and passing certification exams. Substitute teachers may need a bachelor's degree or an associate's degree, although some states require only a high school diploma.
A college education: Some form of college education is required for many high school coaching roles, if only to satisfy teaching certification requirements. The education required varies by state and school district but may include a Bachelor of Arts (BA), Bachelor of Science (BS), Associate of Arts (AA) or Associate of Science (AS) degree, or an amount of college credits equivalent to the bachelor's (120) or associate's (60) degree.
First aid and CPR certification: Accidents and injuries can happen on the field, so high school sports coaches are often expected to have first aid and CPR training to help them handle these situations. Although administering first aid and performing CPR may be skills that you hope you will never have to use, it's generally easy to attain these skills. Organizations like the American Red Cross, the National Safety Council and the American Heart Association, as well as hospitals and community centers, offer first aid and CPR training programs that take just a few hours to complete and confer two-year certification.
Criminal background check: Since your role as a high school sports coach would necessarily encompass working with minors in a school setting, you should expect to be subject to a criminal background investigation, just as classroom teachers are – whether or not you majored in education. If you have a criminal record, particularly one that includes one serious crime or a serious of less serious offenses, you may have trouble passing the background check required to work as a high school coach, regardless of what you major in during college.
Medical requirements: Depending on your state's and school district's rules and regulations, you might need to meet certain medical requirements, including undergoing a test for tuberculosis and getting vaccinated against certain infectious diseases.
Of course, high school coaches also need to be willing and available to perform their duties during practices, training sessions and games, which means late afternoon, evening and weekend hours may be required. Some high school sports coaches are expected to drive student-athletes to games in vans and buses, while others simply oversee students' behaviors during their travels. Coaching high school sports isn't a job for people who want to reserve their evenings and weekends for personal activities.
The ideal coaches should also be excellent leaders and sound decision-makers who form great interpersonal relationships with the student-athletes they train, communicate effectively, and are resourceful and dedicated to their sports team's development, according to the BLS. 
Coaching-Related College Degree Programs
Although choosing not to major in education is something of a gamble if you want to coach sports at the high school level, there are many programs of study related to coaching that may interest you. Some programs are available within education or physical education programs, others as master's degrees or graduate certificates, and still others as standalone undergraduate majors. Regardless of your major, experience playing a sport at the college level is also valuable for aspiring coaches.
In a Bachelor of Science in Coaching and Performance Science, for example, you might take classes such as Principles and Problems of Coaching, Sport Specific Strength and Conditioning, Training Theories for Coaches and Coaching Education Administration. A community college Athletic Coaching Certificate may require only a few total courses in subjects like Coaching and Officiating Theory, Prevention and Care of Athletic Injuries and First Aid and CPR. Some programs are developed specifically to meet the requirements states and school districts set for aspiring high school coaches who don't have a degree in education. If you choose a specialized program offered through a health and physical education department, you may find that majoring in education isn't as unappealing as you initially thought it would be.
Degrees in kinesiology, exercise and sports science, physical education, physiology, sports medicine and nutrition and fitness can qualify you for college coach positions, which make up 20 percent of the occupation and pay a higher median wage, $45,350, the BLS reported.
How to Be a High School Coach
Becoming a high school coach starts long before you graduate from college. Ideally, you should gain plenty of experience as a player before you move into coaching. This means getting involved with sports as a high school student or college student, if not before. Experience playing a sport helps you learn the rules of the game and the physical skills used to play it. Further, your experience as a player can help you understand the audience you will later seek to train and inspire as a coach. The great coaches you had as a player can serve as guides for how to coach your own team. Even experiences with less effective coaches can prove valuable by showing you how not to approach coaching a high school sports team.
Student-athletes shouldn't forget that the main focus of their high school experience is still education. Even though a few coaching jobs may be available without a college degree, it's important to set yourself up to go to college if you want the best career prospects in this field. This means keeping your grades up throughout your four years of high school, selecting college preparatory courses and taking standardized tests like the SAT or the ACT. Start thinking about college early so that you can research the schools and programs in which you're interested, visit the campuses and put together your application in time for admissions deadlines. Whether you major in education, coaching, kinesiology, exercise science or a totally different topic, taking these steps will help you succeed in getting into college.
When choosing your major, make sure you research the state requirements and the requirements of the school districts where you are most interested in coaching. If you already know that you want to be a high school coach, you wouldn't want to choose a major and spend your time and money earning a college degree only to find that you're not qualified for the job.
During college, make an effort to grow your coaching skills, whether at the collegiate level or in your community. The more experience you have related to coaching, the better your chances of getting hired for a high school sports coach job.
If possible, connect with local coaches, including your own former coaches, and ask them about their career paths and recommendations. 
Additional Resources
What Degree Do I Need to Become a Coach?
What Can I Do With an Athletics or Recreation Degree?