Curriculum and instruction is one of the highest paying master's degrees. This specialization within the field of education focuses on creating content and standards for educators to teach and students to learn. Most prospective curriculum and instruction students are already coming from a teaching background, but that's not the case for every aspiring graduate student. If you don't have a teaching certification, you won't necessarily be barred from pursuing your dream. However, you may need to pursue certification before you can work in the field or limit career prospects to jobs that won't require certification.
The Value of Having a Teaching License Before Earning a Master's in Curriculum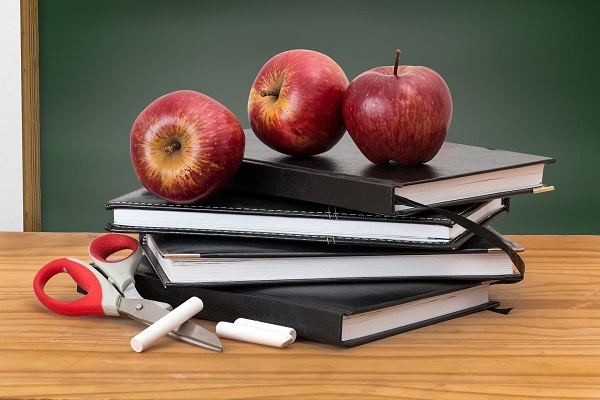 IMAGE SOURCE: Pixabay, public domain
Most instructional coordinators and curriculum specialists have considerable experience teaching before they advance to the role, according to the United States Bureau of Labor Statistics (BLS). It makes sense, then, that most graduate students of curriculum and instruction have their teaching certification and at least a couple of years of experience working in the field.
Having practical experience teaching real students in a real-world classroom provides a valuable foundation for developing curriculum standards, materials and lessons. This experience can help you anticipate and solve the potential problems that can arise – something that students unfamiliar with a classroom setting can't be able to do. Instead of coming up with unrealistic curriculum standards or expecting educators to teach students with methods far too advanced for their age group, experienced teachers have a base of knowledge to draw from to make sure their curriculum plans are reasonable.
Even if your master's degree program doesn't require you to have a teaching license to apply, you may need a license and teaching experience to get a job with your new degree. Many instructional coordinator roles require a teaching certification and experience.  
What If You Don't Have a Teaching License?
Given the importance of teaching experience to the instructional coordinator career path, you might think that you will not be qualified to enroll in a master's degree program in the field without a teaching license. Surprisingly, many graduate programs in curriculum and instruction don't require a teaching certification – or even that an applicant's bachelor's degree be in the field of education.
How you go about earning your master's degree in curriculum and instruction, if you don't have a teaching certification to begin with, is a little more complicated. If you want to earn a teaching certification, you may need to seek out a curriculum and instruction initial licensure program. These programs will typically include a semester of full-time student teaching, just as you would complete when pursuing a bachelor's degree in education or an alternative route to certification.
Other curriculum and instruction programs have advisors that are willing to work with you to understand and work toward licensure requirements in your state but might not offer a direct path to licensure. For some curriculum and instruction master's degree programs, you might need to be able to provide your own community of learners with whom you can work when completing a curriculum and instruction practicum, internship or other type of fieldwork experience.
Most states require some form of license or certification, either in classroom teaching at a grade level or in educational administration, to work as an instructional coordinator in a public school, the BLS reported. However, if you aim to work at a private school, you won't necessarily need a teaching certification, according to U.S. News & World Report.
For some graduate students, it's not so much a matter of not having a teaching certification as it is of not having certification yet. For example, candidates sometimes apply to a master's degree program in curriculum and instruction while still finishing an alternative route initial certification program. Another instance in which you might apply to a curriculum and instruction master's degree before you have a teaching certification is if you enroll in a dual degree 4+1 program. These accelerated programs allow students to start working toward a graduate degree program – in this case, a master's in curriculum and instruction – while completing their undergraduate studies.
Initial licensure curriculum and instruction master's degree programs are often designed for career-changers, with a flexible structure designed to accommodate the schedules of working students and complement diverse sets of life experience.
Additional Resources
What Computer Programs Should I Know Well in Order to Be a Successful Student in Curriculum & Instruction?
What Are Some Areas I Can Specialize in as a Curriculum and Instruction Student?
What Kind of Classes Will I Be Taking in a Curriculum and Instruction Master's Program?