Share this infographic on your site!
The Relationships Between Elite Academics and Power
Timeline:
Previously [three classes]:
Upper Class–Vacationed in Europe and Worshiped an Episcopal God
Middle Class–Drove Fords and enlisted as company men
Working Class–Belonged to A.F.L.-C.I.O., democratic, and didn't take cruises in the Caribbean.
Today:
Gadgets, services, vacations are available to all
But in reality, there's a larger gap between the classes:
Wealthy vs. non-wealthy
Greater physical separation
Very different school choices
Greater difference in health and lifespan
Far less social mobility
Except for for hyper achievers
Today:
Only 37 of the 400 richest Americans inherited their wealth.[2]
But there are new ways to preserve class:
American Children born into the top 10%:[3]
have >1/4 chance of staying in the top 10%
50% chance of staying in the top 1/3
and only a 3% chance of dropping to the lowest earning bracket.
With kids in the richest 20% 10x likelier to end up in the top 20% than kids in the bottom 20%[4]
How the educated class stays aloof:
1.)
Childhood:
Moving to a good school district
Access to many extracurriculars
Early access to any type of therapy needed
Health concerns taken care of
Lack of chronic stress common in less wealthy homes
The vast majority of evidence shows that educational success is attributable to factors outside of school.[5]
If the U.S. could educate those in the lower half of parental income at the rates of those in the upper half, the U.S. would have the highest share of bachelor recipients in the world.[6]
2.)
Higher Ed:
[average combined math and verbal sat scores by socioeconomic class][7]
Highly Advantaged:1328
Average Advantage:1054
Highly Disadvantaged:544
Leading to:
Socioeconomic classes going to colleges by selectivity:[7]
[#quartiles, % attending]
No Postsecondary:
Lowest 1/4th: 43%
Second Lowest 1/4th: 31%
Second Highest 1/4th: 19%
Highest 1/4th: 8%
Community Colleges:
Lowest 1/4th: 28%
Second Lowest 1/4th: 30%
Second Highest 1/4th: 27%
Highest 1/4th: 16%
Competitive Colleges:
Lowest 1/4th: 5%
Second Lowest 1/4th: 9%
Second Highest 1/4th: 17%
Highest 1/4th: 70%
Myth: Elite Universities are "diverse"
Asian, White, Black, Latino
But:
Sons and Daughters of well educated professionals
= very little economic diversity
3.)
Connections:
Among Fortune 500 Companies: [11]
[number of fortune 500 CEOs from the following schools]
Harvard: 65
Stanford: 27
UPenn: 24
Columbia: 18
Michigan Ann Arbor: 14
Notre Dame: 14
Virginia: 14
Cornell: 13
Dartmouth: 12
Indiana: 11
Northwestern: 11
Rutgers: 11
MIT: 10
Profile: Skull and Bones, Yale University[8]
Purpose:"To get as many members as possible into positions of power."
2004 Presidential Election, Both Bush and Kerry were in Skull and Bones.
5 members of Bush's administration from Skull and Bones
Also, Presidents Taft and G.H.W. Bush.
In recent decades:
Members:[9]
David George Ball: assistant US secretary of Labor (1960)
David L Boren: Gov of Oklahoma, U.S. Senator (1963)
John Shattuck: US diplomat and ambassador (1965)
John Kerry: U.S. Senator, presidential nominee, secretary of state (1966)
Victor Ashe: TN state senator and rep, mayor of Knoxville, U.S. ambassador (1967)
Roy Leslie Austin: U.S. Ambassador(1968)
George W Bush: President and son of president (1968)
Rex William Cowdry: Director of National Institute of Mental Health (1968)
Robert McCallum Jr.: U.S. Ambassador (1968)
Douglas Preston Woodlock: (1969): U.S. Federal Judge(1969)
Christopher Taylor Buckley: Chief speechwriter for vice president George H.W. Bush (1975)
James Emanuel Boasberg: U.S. district court for district of Columbia judge (1985)
Jon Boulton/Austan Goolsbee: staff director and chief economic adviser for President Obama (1991)
Not bad for a society that recruits 15 members a year.
Most of Congress went to a handful of schools.
Regional Power Bases:[10]
Harvard: 15 Congressmen
-1 NJ
-1 NM
-1 AL
-1 MA
-1 MI
-1 FL
-1 CT
-2 WI
-1 UT
-2 NY
-1 WV
-1 VA
-1 LA
Stanford: 11 Congressmen
-1 MT
-4 CA
-1 IL
-1 ND
-3 OR
-1 WI
Yale: 10 Congressmen
-1 OH
-2 TX
-1 MA
-1 MI
-1 CN
-1 FL
-1 VA
-1 RI
-1 KY
UCLA: 9 Congressmen
-9 CA
Georgetown: 7 Congressmen
-1 WY
-1 TX
-1 MI
-1 IL
-1 SD
-1 AZ
-1 VA
Florida: 7 Congressmen
-6 FL
-1 CO
Georgia: 7 Congressmen
-6 GA
-1 FL
UW Madison: 7 Congressmen
-4 WI
-2 OH
-1 IL
NC Chapel Hill: 6 Congressmen
-5 NC
-1 TN
BYU: 5 Congressmen
-2 UT
-1 ID
-1 AZ
-1 CA
George Washington U: 5 Congressmen
-2 VA
-1 NY
-1 WY
-1 FL
LSU: 5 Congressmen
-3 LA
-1 AL
-1 NE
UC Berkeley: 5 Congressmen
-4 CA
-1 MI
Missouri: 5 Congressmen
-4 MO
-1 NM
UT Knoxville: 5 Congressmen
-3 TN
-1 NC
-1 SC
With:[1]
1/4 Senators
14/43 Presidents
57/109 Supreme Court Justices
Attended one of eight Ivy League Schools
It pays to be part of the educated class.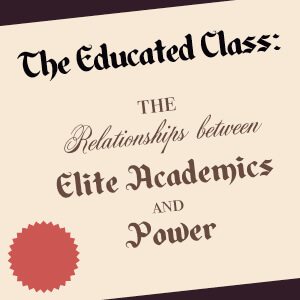 citations: