Share this infographic on your site!
Featured Programs
LinkedIn: Referrals Make a Difference
Agree or disagree, but finding a job after college is really more about networking with the right people than applying for countless jobs. When you consider that most jobs are not even advertised, the value of networking becomes evident.
In fact, Lou Adler, author of Performance-based Hiring, suggests that job-seekers apply a 20/20/60 approach:
20% of job search time responding job postings through a backdoor (via referrals) instead of the front door (applying through a form or sending in a resume).
20% enhancing your resume and LinkedIn profile for findability and readbility.
60% networking the hidden market for jobs.
In addition, he claims that candidates who are "referred to a hiring manager by a trusted person is 50-100x more likely" to get an interview and get hired than those who simply submit a resume to a posted job. The referred person also has the advantage of being considered for jobs not publicly posted.
What Makes LinkedIn Different?
The Social Graph
Networking, and the ease of doing so, is one of the primary features that makes professional social networking site LinkedIn.com so different from the countless run-of-the-mill job boards. They've leveraged the concept of "six degrees of separation" — the theory that everyone in the world is connected to each other through relationships, with at most six degrees (connections) of separation. To connect with one person in particular, you just need to find at most 5 other people in a relationship chain to connect with the intended person.
Microsoft proved the validity of this theory in the 1990s by analyzing to/from metadata from millions of email messages. More recently, this connectedness idea has been revised to four degrees of separation when referring to online connections.
There's a variation of this concept — a parlor game called "Six Degrees of Kevin Bacon" — which started because Bacon supposedly once said he'd (probably) worked with everyone in Hollywood. Yet another variation is being played on movie resource site imdb.com's message boards called "Six Degrees of Kevin Spacey."
How do you fit in here? The general six degrees hypothesis is that you know someone who knows someone who knows someone… etc., who knows so and so. Here's a possible scenario, imaginary, of course:
You have a regular pizza delivery guy, who is your 1st degree connection.
Your pizza guy works for the pizza pie baker, who is your 2nd degree connection.
The baker's sister runs a flower shop in Los Angeles. She is your 3rd degree connection.
The flower vendor has an accountant — your 4th degree connection.
The accountant counts amongst his clients actor Kevin Spacey ("House of Cards") — 5th degree.
Kevin Spacey was in the film "Seven" with Brad Pitt — 6th degree connection.
Brad Pitt was in turn in "Sleepers" with Kevin Bacon (a lead in the TV show "The Following").
Of course, this relationship chain puts Bacon outside the hypothesized 6 degrees. However, maybe you overlooked your neighbor three doors down, a retired set designer who worked with all three actors in various movies or TV shows. Let's try again:
Degree 1 — A neighbor whom you know and who knows the retired set designer, introduces you.
Degree 1 — The retired set designer is now a 1st degree connection, once you're introduced.
Degree 2 — all three actors.
In other words, the social graph exists whether you know it or not. LinkedIn finds this sort of connectedness in your network, letting you know who you need to ask in your downline network in order to eventually get an introduction to someone specific.
Content Sharing, Contact Management and Everything Else
While the social graph/ connectedness feature is some ways LinkedIn's best feature, it's also now a content sharing platform (which opened up to wider use in Feb 2014) , a contacts manager, news reader (thanks to their purchase of Pulse), research tool (to research a job candidate, potential employer, potential investor), and more.
LinkedIn's Success: By the Numbers
Existing Market
At their core, LinkedIn is a jobs board. However, they leveraged this concept of six degrees of connectedness to rise above the average job boards and became something more: a career social network, aka a social recruiting site. The approach has started to pay off for them. Let's have a look at some facts and figures.
LinkedIn launched May 5, 2003 and went public May 19, 2011.
4,800 employees in 26 cities (mid Dec 2013).
Stock price more than doubled over 12 months spanning Aug 2012 to Aug 2013.
$227/share price in mid Aug 2013 ==> over $25B market capitalization.
52-week high: $257.56/share, at the time of writing.
2013 revenues of $1.53B, with $13.45/share (ttm = trailing twelve-month)
$2.33B cash reserves — about $19.43 per share
$196.32/share at time of writing.
2013 revenue was $1.5B.
39% of members have paid premium accounts (as of Q2 2013).
61% of revenue is from the United States.
LinkedIn has about $2B in cash reserves.
$972M revenue in 2012 — an 86% increase from 2011. Caveat: $324M was spent in sales and marketing to gain more users, and profit was only $21M. That $324M was 97% more than 2011's $164M for marketing expenses — all in a strategy to increase user base.
2,400 customers were added in Q4 2012, making for a total of 16.4K contracted organizations.
They spent $119M in May 2012 to purchase Slideshare (60M users, 15M web presentations uploaded as of Dec 2013).
There are nearly 280M (277M) users as of early Feb 2014 — an increase of 37M from around Aug 2013 (240M).
84M users in the USA as of late Oct 2013.
Over 30M members (global) were students or recent grads as of late Oct 2013.
13% of members were millenials (15-34 years old) as of late Sep 2013. Meaning that LinkedIn is more popular with older professionals.
As part of a user base expansion plan, LinkedIn started allowing users as young as 13 (or up to 18, depending on the country) to join, starting around Fall 2013. In a related effort, they invited educational institutions to join the list of organizations on LinkedIn. In the U.S., the minimum age requirement is 14.
187M unique monthly visitors to LinkedIn (early Feb 2014).
34.51% web traffic referrals from Sep 2012 to Sep 2013.
2 new members per second.
200 conversations per minute in LinkedIn groups, and 8K new Groups created weekly (late Aug 2013).
Members join an average of 7 Groups (late Aug 2013).
Over 1.5M Groups as of the end of Q2 2013.
Over a billion endorsements made, as of mid Feb 2013.
Available in 20 languages (Feb 2014), across 200 countries and territories (Oct 2013).
65% of members are outside the U.S. (Oct 2013).
38% of visits via a mobile device.
40% of members check LinkedIn daily; 13% at least once per day.
3M members have added volunteer experience to their profile since 2011 (mid Jan 2014).
59% of members have worked for companies with 200 or fewer employees.
LinkedIn's user base of 280M is roughly 25% of Facebook user base of about 1.1B.
There were 3M business pages and 1.2M products and services showcased, as of late Jun 2013.
1500 schools and universities have a LinkedIn profile (late Oct 2013)
100% of the Top 50 U.S. law firms have a LinkedIn profile page (Jan 2014).
97% of people using bullhorn.com say they use LinkedIn to source job candidates — according to a 2013 survey of 160,000 registered users, who use the site for manage social media job postings.
LinkedIn's Potential Market
LinkedIn is popular as a social recruiting tool. However, it has a lot of upside potential and has barely touched the global market in terms of job postings and user base.
Trefis.com, a financial analysis site, estimated that average annual number of job postings on LinkedIn increased from 38K in 2008 to 1.73M in 2012. That's more than a 4450% (4,452.63%) increase in that time period.
In terms of potential, they feel there is the potential for 3M to 6M jobs monthly worldwide — or 20 to 40 times the average number of monthly listings (1.73M / 12 months) LinkedIn had posted in 2012. This leaves a lot of upside potential for LinkedIn.
In the U.S. market, the BLS (Bureau of Labor Statistics), there were 3.6M monthly job openings for 2012 (not necessarily advertised online), reducing online potential to 2.8M job postings monthly, on average.
LinkedIn had about 150K U.S. jobs of 235K posted, monthly, in 2012.
Will LinkedIn make a dent in the potential market worldwide? They are competing with job boards that have been around much longer, some that make far more money. (Monster.com's parent company made nearly $1B in 2012.)
However, LinkedIn has the networking aspect and a few tricks up their sleeve, going forwards. For example, Linked CEO and co-founder Reid Hoffman wants to reboot the college degree and used LinkedIn as more of a dynamic profile. Such a move, if they pull it off and gain wide acceptance, is only going to grow their user base and build more engagement time from active users because they would essentially become the go to site to view a professional's credentials — besides becoming an indispensable tool for professionals.
Arguably, if you work for a living, or plan to after college, you should consider having a LinkedIn profile.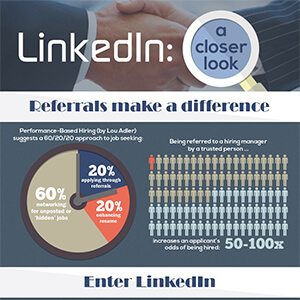 References
Information for this article was collected from the following pages and web sites:
http://www.ere.net/2013/04/30/bullhorn-report-linkedin-most-popular-site-for-social-recruiting/
http://gigaom.com/2013/08/19/linkedin-woos-students-and-why-i-think-it-is-a-good-move/
http://gigaom.com/2014/02/19/linkedin-has-the-one-thing-other-publishing-platforms-would-kill-for/
http://www.jeffbullas.com/2013/09/20/12-awesome-social-media-facts-and-statistics-for-2013/
http://blog.linkedin.com/2014/02/19/the-definitive-professional-publishing-platform/
http://www.linkedin.com/today/post/article/20130612170852-15454-hire-economics-don-t-waste-your-time-applying-to-job-postings
http://www.pbs.org/newshour/making-sense/ask-the-headhunter-is-linkedin/
http://www.trefis.com/stock/lnkd/articles/194025/another-look-at-linkedins-large-potential-in-job-postings/2013-07-03
http://finance.yahoo.com/q/ks?s=LNKD