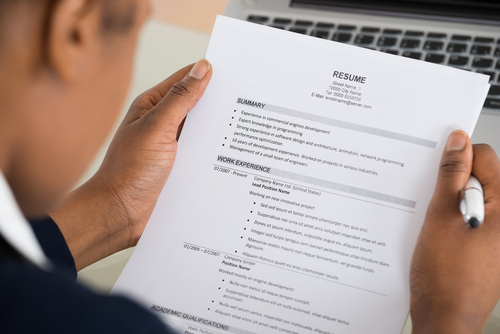 When you are putting together a resume for a job opening as a computer systems analyst, how you format your information makes a difference. If the job description emphasizes the importance of previous career experience, you should choose a resume format that prioritizes your work history. If the job posting emphasizes a certain skillset, your resume should highlight these unique skills. By adapting your resume each time you apply for an opening, you make the strongest case possible for getting hired.
The three most frequently used resume formats are functional, chronological and combination according to the Goodwill Community Foundation. A functional resume shines a spotlight on your professional abilities and accomplishments.
A chronological resume, in contrast, emphasizes your work history. If you have steadily moved up in your career field over the years with no major time gaps, your work history will look great to an employer in a chronological format.
As the name suggests, a combination resume is a hybrid format that takes the best from each of the previous resume types. It includes both a section that highlights your skills and one that lists your job history. The combination format puts your skills first so that they shine.
Functional Format
If you are newly out of college or grad school, you may not have much of a career-related work history even though you did well in your studies. In this situation, you should choose a functional resume to showcase your skills and competencies in computer systems analysis.
Perhaps you interned during school breaks as a computer systems assistant. Maybe you attended a professional seminar where you networked with others in your career field. These are the kinds of experiences that show employers that you have the hands-on skills they need.
In the job history section, you need not demonstrate a depth of career experience because prospective employers will understand you just finished your education. Instead, feature a few jobs that demonstrate your strong work ethic. Also, include any jobs that helped you develop other skills that complement your degree. For example, an office job may have given you valuable experience in the business environment where you will be working.
Chronological Format
If you have been working as a computer systems analyst for at least a few years, you should opt for a chronological resume. List the basics of your work history, starting with your current or most recent job and working backward for at least 10 years, if possible as recommended by the National Archives.
If you were working your first job 10 years ago in a fast-food restaurant, you probably should leave that out unless you designed or developed the restaurant's computer system. Use your best judgment as you work backward.
Combination Resume
If you only have a couple of career-related jobs to put on your resume but they were for well-known firms, a combination resume might be your best option. If written correctly, this type of format can strike a balance between skills and work experience that reflects well on you.
If you worked for a company that garners positive name recognition, mention the firm more than once, both in your skills section and, of course, in the work history area. The name alone will impress employers, but by listing the skills and experience you gained working there to back that up, you will end up with a resume that will get noticed.
The Right Skills for the Resume
According to Computer Science, some of the skills employers are looking for in a candidate for a computer systems analyst position include:
Critical thinking ability so you can sort out problems and find solutions
Creativity so you can come up with new solutions
Current knowledge of the latest technology
Strong interpersonal skills
Strong communication skills
Project management experience
Educational background in computer systems analysis
Certifications/credentials in related fields
Business acumen
Depth of knowledge in computer science
The most important thing to remember when you are creating a resume in any format is to be truthful and accurate. If you do not have the skills the employer is looking for, look further until you find a job description that is a better fit.
Additional Tips for Your Resume
Make sure your resume does not get shuffled to the bottom of the stack. Try these tips to make it stand out:
Identify a few keywords in the job description, and incorporate them into your resume. For example, if the description mentions a particular computer system that the employee is responsible to analyze and administrate, be sure to list that system in your resume like the one you are familiar with if that is the case.
Make sure your resume is easy to read and logically organized so a busy employer can skim it and get the most important information at first glance, such as skills, competencies, job experience and education.
Personalize your resume so that it stands out from the crowd. You can use color in your section headings, for example. You can choose a slightly different font that is formal yet adds a unique touch. Keep it formal with a bit of style.
Remember that your resume can be your only contact with prospective employers unless it quickly captures their attention and fits their needs. Every entry should be pertinent to the job.
Related Resource: What Can I Do With a Computer Science Degree?
Whether you are a recent graduate in computer systems analysis or are seeking a better position in your established career, a strong, well-crafted resume is critical. With the right format, you can highlight your experience and skills to give yourself a competitive edge in the job market and win the position you seek.