A master's in computer science isn't only one of the highest-paying master's degrees. It's also one of the most versatile. The use of computer technology is increasing across many different industries, a reality that is prompting employers even in industries that once seemed far removed from computing to hire computer science professionals, according to U.S. News & World Report. A master's degree in computer science can prepare you to work in just about any field in the modern workforce, although you may need some industry-specific background knowledge or skills.
Fields With a Need for Computer Science Professionals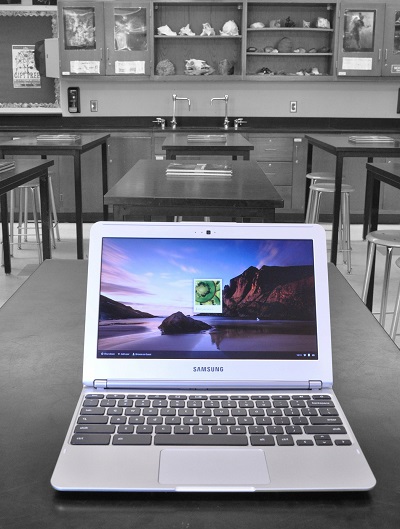 IMAGE SOURCE: Pixabay, public domain
Featured Programs
Gone are the days when computer science professionals' opportunities were mainly limited to the software industry and other computer technology fields. Today, computer science careers are available in a broad and diverse group of industries. Education, manufacturing, insurance, banking and travel and hospitality are all among the numerous fields in which today's computer science graduates can apply their skills. Some of the more "out there" jobs you could acquire with a computer science degree that may apply to a variety of industries include commercial civilian drone operator, virtual reality designer, digital locksmith, food engineer and digital currency advisor.
Roles in health informatics combine the fields of computer science and healthcare to analyze, interpret and make use of healthcare data. Even within this relatively narrow niche, you might work in different environments, such as hospitals, government health agencies and healthcare consulting. You might specialize in consumer health informatics, public health informatics, clinical research informatics or operational informatics in clinical practice.
In the retail and marketing fields, computer science professionals are needed both to analyze data and to use technologies like augmented reality and artificial intelligence to develop sales campaigns and experiences. While you might expect online-based retail companies like Amazon to have a need for candidates with a strong computer science background, retailers with major brick and mortar presences – like Target, Walmart, Macy's and more – also routinely hire technology professionals. You might also look for work with a consulting company that provides technical services to numerous clients. Some consulting firms and agencies work with clients in all industries, while others specialize in certain industries.
All in all, the United States Bureau of Labor Statistics predicts a much faster than average rate of job growth – 11 percent – for the computer and information technology occupations between 2019 and 2029.
Preparing for Computer Science Roles in Nontraditional Industries
Deciding what field you would like to work in is one thing, but actually attaining your dream job is another thing entirely. To find your way into some of these computer science jobs in fields that are a bit more specialized, you may need some specialized knowledge or work experience.
One way to get a computer science job in a field that isn't traditionally associated with computer science is to build upon an academic background and work experience in that industry. For example, some professionals working in health informatics or another computer science role in healthcare started out with a nursing degree or another healthcare degree. Learning and then working in the field of healthcare equipped can equip you with the industry-specific knowledge you need. Then, following up that experience with a master's degree in computer science can strengthen your technology skills.
Of course, this isn't your only option for breaking into these different fields. Some undergraduate and graduate computer science programs offer specializations that can apply to different fields, such as a concentration in biomedical informatics. You could also opt for an informal focus on your areas of interest by carefully selecting a cluster of computer science electives. For instance, if your goal is to work in retail technology, you might choose electives such as e-commerce systems and business statistics.
Experience matters, too. Looking for internship and co-op opportunities – whether at the undergraduate level, the graduate level or both – that fit into your areas of interest can provide you with valuable work experience and networking opportunities. If you can't find a formal internship opportunity, consider whether volunteer, research or extracurricular activities related to your intended field could help you develop professional connections and give you experience to draw from.
Suppose that you're a teacher who wants to work in a computer science role in education. Volunteering to be part of committees and programs that focus on technology implementation could be your first step toward transitioning to a computer science role. Nonprofit organizations, too, rely on computer technology. Although they might not offer paid internships in computer science, volunteering with the organization can help you build a rapport with the nonprofit's workers and provide opportunities to work on projects in your area of interest. You could later use this experience to get a job, either with that organization or with a nonprofit that works in a similar space.
As technology becomes ever more pervasive, the need for computer science professionals across various industries will keep growing. With the right combination of skills, education, experience and connections, any field is fair game for a computer science professional.
Additional Resources
What Kind of Jobs Can I Get with a Computer Science Degree?
What Are Some Areas Under the Umbrella of Computer Science That I Can Study?
What Areas of School Should I Focus on in Order to Strengthen My Abilities in Computer Science?