To get into graduate school for a Master of Business Administration (MBA) – one of the highest-paying master's degrees – you typically need work experience. In fact, applicants admitted to top-ranking full-time MBA programs in 2020 had an average of four years of work experience, and applicants to executive MBA (EMBA) programs had 13.5 years of work experience, according to U.S. News & World Report. As a prospective MBA student or Ph.D. in business student, you may wonder what counts as work experience.
Full-Time Professional Work Experience
Most MBA programs are looking for professional work experience. Traditionally, this has meant full-time experience working in some area of business. Work experience for MBA programs doesn't count internships or work in a role that isn't related to your field. It's generally assumed that the work you count as experience for an MBA program is paid and not done primarily for job training, as an internship is.
If you worked in a role that isn't closely related to the professional world of business, that work might not constitute the experience expected from MBA applicants. Of course, there are gray areas here. If you worked as a cashier but you're applying for an MBA in information technology, it may be a stretch to claim that your retail job provided work experience relevant to your course of study. On the other hand, if you started as a cashier but advanced to an assistant manager and then general manager role, you have at least some leadership and management experience that may be applicable to your MBA program.
Keep in mind that MBA admissions teams don't require experience solely to keep students out or make their lives more difficult. Having experience in the professional world means that you have done more learning outside the classroom than an applicant who is fresh out of college. You have had the opportunity to make and learn from your mistakes as well as work toward success and career advancement.
While part-time work may count toward your MBA work experience requirements, it isn't the ideal type of work experience most business schools are looking for. If your work experience is part-time, you may need more years of experience to get into graduate school.
Internships
The internships you completed as an undergraduate do provide valuable experience, but they're not always equivalent to formal professional work experience. For an early-career MBA program, internship experience may be sufficient, but that may not be the case for traditional MBA programs.
Think twice about relying on a short-term, part-time or unpaid internship as a major part of your work experience when applying for an MBA program. However, if you had the opportunity to gain practical experience through a paid co-op that lasted longer – for example, six months or so – and provided you with more chances to develop new skills, your internship experience may be more impressive.
Don't leave internships off of your resumé if they are recent and relevant, but make sure you have enough experience that isn't based solely on internships if you're attempting to get into a traditional MBA program.
Research Experience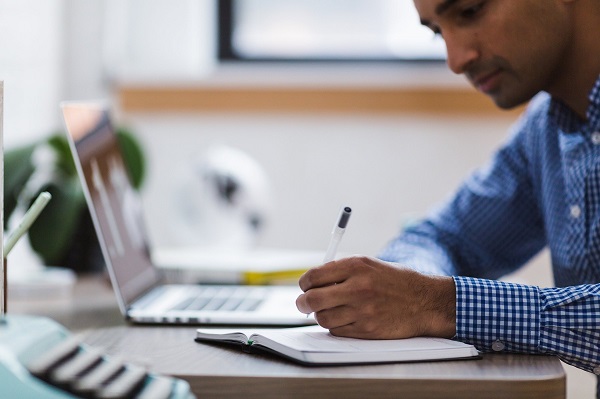 IMAGE SOURCE: Pixabay, public domain
If you're interested in a Ph.D. in business, having research experience might help your application. Doctoral degrees in business tend to be more research-oriented than master's degrees, and the Ph.D. has more of a research emphasis than a Doctor of Business Administration (DBA) degree. Research in business might include the study of accounting systems, financial economics or big-picture issues in strategic management. The focus of your research interests and how it fits with the university's research programs are two of the most important factors that count for admission into Ph.D. programs in business.
Ph.D. programs in business typically prepare students to become academic researchers and business professors rather than professional practitioners in business. If you're not interested in a career in academia, don't worry if you don't have research experience.
Volunteer Experience
In some instances, unpaid experience can still be valuable for an MBA program. If you undertake a two-year volunteer service with the Peace Corps, for example, you will likely gain plenty of management and leadership experience by volunteering, just as you would from a traditional job in the professional world. You might also wish to highlight volunteer experience on your MBA application if you worked in a leadership position or if your service was part of a longstanding commitment to an organization. Having an average amount of volunteer experience won't get you into business school if you don't have other forms of work experience, but your volunteer experience still does count in your favor.
MBA admissions teams often appreciate students' engagement with extracurricular activities at their college or in their community, and this experience can also strengthen your application, although it doesn't fully replace the work experience requirement.
Additional Resources
Schools Used to Want MBA Applicants to Work Before Applying, But I Hear That Has Changed. Is That True?
Should I Get My MBA Letters of Recommendation From Professors or Business Associates?
How Important Are Extracurricular Activities in My Application for an MBA?