Job applicants often feel anxious about the pressure of an interview, but a fair amount of stress can come with being an interviewer, too – especially when you're new to human resources. If you earn your master's in HR, one of the highest-paying master's degrees, there's a good chance that interviewing candidates will be part of your future job duties, according to the United States Bureau of Labor Statistics. Although managing job interviews is a task that becomes easier with practice, the best interviewers carefully choose questions that allow them to glean insight they can't get solely from a resume and treat the interview as a conversation with a purpose.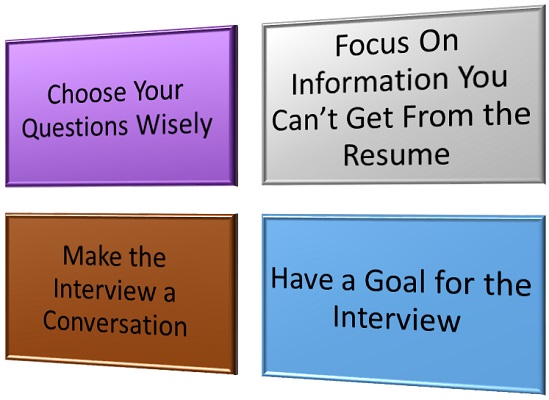 Choose Your Questions Wisely
There are hundreds of possible questions you could ask a candidate interviewing for a job, but neither you nor the interviewer has the time to sit through an interview this lengthy. The quality of interview questions and the answers they produce is far more important than the quantity of the questions you cram into a meeting. It's essential that human resources professionals choose their questions wisely for an interview.
A good guideline is to choose open-ended questions, or questions that can't be answered with a simple "yes" or "no," because their answers give you a better understanding of the candidate. Instead of asking, "Do you like the work you do at your current job?", a better question might be, "What do you like most about the work you do in your current position?" Even if you need the candidate to have experience with a certain software program, type of equipment or other technical skills or knowledge, you can make questions pertaining to this point open-ended by phrasing them like, "How much familiarity do you have with using [that skill]?"
You also want to focus on questions that are relevant to the job. This isn't to say that you can't ask questions to more generally gauge how the candidate would fit into company culture, but it's a waste of your time and the interviewer's if you grill them on skills and experiences that don't relate to their job. Think about the questions you want to ask in the interview ahead of time, and spend a few moments assessing how much they have to do with the job for which you're hiring. Irrelevant interview questions will often yield data that won't be very useful in deciding whether or not to hire the candidate.
Bad interview questions can even turn into a legal issue. Good interviewers should make sure they understand what questions could come across as discriminatory and illegal, including questions about the candidate's age, race and ethnicity, gender identity, sexual preference and disabilities.
Focus on the Information You Can't Get From the Resume
Have you ever interviewed for a job where you had to spend a large chunk of the meeting just going over your resume with the interviewer? If so, you probably know how frustrating it feels. The point of the interview is to gain more information than what's included in the resume, cover letter, and other application materials.
Before you meet with the candidate, you should familiarize yourself with their application materials and note down any questions you have based on them. This way, instead of just asking basic questions like "How long have you worked in this industry?" or "Where did you work previously?", you're prepared to ask questions with more meaningful answers. For example, you might ask, "How much of a role did [a certain technical skill] play in your work at [a former employer]?" or "How have you kept up with emerging technologies in the past few years?"
Besides getting the candidate to elaborate on their work history and education, you should assess the candidate's personality traits, work ethic and fit for your company culture.
Make the Interview a Conversation
Anxiety before a job interview is a common occurrence, but no one performs at their best when they're nervous. Part of your role in managing the interview is to put the interviewee at ease so that the meeting feels less like an interrogation and more like a discussion. Be prepared to make introductions and small talk to put the applicant at ease and build rapport.
Listening skills are crucial for human resources professionals. The best interviewers excel at active listening, which means that they give the interviewee their full attention. When they have questions, interviewers should ask for elaboration – but they need to do so in professional and appropriate ways, without interrupting. Active listening may also encompass the attention you pay to nonverbal cues.
Your role as the interviewer isn't simply to ask questions but also to provide information. Make sure you are able to explain the job role and expectations accurately, and be prepared to answer the interviewee's questions, as well.
Have a Goal for the Interview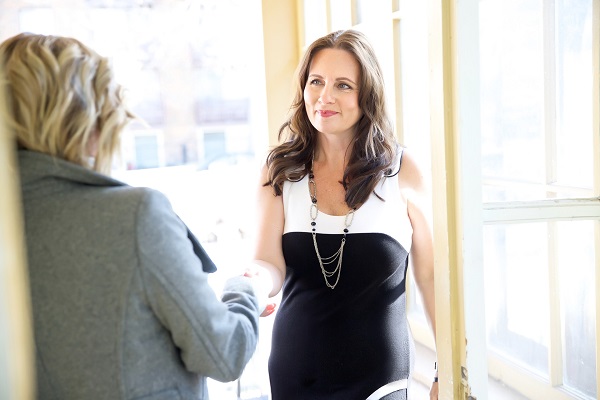 IMAGE SOURCE: Pixabay, Public Domain
Although you want the interview to feel like a conversation, you also don't want to lose sight of your goal. This goal is to gather enough information to decide if the candidate is a good choice for the job role you're looking to fill. You should start preparing for this goal by reviewing the candidate's application and identifying anything specific that you want to find out about that person. Maybe you want to know more about what a previous position entailed or whether the candidate's prior work environments match the pace and pressure found in your company.
Taking notes, while reviewing an application and during the interview itself, can help you stay on track and make sure the interview meets its purpose. Your notes don't need to detail candidates' answers word for word, but they should help you differentiate between different candidates.
Additional Resources  
Is Being a "People Person" Really That Important of a Trait in HR?
What Are the Typical Job Responsibilities of an HR Manager?