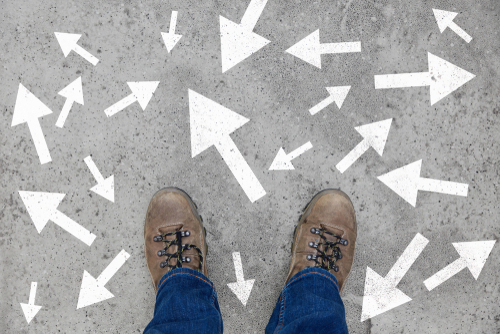 Majoring in the arts opens up many employment doors, though many people who buy into the starving artist myth may believe otherwise. While many artists still study studio arts, there are many different kinds of art majors, and while many art majors will take classical art classes, they will also spend plenty of time learning new media techniques. This is why there are so many career paths for artists today.
DegreeQuery.com is an advertising-supported site. Featured or trusted partner programs and all school search, finder, or match results are for schools that compensate us. This compensation does not influence our school rankings, resource guides, or other editorially-independent information published on this site.
Types of Art Degrees
People who study art have several degree options available to them. While some do go onto university, others bypass university art programs, opting for professional training programs. Here's a look at the different types of intensive art studies students of art can undertake.
University art students study the arts in a university setting. According to Hussian College, a university art program will include training in art-related disciplines, like painting and drawing, animation, dance, theater or film. However, these programs also require their students to take classes outside of the department: These classes could include classes in classic literature, foreign languages, science, math and social sciences, like anthropology or archaeology.
Some serious art students forego the university experience and opt to get their training at an art school. Schools like the Sotheby's Institute of Art and the Lee Strasberg Theatre & Film Institute concentrate solely on arts-related training. Experienced professional artists teach the classes. These training programs won't include a liberal arts foundation as a university art program would.
Which program an art student decides on is based on several actors, including his or her goals, financial considerations and what he or she wants from the school experience. Art students who want to work as professional artists will sometimes choose art school over college, though not always.
However, people who want to work as art historians, art educators or arts administrators usually need to go the university route. Many of these careers also require advanced degrees. Art historians, archivists and museum curators must often hold master's degrees to get their jobs, according to the Bureau of Labor and Statistics (BLS).
Where Do Artists Work?
Artists work in several settings. Studio artists and craftspeople work in studios in their homes or dedicated studio spaces away from their home properties, according to the BLS.
Art educators work in schools and museums, teaching students about the history of art and art techniques and materials. Digital artists, photographers and designers work with computers, with digital art tools, often in an office setting.
Filmmakers, theater artists and dancers work either on location or on film or stage sets. However, artists who work in special effects or animation will also work in an office setting, instead of on a film set much of the time, despite technically being filmmakers in the broadest sense. According to the Balance Careers, many animators are self-employed. Many filmmakers and artists will work in the advertising field, and some theatrical set designers will become museum exhibit designers.
Unusual Art Careers
There are many myths and misconceptions about careers in the arts. Many people believe the starving artist myth. In this scenario, artists might work in their studios and create paintings and drawings that they may or may not sell. They're often baristas in their day jobs (or something similar) because they can't make their living as artists.
However, the Internet and advances in technology have changed the plight of the artist. Nowadays, people with art training work in the movie and video game industries as animators, in graphic design, as UX/UI designers and art educators.
Aside from these jobs, there exist specialty jobs that require a foundation in arts training and also training in other disciplines.
Here's a look at a few of those jobs:
Art Therapist: This counseling professional combines training in the arts with training in psychology to provide therapeutic services centered around the expressive qualities of art.
Art Crimes Unit: Art historians who also have training in law enforcement can work in the art crimes unit of the FBI.
Forensic Art: People working as forensic artists use their art training to create images of missing persons and suspects of a crime.
Exhibit Designer: The exhibit designer is responsible for creating the look of a museum or trade show exhibit.
Business Training for Artists
For those artists who do want to have a studio art career, it is essential to develop some business skills. Many programs teach business skills for artists. According to American Express, the development of the Internet, technology and sites like Etsy have given artists more freedom than they've ever had.
Entrepreneurial artists also understand that they must expand their revenue streams. While some can make their living from solely selling their artwork (i.e. paintings and drawings), many will also teach classes online, get involved in affiliate sales, speak at conferences, make prints of their work and sell licensed items, like T-Shirts, mugs and other items.
Artists who want to take this route should take business courses alongside their art courses. They should also do internships at different arts organizations so that they can see how the business side of these organizations work.
RELATED: What Can I Do With An Art History Degree?
Nowadays, becoming an art major can be a solid career decision, provided that these future artists understand the market. The artists who are working in arts-related jobs today either have training in the commercial arts, like animation or graphic design or have taken business courses, which allows them to work as entrepreneurial artists. These career paths take discipline and hard work. However, those who are willing to do what it takes can create rewarding careers in the arts.
Related Resources:
What Degree Do I Need to Be a Curator?