When you're applying to a master's degree program in architecture – one of the highest paying master's degrees – you need an extra element that other programs of study may not require. A portfolio is a collection of work that showcases your skills, strengths and potential. Applicants to a master's degree program in architecture must submit a carefully cultivated portfolio that accomplishes this goal – but what exactly they include in the content of their portfolio is likely to depend on whether or not they have a background in studying or working in architecture.
The Significance of a Portfolio for a Master's in Architecture Degree
Although each part of your application package matters, the portfolio is widely considered to be one of the most important – if not the single most important – aspect for admission into an architecture program. Design is at the heart of an architect's work. After all, technical skills can be taught, and design techniques can be practiced and perfected over time. Teaching creative thought and ideation is a whole lot more difficult. Your portfolio is what proves that you have some flair for creative design and an appropriate level of skill to pull your ideas together visually.
Ideally, all aspects of your application will be reasonably strong. However, an exceptional portfolio is more likely to outweigh lackluster grades or standardized test scores than the reverse.
Putting Together a Portfolio With a Bachelor's in Architecture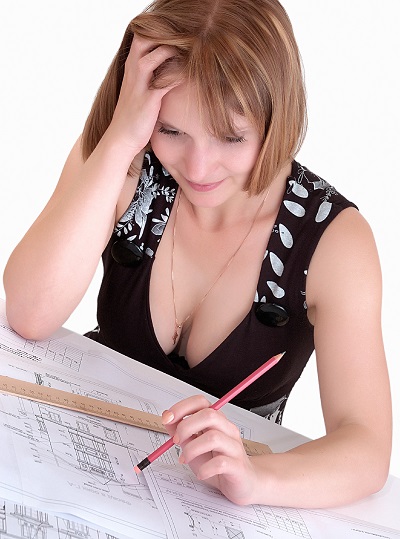 IMAGE SOURCE: Pixabay, public domain
Even if you understand the point of the portfolio, that doesn't necessarily help you figure out which things to include in your portfolio. This depends largely on your current level of knowledge and experience in architecture. If you already studied architecture at the undergraduate level, your job will be a lot easier, because you will have relevant architectural designs and projects to draw from.
The studio work you completed as part of your undergraduate studies, including hand-drawn sketches, computer-aided designs and photographs of three-dimensional models, will fit nicely into a portfolio for a master's in architecture program. You may wish to include some context or explanation of the project and its constraints and requirements along with the designs you completed as an undergraduate student – and some programs require you to do so. Some master's degree programs in architecture specifically ask that students choose to submit work completed in an academic environment rather than a professional environment, even if those students have some experience working in the field of architecture already.
Whether you earned a pre-professional bachelor's and are now pursuing a Master of Architecture (M.Arch.) or you earned a professional Bachelor of Architecture (B.Arch.) and are seeking a post-professional degree, you can draw from your studio work to create a portfolio.
How to Build an Architecture Portfolio With a Different Undergraduate Major
Many master's in architecture programs accept students with no prior studies in the field of architecture. If you're in this boat, you're more likely to be agonizing over what to put in your portfolio. After all, you don't already have a collection of architectural design projects from your undergraduate studies. Fortunately, graduate programs that accept newcomers to the architecture field have somewhat different expectations for the portfolios they receive from applicants to what's called a Level I M.Arch. program.
Although your goal is still to show off your creativity and design skills, you can do this by submitting other works of art. Applicants to a graduate architecture program without an undergraduate background in the field may submit drawings, paintings, collages, sculptures and more. Although you can certainly include drawings and other artwork that include or emphasize buildings and other architectural structures if you like, you're not required to do so. Instead, you can submit landscapes, still life paintings, portraits and more as part of your portfolio for an architecture program.
Some programs allow for more unconventional samples of creative work from aspiring architects who haven't yet done any building design work, including ceramics, jewelry, graphic design work and photography. Any work that conveys your spatial skills or your command of color and light in design work is also valuable, since these elements are important in architectural design.
Even the design of the portfolio itself is important. Your portfolio should be thoughtfully put together so that it moves seamlessly from entry to entry, telling a story about your abilities while following all requirements regarding portfolio size, length and content.
Related Resources: 
Do Most Architecture Programs Require GRE Scores? Mine Aren't Too Good.
Do I Need to Have a Background in Architecture to Get a Master's?
If I'm Not Sure About Becoming an Architect, What I Can Do to Try Out the Waters?
For Further Reading: