Archeologist and anthropologist, two of the highest-paying social science careers, have a lot in common. In fact, archeology is one of the four subfields of anthropology, according to the American Anthropological Association. If you're envisioning a career as an anthropologist or an archeologist, it's important that you understand the fields of archeology and anthropology, including the reason why social scientists study them and the methods of research and inquiry used to advance these fields. Then you can understand how the fields of anthropology and archeology complement each other.
The Objective of Studying Anthropology and Archeology
Anthropology – and, by definition, its subfields that include archeology – emphasize the social science of studying human behavior. This broad area of study encompasses everything from the changes brought about by human evolution, in a subfield called biological anthropology, to the changes in the usage and meanings of words, in a subfield known as linguistic anthropology. Anthropologists often aim to gain a better understanding of culture as it pertains to both past civilizations and modern society.
Whether an anthropologist is advising public policy creators on how a program will impact culture or an archeologist is digging up shards of pottery from a long-lost civilization, that goal of learning more about human behavior and society remains constant.
Artifacts Are the Evidence That Informs the Study of Anthropology
Archeologists focus on finding physical artifacts that tell us more about humans in past civilizations. However, what archeologists uncover in their work sifting through the buried remnants of the past is much more than material objects. These artifacts provide crucial evidence that helps anthropologists in all subfields come up with and evaluate the plausibility of theories about what it means to be human and how human societies and civilizations operate and change over time.
An archeologist makes these findings by surveying the geographical regions associated with a civilization and carefully planning the excavation of these sites. Besides finding an artifact in the first place, archeologists do the work of cleaning and restoring these artifacts, authenticating them and using technology to determine how old they are. To make connections between artifacts and the civilizations that produced them, archeologists make detailed observations and written descriptions of the artifacts they discover and compare newly found artifacts to existing artifacts.
Looking at an artifact can substantiate an anthropologist's theory about an ancient culture's lifestyle, economy or use of technology. Alternatively, a finding could be completely unexpected and lead anthropologists to come up with a brand new theory.
The Principles of Anthropology Provide Context for Archeological Findings
Without the foundations of the study of anthropology, even if archeological artifacts were found, they wouldn't advance our knowledge of human civilization and behavior. The larger field of anthropology asks questions about what it means to be human and how humans have acted, looked, communicated, evolved and adapted over time.
It's this context that gives archeological and historical artifacts meaning. A broken piece of pottery from a civilization that disappeared long ago is valuable less because of any intrinsic worth than because it is a piece of rare and priceless evidence that – in the eyes and hands of a knowledgeable evaluator – can tell us something about the past. Would the museums and historical sites that house these artifacts even exist if there was no recognized ability to learn something from them?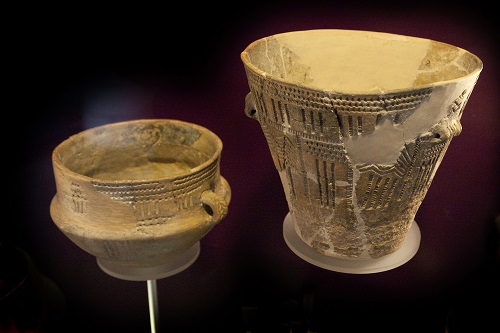 IMAGE SOURCE: Pixabay, public domain
Because anthropology and archeology are closely intertwined, a student who aspires to work in one of these fields should have at least some foundational knowledge of the other field. Students majoring in archeology complete some coursework in cultural anthropology and anthropological studies in different regions. Anthropology majors usually take at least one course in the research methods used in archeology and how to examine and draw conclusions from archeological artifacts.
In their careers, anthropologists and archeologists may work together in different capacities. Both of these types of social scientists take part in fieldwork, although anthropologists generally are more concerned with interviewing and observing living humans while archeologists search for the relics of past human societies.
Anthropologists who are more concerned with modern cultures and how public policy, economic development efforts and other programs affect these cultures have less in common with archeologists than anthropologists who study past cultures.
Additional Resources
What Is the Difference in Becoming an Anthropologist and an Archeologist?
What Are the Differences Between Biological, Cultural and Linguistic Anthropology?
What Are the Best Personality Qualities to Have to Become an Archeologist?
I Know Being an Archeologist Isn't Like Being Indiana Jones. What's a Typical Day as One?