If you want to become a survey researcher, one of the highest-paying social science careers, then you will be involved in the process of obtaining survey data from start to finish. The main job duties of a survey researcher include creating the surveys and questionnaires used to gather information, managing the sampling techniques and survey formats used in the research and recording and evaluating the data. Whether you're working in one of the social science fields, an area of government policy analysis or business and marketing, you can expect your job duties to emphasize the design, implementation and analysis of surveys that provide accurate, insightful data.
Develop Surveys
How do you begin to design a survey done for research purposes? Survey researchers often start by conducting background research into the topic at hand, according to the United States Bureau of Labor Statistics (BLS). Survey researchers who have a background in the field they are researching – for example, someone who went to school in sociology and has spent years studying a sociological phenomenon that they are investigating with the survey – may require less background research than, say, a survey researcher with a background in statistics.
After that initial background research period is done, survey researchers craft the language used in the questions that make up the survey. This language must be carefully thought out to clearly express what the researcher intends to study. Otherwise, unclear or misleading language could compromise the accuracy of the survey results, leading researchers down the wrong path.
Because the stakes are high, command of language is the single most important area of knowledge for a survey researcher, according to O*NET.
Administer Surveys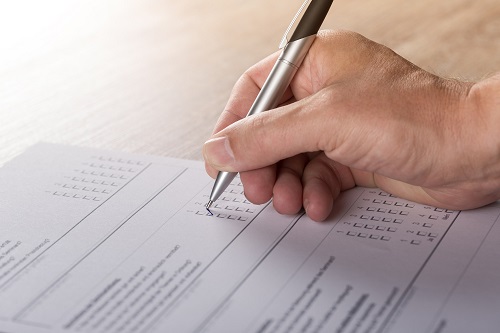 IMAGE SOURCE: Pixabay, public domain
You have a questionnaire ready to go. Now it's time to conduct that survey. The first step is to use sampling measures to identify an appropriate population of participants. A survey researcher can't realistically survey every single person, so instead, they attempt to identify a population of participants that most closely represents the overall population they are seeking to study.
A survey researcher may conduct surveys themselves or oversee the efforts of survey interviewers and other data collection workers, the BLS reported. The survey researcher is responsible for making decisions about how to carry out the research, such as whether the survey will be conducted in a written format, a telephone interview or a face-to-face focus group. There are pros and cons of each survey method, including the cost of conducting the research, participant responsiveness, and how suitable any one method is for the topic of research study. One factor survey researchers must consider is whether one method of surveying is more likely to yield accurate results – if, for example, a participant might be less likely to orally report negative behaviors to a stranger over the phone.
Today's surveys are often conducted online but can also be sent by mail or asked as a serious of questions in an interview.
Collect, Record and Analyze Data
The purpose of all of this effort – creating the questionnaire and conducting the survey – is to acquire data. Once the surveys have been conducted, the survey researcher gathers and documents that data. Then it's time to analyze that information to make sense of it and draw conclusions. In this stage of survey researchers' work, they dig into their mathematics skills to perform complex statistical analyses. These analyses can help survey researchers identify relationships, like correlation, between the different variables studied.
This part of the job requires strong skills in mathematics, statistics and analytical thinking. You need to be comfortable using computer programs to perform complex statistical analyses and be able to understand these analyses. Survey researchers may use a variety of analytical software in their work, including SAS (Statistical Analysis System) software, the MathWorks MATLAB software and Voxco PRONTO software, as well as database user interface and query software, O*NET reported. Once the data has been collected and analyzed, survey researchers must be able to express their findings in meaningful ways that include graphs, tables and charts featuring quantitative data as well as fact sheets.
In the real world, even the best-designed survey may not yield perfect data. Survey researchers need to be able to assess things like error rate, the impact of nonresponses and other potential issues that could in acquiring less accurate data.
Additional Resources
What Professions Look to Survey Researchers for Help?
Does a Master's in Math or Statistics Help Become (or Be a Better) Survey Researcher?
What Are the Main Types of Research Design?
What Differences Can I Expect Between Online Survey Research and In-Person or Phone Research?