A master's degree in occupational therapy may be one of the highest paying master's degrees, but it's not the only educational path into the occupational therapy field. If you don't want to spend a minimum of six years in college – first pursuing your bachelor's degree and then going to graduate school – a career as an occupational therapy assistant or occupational therapy aide might be a better fit. Despite the similarities in job titles – and the role both workers have in helping licensed occupational therapists – OT assistant and OT aide are two separate careers that involve different job responsibilities, different educational requirements and different salary ranges and job growth rates.
Differences in Job Duties
Generally, an occupational therapy assistant performs higher-level duties than occupational therapy aides, although neither role is qualified to practice occupational therapy as a licensed occupational therapist is. An occupational therapy assistant works directly with patients in clinical practice by demonstrating and assisting them in therapeutic exercises, according to the United States Bureau of Labor Statistics (BLS). Although an occupational therapist is the one who identifies patients' needs and formulates treatment plans, an occupational therapy assistant may make notes about patients' progress and instruct patients on how to use special equipment.
An occupational therapy aide, on the other hand, doesn't work with patients in any clinical capacity. This role includes some tasks specific to occupational therapy, like setting up and cleaning equipment. Occupational therapy aides also perform more general clerical tasks, like managing phone calls, setting up appointments and managing insurance paperwork and billing procedures. Essentially, occupational therapy assistants contribute to the healthcare side of occupational therapy work but do so under the guidance of a licensed OT who makes treatment decisions, while occupational therapy aides have more of an administrative role.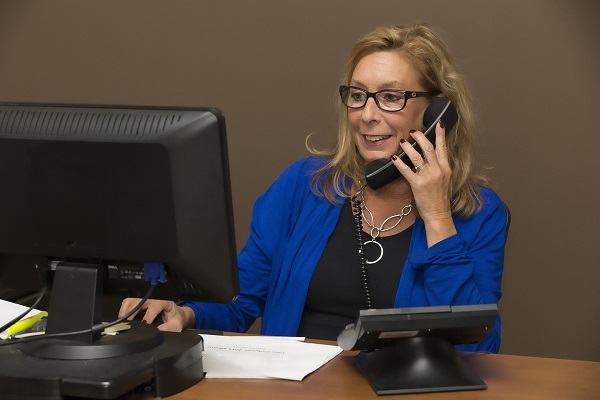 IMAGE SOURCE: Pixabay, public domain
Working as an occupational therapy aide, perhaps while going to college or taking a gap year, may give you a glimpse into whether a career as an occupational therapist may be a good fit for you later on.
Differences in Education and Training
Since occupational therapy assistants do work that is much more hands-on and specialized in the field of occupational therapy, it makes sense that they need a higher level of education than aides do. You can become an occupational therapy aide with only a high school diploma and some on-the-job training, according to the BLS. An occupational therapist assistant typically needs some level of college education.
Occupational therapy assistant programs come in both associate's (OTA-A) and baccalaureate (OTA-B) degree formats. OTA-A degrees are more common among occupational therapy assistants, with O*NET reporting that 82 percent of the occupation has an associate's degree. However, earning a baccalaureate degree can allow you to study the field in more depth and, potentially, prepare for a master's degree and an occupational therapist career.
Besides just earning a degree, aspiring occupational therapy assistants must make sure their program is accredited, take a national certification exam and meet other state licensing requirements, the BLS reported.
Differences in Earning Potential and Job Outlook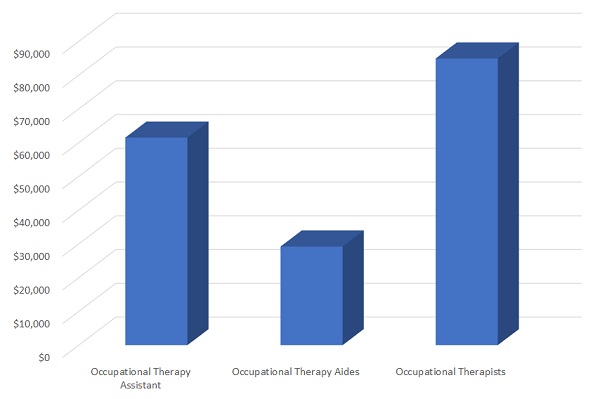 One area where the difference between occupational therapy assistant and occupational therapy aide is particularly dramatic is earning potential. Occupational therapy assistants can expect to make twice what aides do. The BLS reported a median annual salary of $61,510 for occupational therapy assistants but only $29,230 for occupational therapy aides. For both careers, jobs in skilled nursing care facilities pay the most, with the BLS reporting a median salary of $66,750 for occupational therapy assistants and $36,140 for occupational therapy aides in these settings.
The job outlook is favorable for both assistants and aides in OT, but even so, occupational therapy assistants fare better in this category, too. The rate of job growth that the BLS anticipates across all occupations during the 2019 to 2029 period is just 4 percent. Occupational therapy aides see a much faster rate of job growth, 20 percent, that quadruples the overall job growth rate. Occupational therapy assistants enjoy an even more impressive rate of job growth at 35 percent.
Already, occupational therapy assistant is a much larger profession than occupational therapy aide, so this big discrepancy in the job growth rate will mean a lot more new jobs for assistants than for aides. A 35 percent increase in OT assistant opportunities will add 16,300 new jobs to the 47,100 that already exist. The 20 percent rise in OT aide roles will equate to just 1,600 new job openings, since this profession only included 8,000 workers as of 2019.
Occupational therapists still make considerably more than either OT assistants or aides, with a median wage of $84,950, according to the BLS. Although the overall rate of job growth for occupational therapists is slightly lower than for OT aides, at 16 percent, it should result in 22,7000 new jobs.
Additional Resources
What Is the Difference Between an Occupational Therapy Assistant Associates Degree (OTA-A) and an Occupational Therapy Assistant Baccalaureate Degree (OTA-B)?
Is There Something I Can Do to Help Me Decide If I Want to Invest the Time to Get a Master's in Occupational Therapy?
Why Is There So Much Future Demand for Occupational Therapists?