Would you believe that radiology, the interpretation of medical imaging scans, is one of the highest-paying medical specialties in healthcare? This specialty may seem like little more than studying the black-and-white pictures produced by X-rays, CT scans, MRIs and ultrasounds, but there's a lot more to it than meets the eye. In fact, radiologists typically undergo at least five to seven years of medical training after they complete medical school just to work in this specialty, the American Medical Association reported. The specialty of diagnostic radiology may focus on "just" reviewing imaging scans, but radiologists can also work in interventional radiology, performing minimally invasive procedures, or in radiation therapy, treating cancer patients. The field of radiology is crucial to modern medicine.
The Importance of Radiology in Medicine
It's difficult to imagine a branch of medicine that doesn't intersect with radiology. Images are taken of just about every part or system of the body. Radiology is used to detect problems like cancer early in patients who have no signs or symptoms, to determine how extensive an injury or illness is, to gain a better understanding of what a suspicious growth appears to be or to deliver treatments and therapies without the ordeal of an invasive procedure. Over the course of their lives, most patients will use radiology at some point, the University of Virginia Health System reported. Just a few of the examples of how that interaction may occur include diagnosing a broken bone, checking the growth of a baby in the womb, screening for cancer and shrinking a tumor.
Innovation is also common in the specialty of radiation, which has, according to the American Medical Association, been "at the forefront of minimally invasive medical imaging" even since the specialty emerged in 1895.
Screening and Identifying Medical Conditions Through Diagnostic Radiology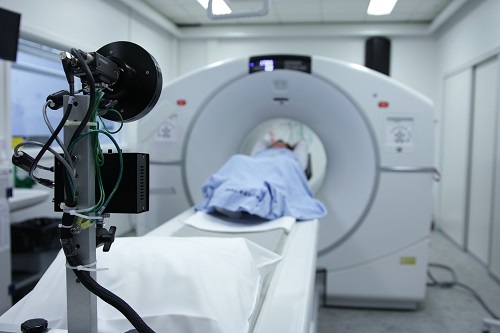 IMAGE SOURCE: Pixabay, public domain
Diagnostic radiology is the type of radiology most commonly associated with looking at the black-and-white images that imaging techniques produce. However, what a fully trained, board-certified radiologist does is much more than "look" at patients' films.
Radiologists must first decide which pictures they need to be able to make a diagnosis. Often, they haven't met the patient and they don't have a rapport with that individual, or perhaps any interaction at all. Instead, rely on the information contained in electronic medical records, patient forms and dictated reports by technicians and referring doctors to understand the purpose of the patient's imaging appointment, O*NET reported.
This familiarity with the patient's medical situation can help the radiologist provide detailed instructions to the radiologic technologist who does the work of performing the imaging tests. Getting the view or views a radiologist needs isn't as simple as taking a photograph with a camera. The technologist may need to make sure that the patient is in a certain position that affords the best view, adjust the equipment to achieve a specific angle or use different techniques to secure the pictures the radiologist needs to study – but the radiologist must communicate those instructions to the technologist.
Once the films are ready to view, the radiologist interprets what appears in these pictures. Accurately interpreting medical images requires a doctor to be familiar with the different types of imaging technology and the pictures they create. They must have the knowledge and the visual keenness to be able to identify what the different shapes, structures and elements that appear in scans are and to pick out any abnormalities, even ones that are unexpected. A radiologist may also use computer-aided detection and diagnosis software to analyze a patient's images.
To be good at this specialty of medicine, you need to be a creative thinker, according to the American Medical Association. Creative thought processes are essential because radiologists can't afford to be closedminded to possibilities. Making assumptions about a patient's health could have serious implications, so it's important to do your due diligence when reviewing imaging scans. Assuming that a suspicious finding can't be cancer because the patient is too young or doesn't have the most common risk factors, for example, could allow a life-threatening condition to grow unchecked, if your assumption is wrong.
What happens after a radiologist finishes looking at films? They don't just put the pictures in a file and call it a day. Diagnostic radiologists express their findings by writing comprehensive interpretive reports that include their recommendations for any follow-up testing that may be needed.
A diagnostic radiologist may spend most of their time with those black-and-white pictures, but the work is more challenging than you may think. Many medical students don't realize they're interested in radiology until they do a clinical rotation in the specialty.
Beyond Diagnostic Radiology
Diagnostic radiology is just one of the three major types of radiologists, according to the American College of Radiology. The two other types, interventional radiology and radiation oncology, involve treating patients rather than diagnosing their medical conditions from images.
Interventional radiologists perform minimally invasive procedures with the help of medical imaging technologies to guide them. The types of procedures that might be performed with interventional radiology are varied and continue to grow as new medical breakthroughs occur. Some of the many procedures an interventional radiologist may perform include treating bleeds, draining abscesses, inserting feeding tubes and performing biopsies, the American Medical Association reported.
Treating cancer with radiation oncology is a challenging but rewarding career path for a radiologist. In this specialization, you will likely administer external beam radiation therapy, also called teletherapy, frequently. This type of radiation therapy uses special machines to apply a beam of energy to a targeted area of the patient's body for the purpose of destroying cancer cells, the National Cancer Institute reported. For certain kinds of cancer, you may administer internal radiation therapy instead of, or along with, external beam therapy. This therapy involves using radiation inside the body in the form of seeds, rods or wires that the radiologist inserts directly into the tumor.
Within both diagnostic and interventional radiology are subspecialties such as neuroradiology, gastrointestinal radiology, genitourinary radiology, musculoskeletal radiology, pediatric radiology and more, according to the American College of Radiology.
Additional Resources
What Does a Radiologist Actually Do During a Typical Day?
What Are Some Courses I Would Study in Medical School If I Planned to Be a Radiologist?