An important part of getting into one of the top physician assistant degree programs is getting compelling letters of reference. Also called letters of recommendation or letters of evaluation, these letters from someone who knows you well to the PA school admissions department should point out the reasons you would be an excellent PA candidate. If you're considering applying to a master's degree program in physician assistant studies, you should start thinking about who you should ask for a letter of reference and what you would hope these letters would say.
Who Are the Best People to Ask to Provide a Letter of Reference?
The Central Application Service for Physician Assistants (CASPA), a platform potential PAs can use to apply to hundreds of PA programs, requires applications to contain a minimum of three letters of reference. You can include as many as five letters of reference, but more isn't always better. You don't want your three (or five) letters of reference to all say the same things. Ideally, you should strive to have each letter come from someone with a different area of expertise and who is qualified to speak to different aspects of your character and competence that would make you a good PA student.
Since a PA program is an academic program, getting a letter of reference from someone who can speak to your academic performance and aptitude would be a wise choice. Since PA programs are offered at the graduate level, you should be able to think of at least one instructor from your undergraduate studies who knows you well enough that they would be comfortable speaking favorably about your abilities.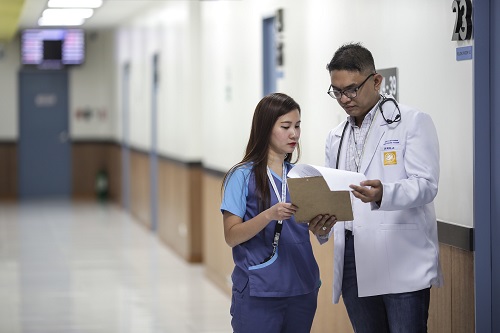 IMAGE SOURCE: Pixabay, public domain
Most PA programs require at least some amount of direct patient experience. If you're able to meet this requirement, then you should also be able to think of someone in the healthcare field who may be willing to speak to your passion for medicine, your bedside manner caring for patients and – most importantly – your clinical abilities. A letter of reference from a licensed PA would be particularly valuable, since they went through a graduate physician assistant program themselves once and their confidence in you suggests that they feel you will excel in this program. Otherwise, you might ask for a letter of reference from another supervisor in a healthcare role, like a doctor or a nurse practitioner.
Finally, you should seek a letter of recommendation that speaks more directly to your character, rather than just your academic and clinical abilities. You might reach out to a supervisor from a past job that you left on good terms – whether or not that job was in healthcare – and who can talk about points like your work ethic, your ability to work as part of a team and your dependability.
Who should you avoid asking to be a reference? Someone you barely know would be poorly suited to write anything specific about your strengths, as would a supervisor who fired you or a professor in whose class you performed badly or neglected to participate.
What the Ideal Letter of Reference Says About an Aspiring PA
Admissions departments see a lot of letters of reference, so you want your letters to stand out. Unfortunately, isn't necessarily easy to do, since you're not the one writing them.
This is why it's particularly important to seek out an evaluator who knows you well and has strong positive feelings about you and your dream of becoming a PA. An acquaintance who barely knows you will struggle to come up with much of substance to say about you, if they are willing to write a letter in the first place. A former instructor, supervisor or health professional you shadowed, on the other hand. will hopefully know you well enough that they should be able to speak – specifically, not in vague clichés – about the points that matter.
Perhaps a former supervisor at a non-medical job might recall how you've been working toward this career path for years and note how the trustworthiness and customer service you displayed as their employee would help you succeed in this role. A PA you shadowed might bring up your eager attitude to observe as many new and complex conditions and procedures as possible. What's most important about what your evaluators say about you – other than their comments being favorable, obviously – isn't which particular aptitudes they praise but rather that they are detailed and relevant enough to make a positive, memorable impression on admissions staff.
Evaluators must submit letters of reference directly to the CASPA, not to the candidate. You may not see your letter, so make sure you only ask for recommendations from people you trust. Always be courteous and respectful when asking for a recommendation.
Additional Resources
Is Getting Into a PA Program More or Less Competitive Than a Med School?
Does a Potential PA Take the MCAT or a Similar Entry Exam?
What Is the Central Application Service for Physician Assistants?