For aspiring physician assistants (PAs), a common question is: can PAs prescribe medication?
After you complete one of the top physician assistant degree programs and get your PA licensed, can you write a prescription? Yes – writing drug prescriptions is one of the medical services you will be able to provide as a PA. However, there are caveats.
Can a physician's assistant write prescriptions? Only if they meet licensing requirements, and under considerable limitations.
Are PAs Allowed to Write Drug Prescriptions?
The simplified answer to the question "Can PAs write prescriptions?" is yes, but there's a lot more someone applying to PA school should know.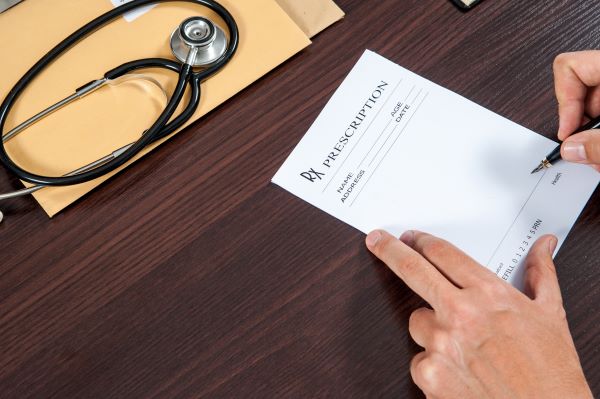 The state or territory in which healthcare practitioners provide medical services grants authority to write prescriptions. Licensed PAs are authorized to write prescriptions – with limitations – in all states of the United States. They can also perform this duty in all U.S. territories other than Puerto Rico, according to the American Academy of PAs. However, PAs in different states face different limitations on their prescribing authority.
Can a PA Prescribe Medication? First, They Need a License
Prospective physician assistants often ask "Can a PA write prescriptions?" Naturally, they mean after they complete the requirements needed to become a physician assistant. It takes hard work to first get into and then graduate from PA school and attain your license.
These requirements include:
Getting a PA education
Acquiring a license to practice medicine as a physician assistant
What Are PA Programs?
On a patient's care team in a medical center or doctor's office, PAs are a type of mid-level providers. They don't go to medical school for a Doctor of Medicine (MD) or Doctor of Osteopathic Medicine (DO) degree. Instead, PAs attend a special master's degree program. A PA program prepares students to become licensed in this healthcare role.
RELATED: What Exactly Is a PA?           
Through this program, physician assistants develop the knowledge and skills they need to perform procedures, interpret test results and, yes, prescribe medicines and other forms of treatment. In a PA program, students develop their knowledge of basic science as well as their clinical skills. Together, the coursework and clinical experiences prepare the student to perform medical services under the guidance of a supervising physician.
RELATED: What Degree Do I Need to Become a Physician Assistant?            
Differences Between PAs and Nurse Practitioners
Physician assistants share similar duties with other advanced practice providers, like nurse practitioners. For example, taking medical histories and assisting surgeons conducting surgical procedures are job duties that either PAs or NPs might perform.
Education-wise, the main difference between a physician assistant and a nurse practitioner is that PA school uses a different model than nursing school. Like licensed doctors, physician assistants learn to provide patient care through the study of the medical model of identifying and treating diseases. Nurses who are in nursing school pursuing the credentials to become an advanced practice registered nurse, on the other hand, typically approach patient care from the nursing model. The nursing model puts greater emphasis on the patient's mental and emotional needs as well as their physical condition.
Physician Assistants' Roles in Providing Specialized Medical Care
Like a doctor or a nurse practitioner, a physician assistant may also pursue a specialty area. Numerous areas of specialization are open to PAs, just as they are to doctors and nurse practitioners. To develop an area of specialty, a PA may pursue some form of advanced practice training, most commonly through a fellowship or residency, Mayo Clinic reported.
Several of the specialties available to a PA may involve the prescribing or administration of medications. For example, PAs who specialize in family medicine and general practice may prescribe several kinds of medications for common conditions, like antibiotics for acute infections and medicines to manage long-term conditions like diabetes.
In the specialty of cardiology, a PA may prescribe anticoagulants (blood thinners) and medications to manage high blood pressure or cholesterol. PAs who specialize in anesthesia commonly administer medications used to induce pain relief or loss of consciousness in operating rooms found in hospitals or outpatient surgery centers. Other popular specializations for PAs include emergency medicine, surgery, pediatrics, internal medicine, obstetrics and gynecology (OB/GYN) and dermatology, according to Mayo Clinic.
One benefit of a PA career is that it offers more versatility. PAs are more agile in their ability to change and add specializations compared to doctors.
Earning a PA License
After completing their education, a new PA must acquire a state license to practice as a PA. In all states, the United States Bureau of Labor Statistics (BLS) reported, a physician assistant must pass the Physician Assistant National Certifying Examination (PANCE) to qualify for licensure. Once a physician assistant passes this exam to become nationally certified, they have earned the Physician Assistant-Certified (PA-C) designation.
Can a PA-C prescribe medication? Yes, but there are still two caveats. First of all, a PA may only practice medicine (which includes prescribing medications) under the supervision of a doctor. Second of all, even under a doctor's oversight, PAs prescribing authority may be limited.
Writing Prescriptions Under a Doctor's Supervision
Can PA prescribe medication without a doctor? Regardless of which state you work in, as a PA, you are always acting under the authority of a supervising physician. This means that a physician assistant will collaborate with their supervising physician when they provide medical services. At the very least, a physician assistant should expect to have their prescribing practices reviewed by their supervising physician.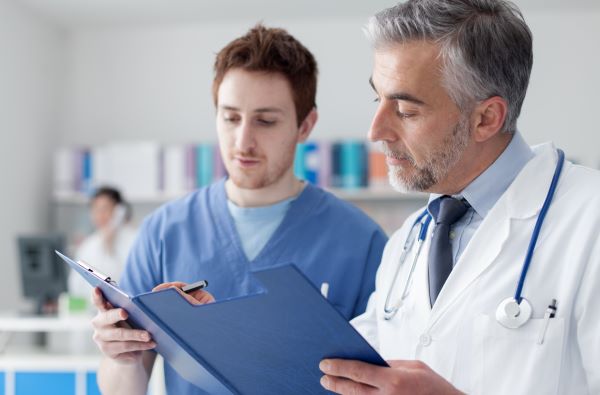 Physician assistants are only authorized to practice medicine under the supervision of a licensed physician. In fact, part of licensing requirements for PAs is holding a written agreement with the supervising physician.
That written agreement should stipulate the scope of the PA's services and duties in the supervising physician's practice, according to the BLS. Individual PAs are bound by the terms of this agreement in addition to any state restrictions on prescribing authority for physician assistants.
RELATED: What Kind of Supervision Does a PA Need to Be Able to Practice?
A supervising physician must take responsibility for the medical care a physician assistant provides under their oversight. Different supervising doctors handle this obligation differently. Ultimately, when it comes to prescribing medications as well as other aspects of practicing medicine, the doctor is delegating tasks involved in the practice of medicine to the PA.
Your prescribing doctor may be comfortable with delegating to their physician assistants the ability to independently prescribe certain types of medications in certain instances. On the other hand, a supervising doctor may prefer to review the patient's medical information first and write the prescription themselves.
Physician oversight isn't one-size-fits-all, even among individual supervising doctors. Doctors may also allow experienced PAs a broader scope of prescribing authority in their practice than they permit for recent graduates of PA education programs. The experience those who have been part of the PA profession bring to the practice can help the supervising doctor feel more confident delegating more extensive opportunities to practice independently (although still under the oversight of a supervising physician). For this reason, as a physician assistant acquires more professional experience, it may become time to update the terms of the supervising physician's oversight by signing a new written agreement with their supervising doctor.
One point to clarify is that a doctor doesn't necessarily have to be on-site at all times for a physician assistant to prescribe drugs, as long as doing so is allowed under the terms of their agreement. The doctor may only need to be available by phone or to review patients' medical records.
Physician Assistant Prescriptions Are Limited by Drug Type and Schedule
Can a physician assistant prescribe medication once they are licensed and working under a doctor's supervision? In general, yes – but that doesn't mean a PA can prescribe all types of controlled substances and for any reason.
Your authority to prescribe drugs as a physician assistant may be limited in different ways. Most states limit which schedules of drugs a PA may prescribe. This means a physician assistant may not be permitted to prescribe certain categories of drugs as established by the United States Drug Enforcement Administration. In other words, the answer to the question "can pa's write prescriptions?" may depend on what the physician assistant is prescribing – and why.
Can PA prescribe controlled substances? Drug schedules describe a substance's acceptable level of use and its potential for abuse and dependence. Schedule I substances are drugs that have no medical use and strong abuse potential. These drugs are generally illegal. Neither a PA nor any other medical professional can legally prescribe Schedule I drugs.
Officially, this restriction even applies to medicinal marijuana. However, the majority of states have now decriminalized the use of marijuana for at least some medical purposes. As a result, doctors write recommendations – rather than official prescriptions – for medicinal marijuana in these states, according to the American Medical Association Journal of Ethics.
Whether physician assistants are also permitted to write recommendations for the medical use of marijuana depends not only on a couple of factors. State restrictions may prohibit a physician assistant from writing a recommendation for medical marijuana at all. In certain states, the particular type of medical condition prompting the recommendation may be another factor to consider. In California, for example, PAs must have an attending physician write this recommendation. Colorado does not allow physician assistants to recommend medical marijuana for "debilitating and disabling medical conditions," but it does for "only disabling medical conditions."
RELATED: Are There Any Limitations as to What Kinds of Services a PA Can Do?    
Can a PA prescribe medicine as long as it's not classified as a Schedule I drug? Some states permit PAs to prescribe Schedule II drugs but others do not, according to the American Academy of PAs. Schedule II drugs are the next most dangerous class of drugs after Schedule I substances.
Medications categorized as Schedule II drugs have some accepted medical uses. However, these substances have a high potential for abuse and dependence. States that allow physician assistants to prescribe Schedule II drugs may impose additional conditions and limitations on these prescriptions. Examples of these limitations include the number of days or hours over which they are permitted to prescribe this medication and whether refills may be prescribed. Schedule II drugs include opioids like oxycodone and fentanyl.
PAs in some states are only authorized to prescribe drugs listed at Schedule III and beyond. These drugs have a low or moderate potential for abuse and dependence. Acetaminophen with codeine and steroids are examples of Schedule III drugs. Likewise, Schedule IV and V drugs have decreasing potential for abuse and for physical and psychological dependence.
Further, some states have more detailed restrictions beyond the schedules of drugs a PA can prescribe. PAs in Iowa, for example, have historically been prohibited from prescribing depressants, according to the American Academy of PAs.
The Work of a PA
There's a lot more to life as a PA than writing drug prescriptions. Each time you consult with a patient, you will discuss their health history and symptoms and perform an exam. You may review prior test results and, if indicated, order additional tests for screening or diagnosis.
Although they do not practice independently – in the sense that their authorization to provide medical services is under the guidance of a supervising physician – a PA may formally diagnose a patient's condition and initiate a treatment plan. That plan may or may not include medication. Even if it does, it may also include other forms of therapy, medical monitoring and laboratory or diagnostic imaging tests.
If you want to become a PA, you should start preparing for this role sooner rather than later. Getting into PA school is hard. You will likely need good grades, impressive letters of recommendation and competitive scores on one of the following standardized tests:
The Physician Assistant College Admission Test (PA-CAT)
The Graduate Record Examination (GRE)
The Medical College Admission Test (MCAT)
Taking plenty of science courses in high school and as an undergraduate in college can help prepare you for success as a PA.
Related Resources: 
Top 25 Physician Assistant (PA) Degree Programs
Top 20 In-Demand Healthcare Careers
What are the licensing Requirements for a PA?
Does a PA Have a Medical License?
What Is the Difference Between a Physician Assistant and a Nurse Practitioner?
What Is the Benefit of a Nursing Degree Vs a Physician Assistant Degree?