A master's degree in mathematics, one of the highest-paying master's degrees, encompasses advanced coursework in math as well as other fields of study. Applied mathematics emphasizes the application of math principles and practices to real-world situations. Aside from abstract theory, you need to learn the methods of math practices and study the different fields in which you might apply these methods. Some of the topics you are likely to encounter as part of your applied mathematics master's degree curriculum include statistics, methods of mathematical modeling, algebra and analysis, data science, computer science and engineering.
Statistics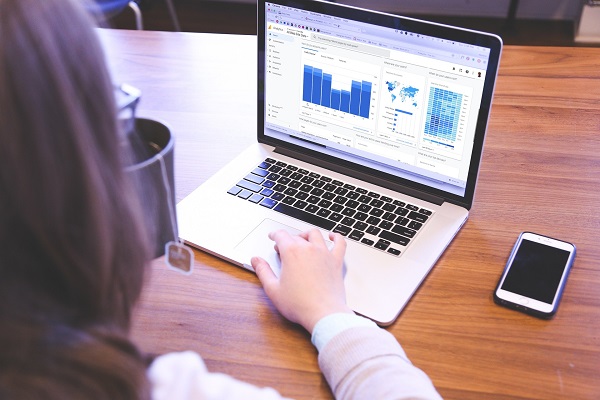 IMAGE SOURCE: Pixabay, public domain
Statistics is the field of mathematical science that focuses on collecting, analyzing and interpreting numerical data. Most master's degree programs in applied mathematics will include at least one course in statistics as part of the core curriculum. Students may have different options they can choose from to complete their statistics course requirement, or they may need to take one mandatory course in the subject. Generally, classes with titles like Applied Statistics focus more on the methods of analyzing data than classes like Mathematical Statistics. Other, more specialized graduate courses may apply statistical learning theory to topics like machine learning.
While many areas of mathematics can be abstract or applied, statistics is generally classified as a branch of study within applied mathematics.
Mathematical Methods and Modeling
If you think of mathematicians standing in front of a giant board of written equations, you may be missing part of the picture. Today's applied mathematicians use complex mathematical modeling for a lot of their work, often with the help of computer technology. In a graduate-level course introducing students to mathematical methods and modeling, you have an opportunity to apply the foundations of mathematical modeling methods to many different areas, from population dynamics to public health epidemics. Because mathematical modeling methods build upon your knowledge of differential equations, having completed prior undergraduate coursework in differential equations may be essential to your success in a course like this.
Popular mathematical modeling software programs found in private industry work for mathematicians include MathWorks MATLAB, Minitab and IBM SPSS Statistics, according to O*NET.
Algebra
There's a reason why algebra is one of the earliest distinct branches of math students encounter in their education, and it's not strictly because it sets the stage for further study in more complex disciplines like calculus. Algebraic operations can be applied to real-life problems and questions in numerous ways. Studying algebra at the graduate level can make sure you've got a handle on the foundations of algebra and how it can be applied. Some algebra courses you might take for a master's degree in applied mathematics are general in nature, while others focus on applied linear algebra or on algebraic analysis that emphasizes the functions of one variable.
Linear algebra refers to algebraic equations that are linear in nature, or in other words, those that express straight lines appearing on a graph. Many linear equations involve one variable, but linear equations can also have two or more variables.
Data Science, Computer Science or Engineering
Part of studying applied mathematics is studying the methods by which you can apply mathematical principles and the contexts to which you can do so. Students in a master's degree program in applied mathematics often have the option to take some coursework in the field of data science. The topics of data science that might interest students of applied math include the techniques of data mining, database design and management and supervised and unsupervised machine learning.
Another area of focus you might consider as part of your applied mathematics master's degree program is computer science. The field of computer science is based on the foundations of mathematics. Students might learn the basics of algorithms, which are the rules and sequences of computer operations. Coursework in computational learning theory and computational complexity may also be an optional part of a general applied mathematics curriculum or a required part of a formal computer science concentration.
Mathematical concepts also come into play in applications related to engineering. If you want to use your math skills to work in an area such as industrial engineering, mechanical engineering or electrical engineering, you could consider taking classes related to those topics. For example, you might study fluid mechanics, control theory or financial engineering.
Elective courses in master's in applied mathematics programs allow you to build an interdisciplinary knowledge base in any subject of interest, from business to healthcare.
Additional Resources
What Classes Are Typically Offered for First-Year Students in Applied Mathematics?
Is There a Science Topic I Should Try to Be Strong in If I Want to Work in Applied Mathematics?
Does My Undergraduate Degree Need to Be in Applied Mathematics to Get a Master's in It?