As one of the top degrees for the highest-paying business careers, a bachelor's degree in marketing can prepare you for plenty of opportunities in the business world. At the undergraduate level, all marketing programs should cover a curriculum that familiarizes students with the general concepts, theories and practices of marketing. Some programs go beyond the general core marketing coursework by allowing students to focus on an area of specialization, such as digital marketing, marketing management, marketing analytics, product management, sales leadership and marketing promotions.
A Core Curriculum in General Marketing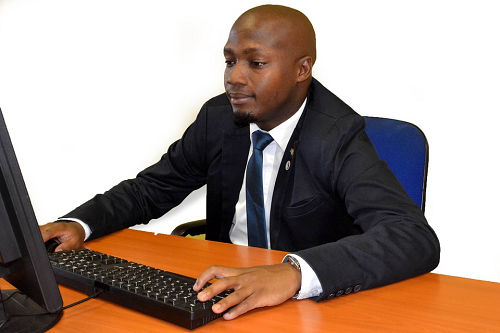 IMAGE SOURCE: Pixabay, public domain
Before you can delve into a marketing concentratio, you need to understand the basics. Most undergraduate marketing programs include a required core of general marketing classes. These classes usually cover, at least, topics such as consumer market behavior, marketing research and quantitative skills, strategic marketing management and planning, brand management and marketing communications. Marketing degree programs that don't allow for further specialization may have a more extensive list of major core coursework than those that do, including studies in international marketing and marketing management.
Marketing is just one aspect of the business world. The best marketers have a solid grasp of how other business functions operate and how these functions work together to help a company succeed. To help you develop this knowledge, your marketing degree program may also include core coursework in general business. You may take classes like financial and managerial accounting, managerial finance, investments, operations management, organizational behavior and business statistics as you complete these requirements.
A marketing internship or capstone course may be a required or optional part of a bachelor's degree in marketing. Internships put you directly in a real-world marketing environment, while capstone projects may involve real or simulated scenarios.
Undergraduate Specializations in Marketing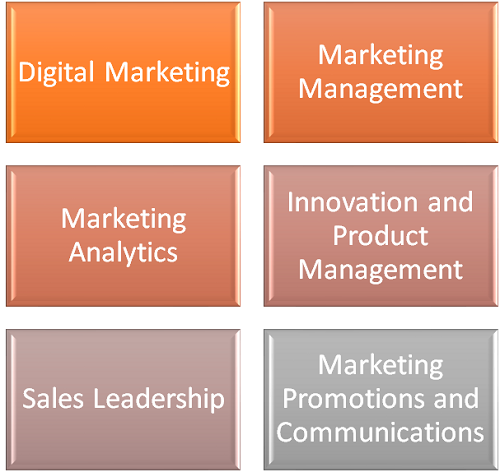 In today's business world, the most prevalent concentration in marketing is digital marketing. Companies are increasingly reaching their audiences through digital platforms and spaces, and understanding these tools and the underlying concepts that drive them is crucial for competing in a world that is becoming increasingly high-tech. Students in a digital marketing track are likely to take classes that cover everything from website development and social media marketing to search engine marketing and search engine optimization.
Other popular marketing degree specializations include marketing management and marketing analytics, according to U.S. News & World Report. Studying marketing management is ideal if you aspire to a leadership role and want to learn the management skills that will help you bring out the best work in your employees and your company's campaigns.
Marketing analytics is a good choice if you like working with numbers and data. Companies want to develop targeted marketing campaigns and test the effectiveness of their campaigns based on quantitative data, which a skilled marketing analytics professional could even use to predict consumers' buying behaviors. A concentration in marketing analytics or marketing research might include classes like market and business intelligence.
Other marketing concentrations include innovation and product management, sales leadership and marketing promotions and communications. If you choose innovation and product management, you should expect to spend some of your time studying interdisciplinary topics in product development as well as classes in brand management and product management. Sales leadership tracks often cover basic retailing principles, sales management techniques, personal selling aspects of marketing and business-to-business marketing practices. Choosing a concentration in marketing promotions and communications may have you focusing on the advertising side of things, as well as sales promotion, e-commerce, brand management and different marketing channels.
Many marketing programs now include digital marketing coursework in their curricula. You don't have to declare a digital marketing specialization to learn the basics of this field. In fact, choosing a less saturated area of focus may help you stand out in a job search.
Focusing Your Marketing Studies Without an Official Concentration
Marketing degree programs often give students considerable flexibility in the courses they take, allowing for at least a few elective courses both within and outside of the major. Even a bachelor's in marketing program that doesn't offer official concentration options will usually offer enough elective courses that allow you to gain some specialized marketing knowledge in an area of interest. You can use these electives to essentially build your own concentration or minor and develop a base of knowledge in that area.
The options for elective courses within marketing are numerous and diverse. You could decide to take classes in sports and event marketing if you would love the chance to promote your favorite sports league or team. If you have an interest in environmental responsibility and hope to work for a company that shares this passion, you might benefit from a class in sustainable marketing. Depending on which aspects of marketing interest you the most, you might want to study business-to-business marketing or the techniques of personal selling and sales force management.
Any internship experiences you complete can help you make the most of your unofficial area of focus, so be sure to look for hands-on opportunities that match your career goals and your course selections to get the most out of your education.
Additional Resources
When Is the Best Time for Bachelor's of Marketing Students to Begin Looking for Summer Internships?
What Websites Should I Know How to Use When Starting a Marketing Program?
Do Associate Degree Programs in Marketing Have Time to Specialize in Certain Areas or Are They Focused on Overall Information?