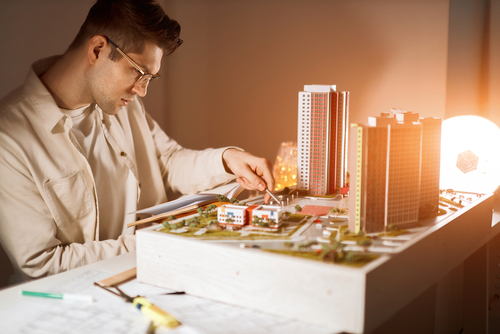 Professionals who earn a bachelor's degree in landscape architecture or a graduate degree can work in this field, but many students want to know how long it typically takes to complete a master's in landscape architecture. Students are curious about how long they need to spend in school, especially since they'll spend a minimum of four years to earn a bachelor's degree with some students spending up to five years in one of those programs. It usually takes two to three years to complete a bachelor's degree but this depends on different factors.
What is a Master of Landscape Architecture?
Also known as an MLA, a Master of Landscape Architecture is a graduate degree program designed for students who have a background in landscape science. These programs usually include components of both classroom learning and hands-on learning. The hands-on learning component can include an internship that lasts for just one semester. Students also have the option of doing internships that last for two or more semesters and those available in the summer. Some may offer independent study projects too that allow students to do a special project based on a landscape design concept.
Where Do Interns Work?
A common question that students have when applying to landscape architecture programs is where they can do their internships. Most colleges allow students to work for employers similar to those they want to work for when they graduate. Someone who wants to work for the National Parks Service (NPS) might work as an intern for that organization while in school. Colleges offer help to students who aren't sure where they want to work and can even help them find internship locations in their home towns that let them work in the summer.
How to Apply to an MLA Program
Graduate schools typically have standards that incoming students need to meet as well as requirements for the program itself. A graduate school will often ask for official transcripts from any school the student attended and ask that their schools submit those documents. Colleges want to make sure that incoming students have a bachelor's degree and experience in landscape architecture. The degree program itself may require that the student have a degree in landscape architecture or a related field and a history of taking classes in environmental and other types of sciences. Schools can ask for test scores and personal essays.
Classes in MLA Programs
The requirements that MLA programs have are usually available online. This allows students to view all the courses they will take and see if those classes are available during one or more semesters every year. Most programs include classes on landscape history that let students study the landscapes that other architects designed and landscape design to see how the plans came together. They'll also take courses on landscape theories and architectural collaboration as they may work on job sites with other professionals. Students can usually skip some of the introductory courses if they have landscape architecture bachelor's degrees.
Do MLA Programs Have a Thesis Requirement?
Many graduate programs have a thesis requirement, which allows students to show the comprehensive body of knowledge that they developed. Landscape architecture programs are no different but may allow majors to do a final project in place of a thesis. They can work with a local park to redesign a current landscape or use a computer program to design the landscape architecture for a new building. Students usually begin their thesis work near the end of the second year and complete it by their final semester.
Jobs Available with an MLA Degree
Students who have an MLA degree can work as landscape architects and similar fields. Horticulturists design and manage areas with living plants in them, including botanical gardens and historic sites. They can also work for cemeteries and sports facilities. An MLA degree can prepare a student for working as an environmental education officer or consultant, conservation expert or urban designer too. The Bureau of Labor Statistics found that the median salary for landscape architects was $68,230 a year or $32.80 an hour. Those with an advanced degree such as an MLA can earn much more.
Do Schools Offer MLA Programs Online?
Though landscape architects spend a lot of time working outside, those who want to study this subject from home can enroll in an online MLA program. Multiple schools offer similar graduate programs in grassland conservation and environmental planning. Grassland conservation programs focus more on the management of outdoor spaces and how to protect those areas. Students in an environmental planning program look at how new features and buildings can affect a space and the studies that determine those effects. Most online programs will include at least one offline internship that students can do away from campus.
How Long is a Typical Master's in Landscape Architecture Degree?
According to The Princeton Review, the average time it takes to complete a Master's in Landscape Architecture degree ranges from two to three years. It usually depends on whether students enroll on a full-time or part-time basis. Part-time students can take just one landscape architecture class each semester and graduate in three years, but they may spend up to four years in a program. Full-time students can take as many as four classes each semester and finish an MLA degree in only two years. Those who need to take prerequisite courses will spend even more time in an MLA program.
MLA programs allow students to take the basic skills that they earned in a bachelor's degree program and expand on it before they go to work in a landscape architecture field. Graduate programs accept students with a landscape architecture background and do not require that they have degrees in environmental science or landscape science. Students will have the chance to do internships for architectural firms or a government agency and can study online or offline. A typical Master's in Landscape Architecture degree program takes two to three years to finish.
Related Resources:
What Degree Do I Need To Become A Landscape Architect?
What Does a Landscape Architect Actually Do?
What Other Kinds of Jobs Can a Landscape Architect Do?
Are Landscape Architects in Demand These Days?
What is Landscape Architecture?
What is the Typical Salary for a Landscape Architect?
If I Want to Be a Landscape Architect, What Kind of Bachelor's Degree Should I Look For at a School?
What Skills Does a Landscape Architect Need?
Which Computer Programs Will I Need to Learn and Excel at as a Landscape Architect?
If I Want to be a Landscape Architect, Am I Likely to be Self-Employed or Are There Companies That Hire People For This Job?
Does a Landscape Architect Only Work on Outdoor Projects?
Is a Degree or experience more important in Landscape Architecture?
Am I Likely to Get a Job as a Landscape Architect Without a Degree?
Are There Certificates Needed to Become a Landscape Architect?