You know you want to be a restaurant manager. What you don't know is how to go about pursuing your career goal – by starting at the bottom to acquire work experience or by enrolling in a college program in hospitality management. Experience and a degree both add value to your resume, and having a combination of both education and work experience is ideal. When comparing these different paths, it is important to keep in mind the different kinds of experience and training you receive from a college degree program as opposed to an entry-level restaurant job and to know what kinds of classroom training you might be missing if you skip a college education in hospitality management.
Experience and a Degree Aren't Mutually Exclusive
Although aspiring restaurant managers often ask whether experience or a degree is better for achieving their career goals, the question itself suggests that you need to choose between work experience and academic knowledge of the field. The best career prospects, especially at high-end restaurants, belong to candidates with a blend of both formal education and work experience, according to the United States Bureau of Labor Statistics (BLS). Additionally, there isn't only one level of degree available in the field. Having a bachelor's degree in hospitality management or a similar field is a great way to prepare for high-level roles managing upscale restaurants. Restaurant managers may also earn a certificate or associate's degree in restaurant management or hospitality management.
What is the benefit of having both a degree and experience? You get to develop proficiency and familiarity with the kind of concepts that matter to what you want to do, when you work in a management role, as opposed to only the skills you need for the work you do in your current position. For example, waitstaff, line cooks and hosts and hostesses usually aren't trained to manage payroll and budgets, do the financial accounting for the business, plan new menus or handle the marketing and advertising for the restaurant. A hospitality management degree program will teach you these and other skills so that you can transition into a management role, potentially skipping years of low-paid work experience moving up through the ranks of the restaurant's job roles.
Otherwise, you would need to keep working indefinitely in these lower-level roles. Besides waiting for a management position to become available, you would have to hope that supervisors notice how well you take initiative and choose to promote and train you rather than hiring someone who already has these skills.
Of course, if you only had academic knowledge of the restaurant industry and no real-life experience, that wouldn't be good, either. Fortunately, hands-on experience is an important part of most hospitality management curricula, so this isn't a realistic problem.
Types of Experience in a Restaurant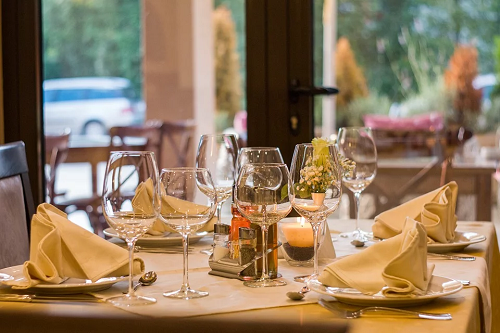 IMAGE SOURCE: Pixabay, public domain
There are many reasons work experience matters in the hospitality industry. The direct, front-line experience you have with customers and colleagues teaches you a lot about the guest perspective of restaurant service and about the challenges facing food service personnel. Even without formal training in leadership development and management practices, employees often gain insights from their own supervisors about what it means to be a good manager.
There are different types of experience you gain working in a restaurant. Each type of experience is valuable preparation for the aspiring manager who will ultimately be in charge of the restaurant's operations in their entirety. However, the type of experience you gain in a hospitality management degree program is more comprehensive than what you would get from on-the-job training as you work your way up through the hierarchy of restaurant roles.
Imagine that you start in an entry-level restaurant role. If you work in the kitchen, you might learn to follow a standardized recipe and follow a chef or head cook's directions. In the front of the restaurant, you may learn to book reservations using the restaurant's software, how to distribute guest seating between the waitstaff and how to take orders and handle the check. You probably won't be cross-trained to learn all of these roles, and you definitely will not have the opportunity to learn a full range of management skills unless you are being considered for an open assistant manager position or a management trainee program. Your efforts are there to serve the restaurant's needs, not the other way around.
In a degree program in hospitality management, you are paying for a thorough education in all of the skills needed to handle restaurant operations. There is a whole curriculum devoted to teaching you these skills, along with hands-on experience opportunities that give you ample opportunity to practice them. You get training in different kinds of food preparation techniques, rather than on how to make a dish precisely the same way as everyone else. If your school hosts an on-site teaching restaurant, you will likely have the opportunity to put all of your business management skills to work, too, as you handle cost planning, financial accounting and shift scheduling.
Restaurant managers usually have some experience working in roles like cook, host or waitstaff, the BLS reported. However, the focused experience you gain as a student in a teaching kitchen, teaching restaurant or internship brings a lot to the table.
Learning the Restaurant Business in the Classroom
In a hospitality degree program, you will spend time in a traditional classroom learning the foundations of business and the career roles and management practices used in different aspects of restaurant operations. You will also take classes that combine lecture coursework with a lab component – except that laboratory is, in fact, a fully-equipped teaching kitchen. Your specific coursework may vary from one school of hospitality to the next, but studies in hospitality law, hospitality facilities management, hospitality operations management, technology and strategic management in the hospitality industry are common. Studies in menu planning, cultivating wine and spirits lists, pairing food and alcohol and catering are all useful topics a degree program is likely to cover.
The highest level of education for 55 percent of restaurant managers is a high school diploma, while 18 percent completed some college and 15 percent didn't graduate high school. The remaining 12 percent have a certificate, degree or formal education or training.
Additional Resources
What Degree Do I Need to Become a Restaurant Manager?
Is It More Worthwhile to Get a Job in the Hospitality Industry or Get a Degree?
Are There Different Hospitality Degrees for Different Industries?