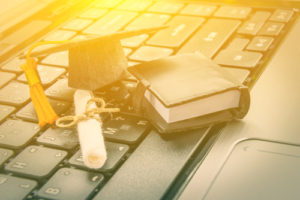 The technological age is in full force with several opportunities for internet-based learning. There are online, on-campus, and hybrid options for educational environments. The number of online colleges has grown tremendously even over the past 5 years. At first, online education started with colleges many people never even heard of, with some lacking actual buildings or campuses. Now, many established on-campus universities are offering online courses or even completely online degrees. Online education is more accepted now. Online healthcare management programs are not viewed differently than on-campus programs.
The debate has always been whether online education is the same or viewed differently than on-campus programs. Online higher education has grown 119% compared to 9 % growth of on-campus college attendance. Online degrees used to be less favorable or labeled inadequate, but now that accrediting bodies have reviewed and approved several online degree programs, they are more validated and accepted among peers. Online education is the new "norm".
Online programs are not viewed differently than on-campus programs but rather viewed subjectively. They are not a good fit for every learner. It is the learner's responsibility to understand their educational needs and what it takes for them to be successful in any degree program.
Several differences are evident between online and on-campus degree programs. Consistent with any industry, there are pros and cons to every situation and environment. With these two methods of education it is a question of environment. Do you prefer online environments or on-campus environments? What are the differences? These are questions you will need to determine before pursuing an online degree in Healthcare Management.
Benefits of online education in healthcare management include lower costs, more comfortable learning environments, flexibility, convenience, career advancement, less commuting requirements, and improving technical skills. Many times, students can keep their day jobs while completing online degrees.
Disadvantages of online education in Healthcare Management include low quality learning (based on student motivation), little or no face-to face interaction, no dialogue between classmates or instructors, more reading assignments and self-learning lectures, and no access to campus life, libraries, laboratories or athletic facilities. Some students do well with online degree programs if they possess self-discipline and do not procrastinate on assignments. Most CAHME accredited programs are on-campus universities.
As with most educational programs, you "get what you give". Meaning, the more you study and engage yourself in the educational material, the better outcomes will be, regardless if you complete your degree online or on-campus.
Affordable healthcare management programs
A degree in Healthcare Management is a wonderful career path to take for those interested in healthcare, but do not necessarily want to be clinical service workers. Online options for a Bachelor's in Healthcare Management are affordable compared to traditional education. Bachelor of Science in Healthcare Management degrees usually takes 3 to 4 years to complete; if students take "full-time" hours, which are 12-15 credit hours a semester. This averages out to about 4 or 5 classes per semester, for 8 semesters. The following are online healthcare management bachelor's programs and the total cost to complete the degree. The price listed is tuition cost and does not include living expenses outside of schooling, books, or supplies.
Ohio Christian University-Offers a Bachelor of Arts in Business in Healthcare Management; is $10,320 per semester and the program is 4 years (8 semesters); total cost $82,560 for the program.
Cleary University– Offers a Bachelor of Business Administration (BAA) in Healthcare Management. This college does a "block tuition" of $20,600 per year and the program is 4 years; total cost $82,400.
University of Alabama at Birmingham– Offers a Bachelor of Science in Healthcare Management; is $505 per credit hour and the program is 120 hours; total cost $60,600.
South Texas College– Offers a Bachelor of Applied Technology in Medical and Health Services Management. Total tuition costs vary from $33,960 for in state residents to $47,520 for out of state residents.
SUNY College of Technology at Canton– Offers a Bachelor of Science in Healthcare Management; is $10,285 per year and the program is 4 years; total cost $41,140. This college offers a tuition-free scholarship program called the "Excelsior Scholarship".
Granite State College– Offers a Bachelor of Science Healthcare Management; is $315 per credit hour and the program total is $37,800.
Western Governors University– Offers a Bachelor of Science in Business in Healthcare Administration. Tuition is based on a per 6-month term instead of per credit hour. Since tuition is charged per term, rather than per credit, students control the ultimate cost of their degrees. Most graduates finish between 19-46 months, making the total cost between $9,675-$25,800 for the program.
According to the US Department of Education and the National Center for Education Statistics, the average tuition cost for a 4-year university is $19,488 for public institutions and $41,468 for private institutions per year. If this is calculated into a 4-year bachelor's degree that would equal $77,952 -$165,872. As you can see, there are many affordable online healthcare management program options compared to on-campus options. The most affordable healthcare management program is from Western Governors University. WGU offers six-month term tuition, which is much more affordable and allows students to control their pace and time it takes to complete the degree. It also motivates students to complete the degree in a lesser time frame; because the sooner you finish, the less money you spend. Thus, reducing even more costs.
Top healthcare management programs
When choosing a healthcare management degree program, you need to look for ones that are rated highly among critics. Cost, quality, accreditation, and convenience all make up top program criteria in healthcare management. When choosing a healthcare management program, it is important for it to be regionally or nationally accredited. Accreditation verifies high-quality education with good outcomes after graduation. This is used as a safety net for students, so that colleges cannot just "hand out" degrees without being vetted.
Accreditations are usually determined by third party organizations to reduce bias and conflict of interest. These accrediting agencies define operating standards for educational or professional institutions and determine if those standards have been met. Programs, such as healthcare, are reviewed to determine accreditation.
Accreditation is also a peer review-based system which usually involves the evaluation of programs, departments, or colleges that make up specific degree programs. For example, the Commission on Accreditation of Healthcare Management Education (CAHME) is the preferred agency for healthcare administration accreditation.  The Association to Advance Collegiate Schools of Business accreditation (AACSB) is the highest standard for healthcare master's degree programs. It is important to look at accredited online degree programs to make sure they are held to high standards.
Accreditation ensures high standards and quality for educational institutions. The other two factors that make up top performing healthcare management programs are cost and convenience. Therefore, it can be determined based on the factors of cost, quality, accreditation, and convenience that the top health care management degree programs are WGU and the University of Alabama at Birmingham. The University of Alabama at Birmingham is CAHME accredited. Although WGU is not CAHME accredited, it is the most cost-effective health care management program. WGU is, however, regionally accredited.
When it is all said and done, it is up to employers to decide which candidates they choose and whether they take into consideration accreditation. Aside from educational accolades, landing a job is based on your interview skills, resume, experience, and expertise. Completing an online degree will show potential employers that you are capable of self-discipline, determination, and motivated to pursue your professional goals.
 Overall, online programs are not viewed differently compared to on-campus healthcare management programs. Many online healthcare management programs possess high quality curriculum and propel students toward their professional goals. Many affordable healthcare management degrees exist. One is Western Governors University, which is regionally accredited and low cost. Although the University of Alabama at Birmingham is not the cheapest option, it is nationally accredited through the CAHME accreditation body. The University of Alabama at Birmingham is considered one of the top colleges in the nation to pursue online healthcare management degrees. With this prestige, comes higher tuition costs. Whatever you decide, know that many options are available for online health care management degrees.
Tessa Chatham
Master of Science (M.S.), Nursing Education| Aspen University
Bachelor of Science (B.S.), Nursing| Texas Christian University
Bachelor of Arts (B.A), Psychology and English| The University of Texas at Arlington
November 2019
More Articles of Interest: