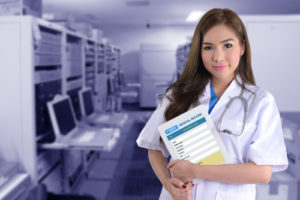 In recent years, there has been a lot of social public discussion about STEM education and how important it is for the future. If you're a woman, you may have really been paying attention, as there continues to be a big push to encourage STEM education and STEM careers for women.
STEM stands for science, technology, engineering, and mathematics. STEM education is believed to create the critical thinkers that are vital to the growth and stability of the U.S. economy. The field of health informatics falls solidly under the STEM umbrella. Regardless of gender, if your desire is to pursue a career in health informatics, you are likely setting yourself up for success.
What Is Health Informatics?
The field of health informatics plays a critical role in the management of healthcare information. Health informatics is an integration of computer science, healthcare sciences, information science, and cognitive science. The goal of health informatics is to foster healthcare provider and healthcare system(s) collaboration, by acquiring, storing, and utilizing healthcare information in the most efficient and beneficial ways. In recent years, the movement away from paper records and the creation of the electronic health record (EHR) has revolutionized the industry.
Featured Programs
Health IT and health informatics are not the same things, though the terms and associated careers are often used or spoken about interchangeably. While health IT is concerned with the use of technology in healthcare, health informatics asks harder "how and why" questions about what is behind health IT. If you work in health informatics, you will have to solve real-life situations with informatics concepts, theories, and practices, moving towards better health outcomes and (potentially) healthcare reform.
Bachelor's Degrees for a Health Informatics Career
To get a health informatics job, you are likely wondering where your education should start. There are typically two paths to a health informatics job; you will need a background in clinical care or a background in information sciences. As you are deciding, always look for a program that is accredited.
As you search for a degree program that will work for you, know that to successfully join the field, you will want some common courses to be part of your education. You are going to need a basic understanding of medical coding and informatics, medical terminology, and community-based health. You will also need a variety of data analytics and IT courses. The ultimate goal is to find a program that will assist you in developing healthcare skills and computer skills.
Information Sciences Degrees
Health Informatics: There are a variety of schools that offer health informatics bachelor's degrees, both in the classroom or online. This degree program will instruct you in health care related administrative and management work, legal and ethical challenges, and response to trends in the health care environment. You will also take courses related to medical coding and healthcare policy, healthcare privacy and IT, analytics, statistics, project management and programming and operating systems. Some programs will also include an internship or practicum experience, where students are given the chance to apply what they've learned in the classroom to real-life situations. Typical length of programs is four years.
Computer Science: Computer science (CS) degrees are available online or in the classroom. Many students often choose to couple their computer science degree with another major in business or healthcare administration. Degree requirements will include courses related to computer programming, operating systems, database fundamentals, computer networking, web development and applications programming. For many CS degree students, extra education via "coding boot camps" is also encouraged, as these certifications will have you up to date with current trends when your degree is complete. CS programs typically take about four years.
Clinical Degrees
Registered Nurse: If you want to come to a health informatics job from the clinical side, an RN degree will open a large number of professional doors. Bachelors RN programs typically take four years. During those years, your courses will include nutrition, health assessment, issues and trends in nursing, nursing theory, healthcare ethics, research concerning evidence-based care, community and population trends and care, and public and global health. Your four years will include hundreds of hours of clinical work in a variety of care settings.
Pharmaceutical Sciences: While many students with a bachelor's in pharmaceutical science go on to a Doctor of Pharmacy program, this degree is also a great gateway to a health informatics job. Degree requirements will include a strong core of basic science courses, like organic chemistry, anatomy and physiology, microbiology, and pharmacology. You will also study medical terminology, healthcare ethics, care coordination, and public healthcare policy. Some programs will also include a practicum or internship experience.
A Health Informatics Career: Is It Worth It?
If you dig around a little bit, it is clear that a career in health informatics will likely require different educations and experiences to be successful. This may require extra years or extra finances as you continue to grow your knowledge and experience base. Because of this commitment, you may still be asking your self if a health informatics degree (or career) is worth it?
A quick dig into health informatics salaries and job outlook will be extremely encouraging to you. For 2018-2028, The U.S. Bureau of Labor Statistics reports increases of >10% (much faster than average) in careers like health information technicians, computer sciences and analysts, and computer and information systems managers. The average salary range for health informatics jobs is broad, ranging from approximately $40,000/year to $100,000+/year for professionals in executive positions. As with any industry, a greater diversification of skills, education, and experience will garner you higher paying positions.
The health informatics field is a solid career choice with a large number of opportunities. Initially, you will need to decide which path you want to take to enter the field. You must also remember that most health informatics careers will want a combination of IT and clinical skills and you may need to achieve certifications or advanced degrees in another discipline. Though it may take you some time and some money to land where you want, you will find that a health informatics career will pay for itself over the span of your professional life.
Laura Mansfield
Master of Healthcare Administration (MHA) | Sacred Heart University
Associate's Degree of Nursing (ADN) | North Seattle Community College
Bachelor of Business Administration (B.B.A.), Marketing, Sales | University of Washington (Seattle)
October 2019
More Articles of Interest: