If you want to earn a high salary, you might want to pursue a master's degree in international relations, one of the highest-paying master's degrees. Students that earn this degree are taking steps to become global citizens. Any non-entry level job in international affairs generally requires a graduate degree, according to the Foreign Policy Association. Some of the topics you will study in this graduate degree program include international laws and how different countries interact with each other. Courses in foreign cultures and languages also have a place in the curriculum. Students may gain the most out of a program that offers opportunities for hands-on work experience.
A Strong Core in International Affairs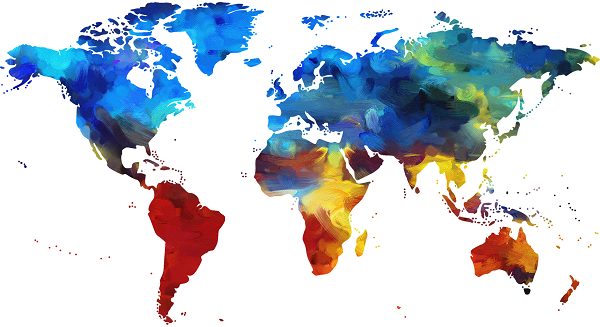 IMAGE SOURCE: Pixabay, public domain
Regardless of what career you want to pursue after earning your master's in international relations, you will need to understand how to navigate international affairs. Graduate international affairs students complete core coursework in different areas of international relations and issues, including international finance and international security. Some examples of international finance courses you might take include budgeting and financial management for government, nonprofit financial management, microeconomics for international and public affairs and macroeconomics for international and public affairs.
International security can span across a few different areas. While dealing with physical security threats is one aspect of international security, there are also cyber threats. What's particularly frightening about cyber threats to international security is that the perpetrator doesn't even have to physically leave their country to engage in an attack on another nation. Possible examples of international relations courses that involve security include introduction to global security, case studies in foreign cyber threats and intelligence and homeland security.
Not all courses on international affairs are this specialized. International relations theory coursework pertains to finance, security, and other areas of international study and work. Another general course is quantitative analysis for international & public affairs.
A Background in Culture
When working on your international affairs degree, you will need to learn about different cultures. Many careers in international relations will require you to interact with the people and representatives of other nations, so having a better understanding of their culture will help these interactions go more smoothly. Taking classes on the history and culture of different countries is one way to become familiar with the cultural practices in these areas, but travel opportunities that allow you to immerse yourself in a foreign culture are invaluable to those who wish to work in international relations.
If you want to earn your master's in international affairs, you should plan to learn another language. Many international relations programs in the United States require the mastery of a language besides English. Even if studying or proving your proficiency in a foreign language isn't strictly required for graduation, knowing one is a good idea, particularly if you plan to pursue any career in international relations. When choosing what foreign language or languages to learn, you should consider what ones you might need to use the most based on your own travel and work interests, current events and issues in the global news and the number of native speakers. Being fluent in a second language that is widely spoken will make you a more appealing candidate for most jobs than knowing a language that is spoken only in a few remote areas of the world.
Students of international relations programs who already speak another language fluently can sometimes meet their program's foreign language requirement by passing a foreign language proficiency examination, allowing them to avoid taking additional coursework.
Gaining Hands-On Experience
Internships aren't just for undergraduate students. Many master's in international relations programs will require you to do some sort of internship so you can get experience working with different organizations on a global scale. While some of these experiences are through volunteer opportunities, others are paid internships.
Students may have several opportunities to choose from to meet their experience requirements, so you can tailor your internship to your interests. Assist with research at a think tank. Try your hand at international business by interning in a multinational corporation. Learn about international affairs and practice diplomacy in the office of a foreign consulate. Advocate for change with a nonprofit organization. Gain experience in a homeland security agency, customs, or an immigration enforcement authority. The options are just about endless, which means you can tailor the experience component of your education to fit your career goals.
Many students take advantage of their international relations internship to study abroad and immerse themselves in another culture.
Additional Resources
Are There Different Areas of Study Under the Umbrella of International Relations?
Will A Degree in International Relations Be Helpful If I Want to Live Abroad?