Before you earn a master's degree in construction management, one of the highest-paying master's degrees, you need a bachelor's degree. Engineering is one of the most popular programs of undergraduate study for construction managers, but it's important to consider which branch of engineering most closely matches your goal. You might also want to consider other relevant degree paths, including architecture and construction science.
An Engineering Education for a Construction Manager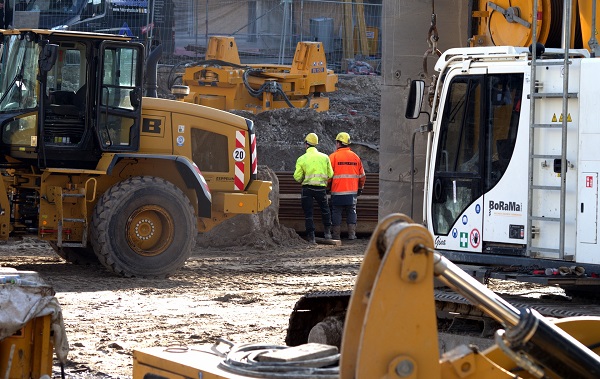 IMAGE SOURCE: Pixabay, public domain
There's a lot of overlap between engineering and construction, so majoring in engineering in college is a smart move for an aspiring construction manager. Generally, the field of engineering emphasizes design rather than just following instructions to build something. However, the hands-on work of an engineer requires the use of technical building skills, as well.
There are dozens of disciplines and subdisciplines of engineering, some of which have a lot more in common with construction management than others. Most construction managers with an engineering background earn a degree in civil engineering, structural engineering or engineering management. An undergraduate degree in a different discipline of engineering, like chemical engineering, computer software or hardware engineering or mechanical engineering, may not be as relevant to a construction manager background.
Civil engineering and subspecialties like structural engineering, environmental engineering and urban engineering focus on the design and building of infrastructure, as opposed to chemical compounds or machines.
Other Degree Options Besides Engineering
A bachelor's degree in civil engineering is a fine starting point for aspiring construction managers, but it's not the only option. Some students interested in building design choose to study architecture instead of engineering. Architecture is the field of design that emphasizes building aesthetics and the arts rather than the math and science principles underlying engineering. However, architects still need enough technical knowledge of construction materials and methods to develop detailed construction plans and specifications. This knowledge can serve you well as a construction manager.
Students who know from the start that they want to be construction managers can also look for an undergraduate degree program specific to construction management, construction science or building science. Besides introducing students to the technical aspects of building, an undergraduate program in construction management or building science may cover topics in project management, cost estimation, construction contract administration and more.
Part of choosing a major is knowing your strengths. Students who excel in math and science gravitate toward engineering. Architecture may be a better choice for those with artistic skills, and construction programs more closely match hands-on technical aptitude.
The Value of a Master's in Construction Management
You don't need a master's degree in construction management to work in this field. The vast majority of construction managers report a bachelor's degree as their highest level of education, O*NET reported. However, there are some big benefits to having a master's degree in the field.
If you studied engineering or architecture as an undergraduate and gained hands-on work experience, you already have many of the technical skills to work in construction management. Where you might be lacking is in the soft skills required for management work. A master's in construction management degree program can help by focusing on areas like human behavior in organizations, the use of effective communication in management and project management planning and implementation. Brushing up on these soft skills can transform an adequate construction manager into a great one.
Graduate study in construction management is also valuable for developing more advanced, specialized technical skills. Although you have probably worked with certain types of materials and building methods on the job, a graduate course in construction materials and methods will introduce you to materials and methods with which you are less familiar. You will learn how to select the best materials and equipment for a job. Formal study in construction budgeting and bidding can reinforce and build upon the skills you have learned on the job. Classes in construction law and contracts will help you better understand the legal aspects of the construction industry, which construction managers deal with routinely.
Whether it makes sense to go for a master's degree is a personal decision based on your goals and career situation, but if you decide that graduate school is right for you, your curriculum will expand and advance your skills.
Additional Resources
What Are the Key Skills Needed to Succeed in Construction Management?
Are There Undergraduate Programs in Construction Management?
Are There Certifications Needed to Work in Construction Management?