It's not difficult to deduce that a master's in petroleum engineering – one of the highest-paying master's degrees – could qualify you to work as a petroleum engineer. What might be more complicated is figuring what it actually means to work in petroleum engineering. Petroleum engineers are trained in the STEM subjects to perform the work of extracting petroleum products from underground natural deposits.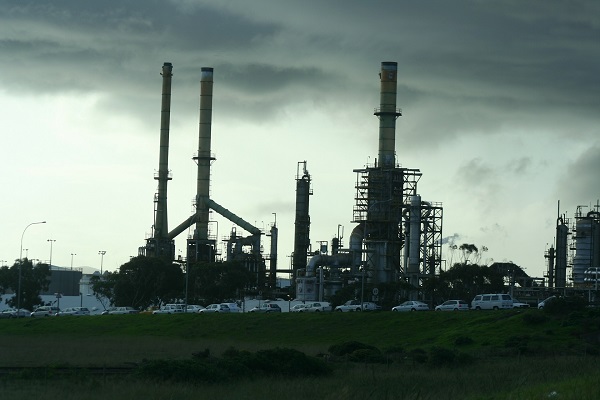 IMAGE SOURCE: Pixabay, public domain
Learning STEM Principles for a High-Paying Career in Resource Extraction
The field of petroleum engineering fits squarely within the STEM (science, technology, engineering and mathematics) subjects. Petroleum engineers use technological methods and the principles of science and mathematics to facilitate the extraction of petroleum products found beneath the Earth's surface.
ABET, the Accreditation Board for Engineering and Technology, requires the programs it accredits to include coursework that prepares students to design and analyze well systems, drilling procedures, well completions processes and systems for handling drilling fluids. In studying petroleum engineering, students learn the principles and practices of geological formation evaluation, resource management and reservoir engineering. The math and science principles behind petroleum engineering include calculus, differential equations, probability and statistics, chemistry, biology and physics. Petroleum engineering relies on the engineering foundations of thermodynamics, fluid mechanics and materials strength.
Petroleum extraction is a real-world application of engineering principles. Excelling in this field means being able to grasp project economics and utilize methods of resource valuation to determine financial feasibility and make decisions that affect oil companies.
Working in the Oil and Gas Industry
Petroleum engineers are engineers who draw from different engineering disciplines – such as mechanical, civil and chemical engineering – to design and develop engineering solutions for the purpose of retrieving petroleum products. Petroleum engineers are involved in different aspects of oil and gas extraction. The roles petroleum engineers most commonly hold include reservoir engineers, drilling engineers, completions engineers and production engineers, according to the United States Bureau of Labor Statistics (BLS).
Reservoir engineers use tools and technologies to locate and evaluate underground deposits of crude oil. They are the ones who analyze reservoirs to calculate how much oil and gas they will produce and determine the best methods of resource extraction. Drilling engineers devise and carry out the plans drilling wells into the ground to reach these deposits.
While drilling is the start of the process of acquiring petroleum products from below the Earth's surface, there is still another stage of work to be done. Completions engineers are the ones who turn the drilled holes into functioning wells that actually yield petroleum products. Monitoring how much oil and gas is produced and making any fixes necessary to increase production is the job of a production engineer.
It may surprise prospective students to learn that just 34 percent of petroleum engineers work in the oil and gas extraction industry directly, according to the BLS. Other top employers for this occupation include management of companies and enterprises, mining support activities, petroleum and coal products manufacturing and engineering services.
Petroleum engineering is a lucrative field of engineering. The BLS reported a $137,330 median salary for petroleum engineers in 2020, while the overall median salary for all architecture and engineering occupations was $83,160.
Playing an Interesting Role in the Future of Energy
Given their potential to produce harmful CO2 when burned, you may not think of oil and gas as particularly environmentally friendly. Although this job may not seem to be environmentally aware, the reality is that engineers in petroleum and energy resource engineering are among the innovators who are making strides toward cleaner energy. These advances are occuring both within the oil and gas industry and in the production of alternative sources of fuel.
For example, petroleum engineers are always looking for ways to improve the petroleum extraction processes and outcomes. Sustainable and environmentally conscious efforts toward recovering fossil fuel resources can maximize the efficiency of drilling wells and retrieving oil from reservoirs, which means getting more of these resources while reducing the financial costs, health and safety risks and environmental impact.
Degree programs in this general field are increasingly broadening their focus beyond petroleum-only fuel sources to explore the technologies used in other forms of energy resources engineering. If you really want to work on the cutting-edge of the quest for cleaner energy, you might start by getting an education in energy resources engineering, which combines studies in petroleum engineering practices with methods used to generate clean and renewable energy sources.
In recent years, the application of "green" oil production methods that produce fewer harmful emissions has become an important area of research in petroleum engineering.
Additional Resources
Which Area of STEM Is Most Important to Be Strong in to Be Successful in Petroleum Engineering?
What Job Opportunities Are Available After Graduation for Petroleum Engineering?
Will the Move to Cleaner Energy Make Finding a Job in Petroleum Engineering More Difficult?