Nuclear engineering is one of the highest-paying bachelor's degrees, with nuclear engineers nationwide enjoying a six-figure median wage. It's no wonder that this field of engineering is becoming so popular. If you're in high school or approaching your high school years and you think nuclear engineering may be the career for you, it's a good idea to start preparing early by choosing high school courses that will help you succeed in nuclear engineering. Courses in science and mathematics are valuable for engineers of all varieties, but so are classes in a variety of subjects such as business, communication and the social sciences.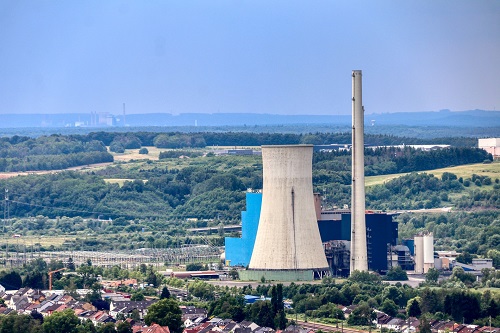 IMAGE SOURCE: Pixabay, public domain
DegreeQuery.com is an advertising-supported site. Featured or trusted partner programs and all school search, finder, or match results are for schools that compensate us. This compensation does not influence our school rankings, resource guides, or other editorially-independent information published on this site.
High School Preparation for a Bachelor's in Nuclear Engineering Degree
Although many undergraduate engineering programs have students jump right into introductory engineering coursework during their freshman year, you won't be learning the intricacies of nuclear engineering this early. Often, engineering students spend the first year or even two years of their college studies completing a general engineering core. These courses prepare students for more specialized engineering studies. The role of the high school classes you take in preparation for a nuclear engineering degree is to prepare you with a strong background in topics like science and mathematics that you will need so that you can grasp the complex principles and applications of engineering.
Don't worry if your high school doesn't offer engineering classes. Many high schools don't, unless they are STEM (science, technology, mathematics and engineering) schools. If you like, look online for high school resources and open-source courses for independent study.
Science and Math Courses Nuclear Engineers Should Take in High School
There are plenty of high school courses that can help prospective nuclear engineering majors. First and foremost, you should fill up your high school course schedule with as many college-preparatory science and math classes as possible.
Most engineering schools will expect applicants to have completed high school laboratory courses in science topics like biology, chemistry and physics. Biology is the study of life processes and living organisms. Chemistry is the science that studies matter, in the form of chemical substances, compounds and processes. Physics is a math-heavy branch of science that examines matter in a different way – looking at the physical laws that make up the foundation of the universe and describe the motion and behavior of matter. Prospective nuclear engineering students should expect to take at least one course in both physics and chemistry at the college level, as well as drawing from their knowledge of biology, chemistry and physics in their engineering classes.
Math is another crucial component of engineering. Students who wish to become nuclear engineers should take the highest-level math courses available to them throughout their high school education. Often, students will be expected to have a background in high school algebra, calculus and trigonometry, according to the United States Bureau of Labor Statistics. They will take numerous calculus courses during their college studies. Statistics is another valuable math-related course for aspiring engineers.
Other STEM high school courses you should consider taking in preparation for a nuclear engineering degree include computer courses. Sign up for any computer-aided design, computer-assisted art, or business computer applications classes your school offers.
Beyond the STEM Subjects
Engineering principles are based on the foundations of science and mathematics, but these aren't the only subjects that matter for aspiring engineers. When it comes to applying these principles scientific and mathematical to the processes, systems and equipment used in nuclear energy, there are plenty of other factors to consider. Real-world application of engineering ideas and designs necessitates considering economic, social and even political factors.
What are the costs of developing a new nuclear plant or devising a new instrument that uses nuclear radiation, and who is going to pay that cost? How might an engineering project affect society, in both positive and potentially negative ways? What laws and regulations apply to your idea, and how do political trends and movements affect the feasibility of your plan?
Finding the answers to each of these questions requires you to understand the complex factors that make engineering in the real world much different from simply knowing scientific and mathematical principles. Although you won't be expected to enter college knowing all of these answers, having taken high school classes in subjects like economics, sociology and political science can help you better understand these complex issues.
You probably don't think of writing as having much to do with engineering, but communicating clearly is crucial in this field. Don't slack off in your English and literature courses, and if your school offers a technical writing course, take it.
Additional Resources
What Degree Do I Need to Become a Nuclear Engineer?
What Classes Will I Have to Take for a Degree in Nuclear Engineering?
What Is the Benefit of a Nuclear Engineering Degree Vs a Nuclear Physics Degree?
What Is the Difference Between a Degree in Petroleum Engineering and a Degree in Nuclear Engineering?