If you love caring for young children, you might want to become a preschool teacher. Although the United States Bureau of Labor Statistics (BLS) lists an associate's degree as the typical level of education needed for this career, there's a great deal of variance in educational requirements from one role to the next. Work environment is the biggest factor in determining what degree you need to work as a preschool teacher. Aspiring preschool teachers should know that the more rigorous a workplace's educational requirements, the better the salary is likely to be. If you do go to college, whether at the associate's, bachelor's or even master's degree level, a major like early childhood education is usually your best option.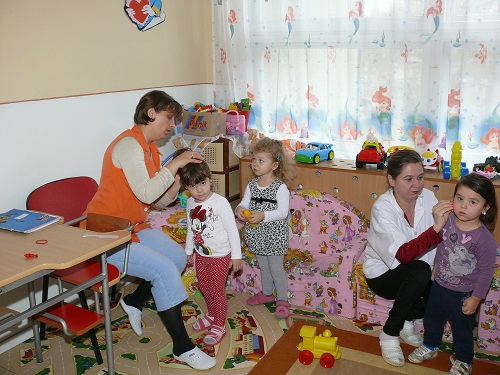 IMAGE SOURCE: Pixabay, public domain
How Necessary Is a College Education for Preschool Teachers?
Learning that some preschool teachers don't go to college at all while others study for a full four years may leave you confused about the best educational path to choose. Whether you need a college education at all, and how advanced that education must be, depends heavily on where you want to work.
In public school settings, a bachelor's degree is usually mandatory, according to the BLS. You must also pass an exam and acquire a teaching license.
In other employment settings, the requirements may be less rigorous – but that isn't always the case. One reason a college education may be necessary even in settings outside of public preschool programs is because states may require a minimum level of education for teachers in licensed preschools and day care facilities, regardless of whether they are publicly or privately run. That requirement may be as little as an associate's degree or completion of a series of coursework, depending on your state, and some states may not regulate teachers in non-public preschools at all.
These work settings outside of public and private preschools employ far more preschool teachers than elementary and secondary schools do. Positions in child day care services account for 60 percent of preschool teacher jobs in the United States, the BLS reported. Religious, grantmaking, civic, professional and other organizations account for another 17 percent. There are enough states that don't regulate the credentials of preschool teachers in these settings that 29 percent of preschool teachers report having a high school diploma as their highest level of education, making it the single most common level of education for this profession. Another 12 percent of preschool teachers have some college studies but no degree.
Even if your state doesn't require you to have a college education, your non-public preschool might, especially if it is accredited by a professional membership organization like the National Association for the Education of Young Children (NAEYC). Head Start programs require at least an associate's degree but also require that 50 percent of preschool teachers in these programs have a bachelor's degree, the BLS reported.
The BLS considers an associate's degree the minimum entry-level requirement for preschool teachers, but this level of degree is not even among the top three most common levels of education for preschool teachers. Those are a high school diploma, a bachelor's degree, and some college studies.
Is There a Benefit to a Bachelor's Degree for Preschool Teachers?
All state and professional organization requirements aside, there may be a considerable financial incentive for earning a bachelor's degree. It's no coincidence that the industries that tend to require the most education for preschool teachers also tend to pay the best.
The BLS lists a median annual wage of just $29,780 for preschool teachers as a whole, which unfortunately puts this career path somewhat below the median for all occupations, $38,640. A big reason for this low median, or midpoint, wage is because the largest industry is also the lowest-paying. Preschool teachers working in child day care services earn a median salary of just $27,830. The 15 percent of preschool teachers who work in elementary and secondary schools see quite a bit more money per year, with a median salary of $46,770 – and they're also the preschool teachers most likely to need a bachelor's degree.
Although you may not think of going to graduate school to be a preschool educator, those who do see a considerable wage boost. The BLS reported a 43 percent wage premium for preschool and kindergarten teachers with a master's degree, which only 14 percent of the profession have.
Additional Resources
Which Schools Have the Best Master's Programs in Early Childhood?
Are There Various Types of Master's Under the Umbrella of Early Education?
What Degree Do I Need to Become a Teacher Assistant?