Online learning is a great option for furthering your education, especially if you already have a teaching job. However, the quality of your education and your graduate school experience depend heavily on which online program you choose. As you compare different online Master of Education programs, you should pay special attention to factors like online learning format, concentrations available, tuition cost and value and accreditation.
Understand the Program's Online Learning Format
The "classroom" of an online master's in education may be virtual, but that doesn't mean it looks the same for every online program. Different distance learning programs operate in different ways. The most effective online courses use interactive learning activities to get students engaged and drive home key points in the course content. Less stellar examples of online courses may offer little connection or engagement, leaving students to feel isolated and, often, to fall behind when they struggle with a concept or activity. Interactive activities can mean anything from live-streamed lectures to multimedia activities. What's most important isn't that students are active participants in their education in some manner.
Coursework and class interactions in an online course can be synchronous or asynchronous. In synchronous online education, learning occurs in real-time. Asynchronous learning means that students consumer course material individually, at their own pace. Neither synchronous nor asynchronous learning is inherently better, but students should weigh the pros and cons of both options. Synchronous learning is my dynamic and more closely resembles the interactivity of a traditional face-to-face course, but the time demands may make it difficult for working teachers to meet. Asynchronous programs allow for a more flexible pace, but some students have trouble staying motivated to work independently throughout the semester.
You should also consider the structure of the program. How long are terms? How many classes do you take at a time? Some students prefer traditional semesters and course loads, while others choose programs with accelerated terms and fewer courses per term.
Choose a Major That Fits
Like traditional programs, online Master of Education programs come in many different majors or concentrations. Instead of settling for a generic program of study, consider what it is that you really want from your master's degree and seek out a school that offers the best course of study for that goal. The possibilities are as limitless as your career dreams. If you just want to advance your teaching skills and improve your salary as a classroom practitioner, you should look for a Master of Education program tailored to teaching your chosen grade level. Students who wish to move into other roles in education often choose online graduate education programs in educational leadership, curriculum and instruction or school counseling.
Online Master of Education programs get as specific as bilingual and bicultural education and educational leadership and policy. Whether you want to teach in a bilingual school or shape educational policy at the state or federal level, online education can get you there.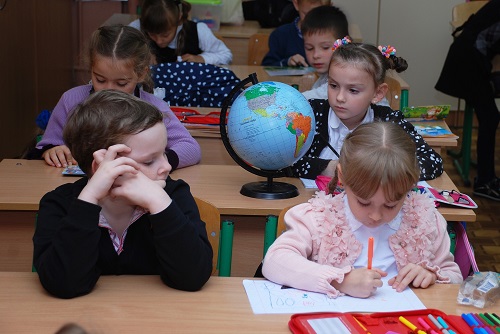 IMAGE SOURCE: Pixabay, public domain
Consider the Value of the Degree and the Institution
Students often think that an online education will be cheaper, but tuition for online programs varies just as it does for on-campus degree programs. The cost for an online degree from schools ranked on U.S. News & World Report's Best Online Graduate Education Programs list ranges from $215 per credit to more than $2,000 per credit. Assuming a 30-credit program, you're looking at a total tuition cost that could be anywhere between $6,450 and $60,900 for your online degree.
Will the payoff from your master's degree be worth the investment – financial and otherwise – that it takes to complete a Master of Education degree online? That depends not only on how much you spend on your graduate education but also how much you expect to make with the advanced degree. On average, first-year teachers with a master's degree make $3,205 more than colleagues without one, with fifth-year teachers seeing a $4,176 and those at the highest salary levels reporting a pay increase of $8,411. Given the average salary boost, it shouldn't take long for teachers to recoup the costs of an online master's degree at the $6,450 price point, but teachers may never fully recover the costs of a $60,000 master's degree in education, especially when they factor in the interests on student loans.
If your degree prepares you for a high-level role like principal, superintendent or higher education administrator, you may find that taking on more debt is reasonable in your situation than it would be for teachers who plan to remain in the classroom.
Look for Accreditation
In an online degree program, you might never set foot on campus. Your campus may, in fact, be several states away. As a result, students may be understandably concerned about making sure that their degree program is legitimate. The best way students of an online master's in education program can protect themselves is by making sure their institution and program have appropriate accreditation credentials.
Generally, the Council for Higher Education Accreditation (CHEA) recognizes six major regional accrediting organizations as legitimate. Students should make sure that the school is accredited by the New England Commission of Higher Education, Northwest Commission on Colleges and Universities, Middle States Commission on Higher Education, WASC Senior College and University Commission, Southern Association of Colleges and Schools Commission on Colleges or Higher Learning Commission.
Regional accreditation is awarded to the institution as a whole, not specific programs. For reassurance that the Master of Education program meets high standards of quality, students can look for a program that has earned accreditation from the Council for the Accreditation of Educator Preparation (CAEP), which is also recognized by CHEA.
You can also look for programs accredited by the Distance Education Accrediting Commission (DEAC), another CHEA-recognized organization. However, DEAC only accredits programs that award more than 51 percent of degrees through distance learning.
Additional Resources
I Don't Think I Want to Actually Be a Teacher. What Other Jobs Can I Get With a Master's in Education?
How Much More Can I Expect to Earn With a Master's Degree Over a Teaching Certificate?
What Areas in Education Have the Greatest Job Growth?