As much as you may want to earn a Master of Education degree through a convenient online program, you may also have concerns about the cost. Even the most affordable online master's degree programs are likely to cost you several thousand dollars. With teachers in many areas of the United States still underpaid, this tuition price may be prohibitive, especially if you had to pay for all of the costs upfront and on your own. Fortunately, it is possible to get financial aid for an online Master of Education degree. You simply need to understand what your options are, which regulations apply to you and where to look for money to fund your online graduate education.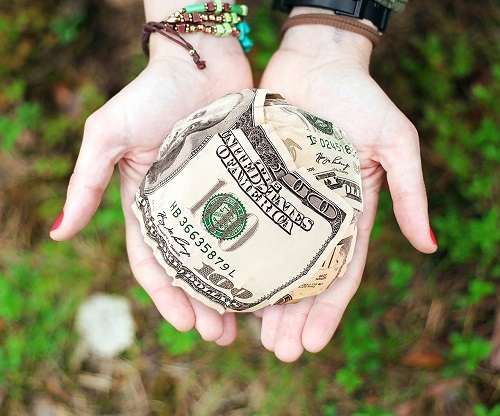 IMAGE SOURCE: Pixabay, public domain
Understanding Types of Financial Aid
The first thing you need to know is that, for online graduate students as well as for undergraduates studying on campus, financial aid can take many forms. Loans, grants and scholarships are among the most common types of aid available.
Loans, of course, are a form of financial aid that must be repaid. Student loans are plentiful, available from both the William D. Ford Federal Direct Loan (Direct Loan) Program and private lenders. Although funding that does not have to be paid back, like grants and scholarships, are preferable, students who do have to take out loans usually receive better protections and lower interest rates from federal loans than private ones. Federal loans can be subsidized, which in a nutshell means that the borrower doesn't begin accruing interest on the amount borrowed until after leaving school, or unsubsidized, which means that the borrower is responsible for paying interest that begins accruing immediately.
Grants and scholarships are types of financial aid that don't need to be repaid, assuming that the student remains in good standing in accordance with the terms of the award. There are numerous types of federal grants available, most of which are awarded on the basis of financial need. Scholarships usually come from other sources besides the federal government, such as state funds, funds within the institution or awards offered by private organizations.
The federal government also offers financial aid in the form of funding for a work-study position. Students with a work-study award earn money through working a part-time job, usually but not always on campus, with their wages funded by their government aid award. At certain schools, online students are eligible for work-study positions, according to U.S. News & World Report.
Whether at the undergraduate or graduate level, studying online or on campus, your enrollment status affects eligibility for financial aid. Students not enrolled on at least a half-time basis are ineligible for federal loans – and will have to start repaying prior loans.
How Your Online Graduate Student Status Impacts Your Eligibility
Generally, there are no significant differences between applying for financial aid as an online student and as an on-campus student, according to U.S. News & World Report. The official Federal Student Aid website, run by the U.S. Department of Education, recognizes online schools as legitimate institutions of higher education and notes that students can receive financial aid as long as their school participates in federal student aid programs. While students still have to make sure that their online school does, in fact, participate, they don't have to worry that choosing an online program will prevent them from receiving financial aid.
That said, students may find that scholarship providers not affiliated with their school or the federal government might exclude online students from eligibility, according to U.S. News & World Report. However, not all scholarship providers make such a distinction. Some online colleges may offer their own institutional scholarships, like Western Governors University's Hey Teach! scholarship for students pursuing a Master of Education degree.
On the other hand, being a graduate student means there are some important differences between the financial aid available to you know as opposed to when you were an undergraduate student. For one thing, the way you fill out the Free Application for Federal Student Aid (FAFSA) form as a graduate student is different. Even if you just graduated college and used your parent's financial information for your FAFSA last year, as a graduate or professional student, you will typically count as an independent student, according to Financial Student Aid. As a result of this new status, you will use only your own financial data, and not your parents' information, to demonstrate your need for financial aid.
Your graduate student status may also affect how much aid you are eligible to receive. Graduate students can borrow a maximum of $20,500 per year through the federal government, more than the $5,500 to $12,500 maximum allowed for undergraduate students – although the amount you personally are eligible to borrow depends on need. Graduate students are typically eligible only for unsubsidized loans, not subsidized ones.
Graduate students generally don't qualify for federal grants, but education students at participating schools may be eligible for a TEACH grant of up to $4,000. Students must be entering a high-needs field and commit to teaching in a low-income district for four years.
Additional Resources
How Much Does It Cost to Get a Master's in Curriculum?
Is It Easier to Get Into an Online Master's Program?
Are Online Master's Programs Easier Than In-Person Programs?
What Are the Skills Needed to Be Successful in an Online Master's Program?