Early childhood education, one of the 50 highest paying master's degrees, can put you on the path to working as a preschool, kindergarten or lower-grade elementary school teacher. Although different programs are tailored to the needs of different types of graduate students, master's degree programs in early childhood education as a whole allow for the instruction of both new and experienced teachers. Some students pursuing a master's in early childhood education have no experience working in a classroom setting with young children, while some have years of experience in this role already. Regardless of how much experience you have when you enroll in a master's degree program in early childhood education, you should expect to devote a full semester to gaining hands-on experience as a student-teacher.
Experience Requirements for Master's in Early Childhood Education Degrees
The requirements to get accepted into an early childhood education master's program vary from one school – and even one degree program – to the next. There are programs intended for certified teachers with instructional experience as well as those dedicated to career changers with no teaching experience. For teachers considering a master's in educational leadership degree, it's common for programs to expect students to have at least a few years of experience in the classroom before applying. Otherwise, the admissions team may not even blink an eye at the fact that an applicant has only just graduated with their bachelor's degree or that the applicant's bachelor's degree and professional work experience are in a different field.
What sort of experience is valuable to the admissions personnel accepting graduate students into an early childhood education master's program? Classroom experience teaching this age group is, naturally, relevant to your program. If you have teaching experience with a different grade level or age group and are going to back to school to get certified working with this age group, you can still draw on your existing teaching experience. You might also be able to point to experience in other roles, like if you have worked with this age group of children as a teacher assistant, a childcare worker in a daycare facility or as a Sunday school or other religious instructor. Even experiences like babysitting and doing volunteer work to help young children can be applicable to your pursuit of a master's degree in early childhood education.
If you don't have a lot of relevant experience to draw from when applying to a graduate program in early childhood education, you should specifically seek out degrees intended for new teachers. Often, these programs prepare you for your initial teaching certification.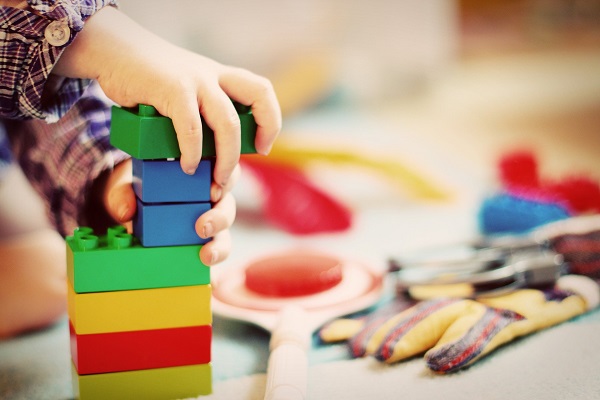 IMAGE SOURCE: Pixabay, public domain
How Much Hands-On Experience You'll Get in an Early Childhood Education Master's Program
A master's degree program in early childhood education typically includes hands-on experience in the curriculum. You might have to meet some amount of hands-on fieldwork requirements throughout your education as well as a semester-long student-teaching experience at the end of your program. As a student-teacher, you will be in the classroom at your placement site daily for the duration of the semester, creating and carrying out lesson plans under the supervision of an experienced certified teacher.
With early childhood education encompassing the pre-kindergarten age group through about the fourth grade, you could get your student-teaching experience working in – and, later, spend your career working in – an elementary school, kindergarten, preschool or childcare center. Hands-on experience as part of a master's degree program in early childhood education may include fieldwork in non-educational settings as well as traditional public school settings.
Student-teaching is a fulfilling, yet demanding, part of your education. If it happens to be your first real-world experience working with this playful and energetic age group for a sustained period of time, you may feel at once inspired by the uniquely joyful perspective of the children and exhausted from chasing them around. Although you may not be taking any other courses during your student-teaching semester, it's often recommended that students avoid working in other job roles during this time, so they can concentrate on the demands of full-time instruction, along with work done outside of school hours, such as creating lesson plans and grading assignments.
As a student-teacher, you're learning not only from the hands-on classroom experience but also from the insights your mentor shares with you. Your supervising teacher can share tips to make surviving student-teaching easier and help you thrive as a teacher.
Additional Resources
I Am Looking at Changing Career Paths Into Early Childhood Education. Will My Age Affect My Chances of Getting Into a Program?
How Long Is a Typical Master's Program in Early Childhood Education?
What Is the Difference Between an M.A. and an M.Ed. in Early Childhood Education?