If you dream of working for the United States Central Intelligence Agency (CIA), you probably have questions about how to go about getting a job at the prestigious federal agency. The actual process of applying for a position with the CIA is as easy as submitting an online application at the official CIA website.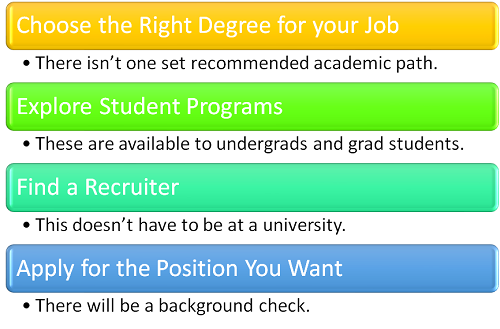 What to Know About Employment With the CIA
If you think you may need to major in a specific program of study or pursue an advanced degree to be qualified to apply for a job with the CIA, you may be surprised. Opportunities with the CIA are diverse, including roles in the categories of analysis, clandestine operations, targeting, STEM (science, technology, engineering and mathematics) and foreign language. Perhaps the CIA job category with the most variance in career opportunities is enterprise and support, where roles can range from business management to medical and from attorney to communications personnel and graphic designer. Because you can work with the CIA in so many different job roles, the agency states that there is no recommended academic path to qualify for a job.
One recommendation that the CIA does make is that gaining proficiency in a foreign language – particularly, one included in the agency's Foreign Language Incentive Program – is valuable to a wide range of positions and can qualify officers and agents for bonuses. 
Explore Student Programs With the CIA
If you know early on that you want a career with the CIA to be part of your future, it's never too early to get started. The agency offers student programs for both undergraduate and graduate students. CIA scholarships award up to $18,000 of tuition assistance for the calendar year to student workers who perform paid work in their field of study for the CIA over the summer. Internships and co-op programs are also available.
Work assignments through CIA student programs are available only in the Washington, D.C. metro area, so students may need to relocate for the duration of their work period.
Get in Touch With a Recruiter
The CIA may be a secretive federal agency, but its recruiting efforts on college campuses have become much more open – and popular – in recent years, according to National Public Radio. The agency also now recruits new officers and agents from many different environments. Although prestigious Ivy League universities certainly still see robust recruiting efforts from the CIA, the agency's recruiters are also speaking with students as small local colleges, technical schools and even community colleges. The agency also sends recruiters to military bases and veterans groups.
If you're a current college student, speak to your academic advisor or the school's career center staff to find out if any CIA recruiting events are planned.
What to Expect From the CIA Application Process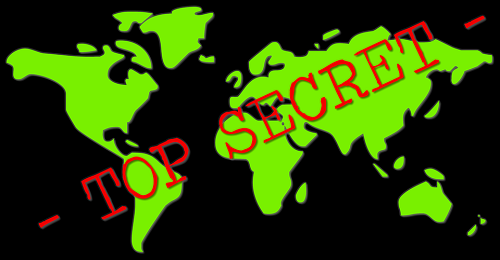 IMAGE SOURCE: Pixabay, public domain
Generally, candidates should submit applications to the CIA for specific career opportunities that become available, rather than sending a cover letter of general interest along with a basic resume. You can file an application online, just as you would for many other employers, but you should know that the eligibility requirements for consideration are more rigorous and more serious when it comes to a job with the CIA.
For example, applying for a position with the CIA gives implied consent to undergo a background investigation. You must not have used illegal drugs of any kind in the past 12 months or had any recent involvement in any criminal or otherwise unethical activities. To obtain the security clearance needed for your position – the level of which may vary depending on the category and responsibilities of the job you applied for – you may need to undergo a long process that includes a polygraph test. It can take up to 45 days for a candidate to receive a response from the CIA that they will be considered in the next phase of the job search, and candidates who do not meet the agency's needs are not likely to receive a response to their application.
Why does the CIA take so long to respond to candidates of interest and issue no response at all to candidates who don't meet the agency's needs? Applications pour into the CIA at a rate of more than 10,000 per month.
Additional Resources
What Degree Should I Get to Join the CIA?
What Schools Does the CIA Recruit From the Most?
Can I Get Into Law Enforcement If I Have a Felony on My Record?