The field of human-computer interaction, which happens to be one of the highest-paying master's degrees, is at once specific and broad. While this field concentrates on the communications, capabilities and relationships between human users and computer technology, it also applies to a wide array of different computer systems and aspects of those systems. User interface design is one of the most important areas of focus in the field of human-computer interaction.
Understanding the Role of Interfaces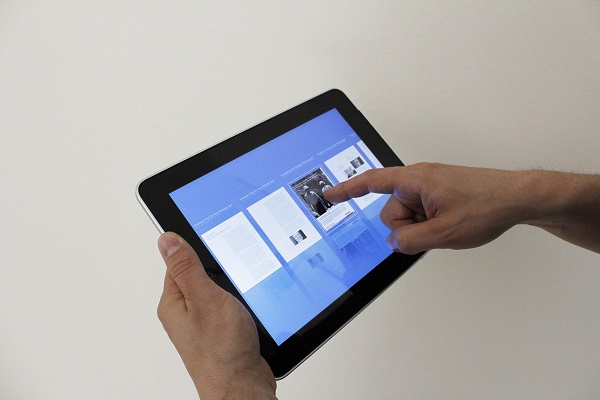 IMAGE SOURCE: Pixabay, public domain
An interface is the technology that connects components of a computer system, allowing them to communicate and interact. There are different kinds of interfaces. Hardware interfaces consist of the physical components, like plugs, sockets and cables, that connect different aspects of the hardware that allows computers to function. Software interfaces refer to the codes written in computer languages, like Java, through which software programs communicate.
In the field of human-computer interaction, though, the most important type of interface is the user interface. It's through this interface that human users can input data, including search queries and task commands, to the machine. The user interface is the point of interaction between humans and computers and the connection through which user and machine interact.
The user interface encompasses all of the components – both hardware and software – that connects and facilitates communication and control between the human user and the computer system. Aspects of the user interface can include the keyboard, mouse and touchscreen on the hardware side as well as menus on the software side.
One way to think of a technology's user interface is the part of the system that faces the human user, as opposed to the software programs or hardware components that interact with each other but not directly with the user.
The Importance of Interface Design
The user interface of a computer system is so important that, without it, a technology wouldn't be usable, since the human wouldn't be able to control or interact with it. The quality of the interface design determines how usable – not to mention how effective and efficient – an interface is.
A surprising number of elements go into user interface design, according to Usability.gov. The input control elements of interface design include checkboxes and list boxes, buttons, text and date fields and dropdown lists – basically, any of the fields and functions through which users must provide data to a software application to achieve a result.
The user interface also determines how human users of a technology will navigate the computer system. Navigational components of a user interface design include the visible icons and sliders, as well as breadcrumb navigational links that show the user where on a website they are. Informational components, like notifications, message boxes, icons and the progress bar that shows loading progress, are also part of routine user interface design.
Users encounter these input control elements, navigational components and informational components when they do just about anything on the Web. For example, when you enter keywords into a Google search box, scroll through the results and choose a page to visit, these components determine whether the experience is seamless or full of glitches. The design of these elements affects every aspect of your computer use, from applying online for a job to sending an email, choosing music or video to stream or scheduling an appointment.
What makes a well-designed user interface? It may surprise you at first to learn that the goal of user interface design isn't aesthetic beauty but instead near invisibility, according to Usability.gov. The best user interfaces are designed for simplicity and clarity, and the interface elements should blend into the background of actually accomplishing the user's task.
If you think about your own experiences using interfaces, you will probably realize that you rarely notice user interface elements when they are designed well. Like the sleight of hand behind a magic trick, user interface design only becomes conspicuous when it goes wrong. You probably don't think too much about a text field you encounter unless it's limited to too few characters to communicate your request. Most users only notice a dropdown list's default selections when they run counter to expectations. You probably zoom, scroll and slide along a page with ease until a pop-up ad comes along and loads in such a way that you can't easily close it out.
That's not to say user interface design is necessarily boring from a design perspective. However, the colors and typography should be purposefully chosen for the sake of highlighting the most important information and areas of a page rather than to look flashy or contribute to a purely aesthetic vibe. Strong interface design that is purposeful in creating the layout of the page and consistent in the elements and messages it presents to users goes a long way toward establishing positive and intuitive human-computer interaction.
Another type of element found in interface design is containers. Containers, such as the accordion designs that can be expanded and retracted, hold content like text and can be manipulated by the user to show more or less information.
Additional Resources
What Programs Should I Be Familiar With If I Am Going to Study Human-Computer Interaction?
What Are Some Long-Term Goals in the Field Of Human-Computer Interaction?
Which Degree in Engineering Is Best for Getting a Master's in Human-Computer Interaction?